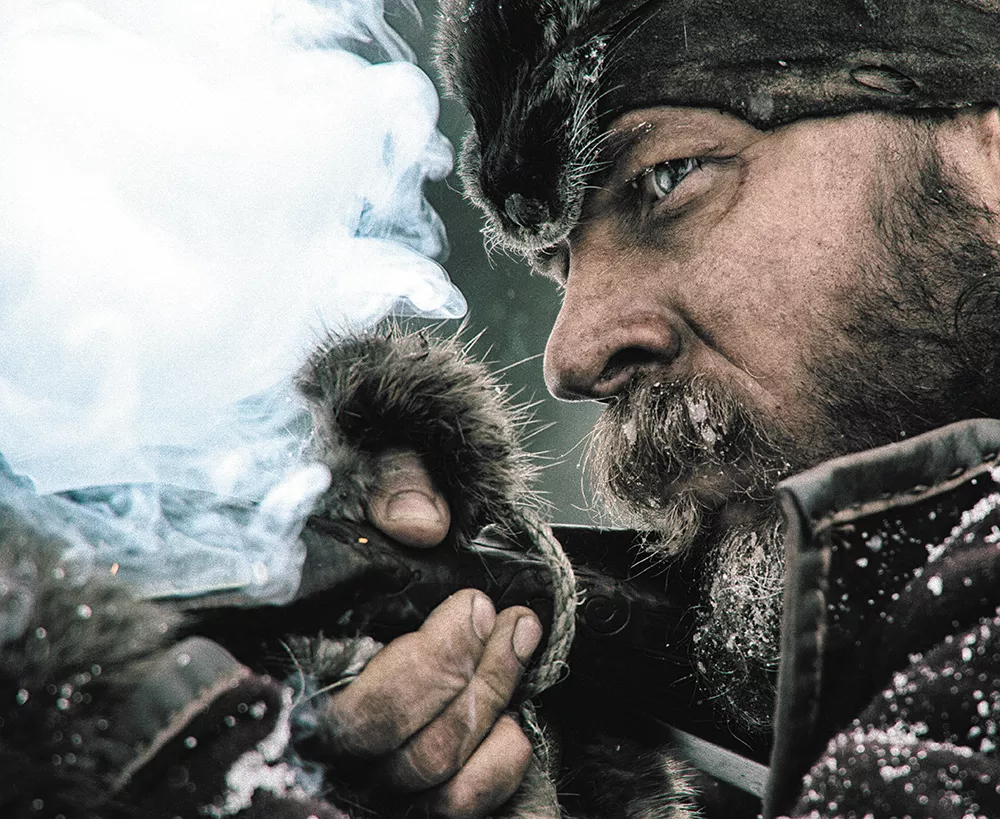 It's a little thing, a weightless thing, a thing as ephemeral as... well, as a breath. It shouldn't be the kind of thing that marks when a movie as intensely, relentlessly physical as The Revenant loses you, but Alejandro González Iñárritu is an unusual sort of filmmaker. And so it was that, in the middle of all this story's blood and viscera and sheer will to persist, a character exhaled into the chilly air, and the camera lens fogged up. And somewhere inside my head, I could hear a little voice that simply and clearly said, "Nope."
It would be more than slightly disingenuous not to admit that some Iñárritu baggage was likely at work. He managed to turn last year's showy "single take" trick in Birdman into an Academy Award, but that was far from the first time he has shown that his default artistic volume is "turned up to 11." From the operatic dramas of Babel to the absurd climax of 21 Grams to the Job-like miseries inflicted upon his protagonist in Biutiful, Iñárritu has made a career out of punching audiences until they respond, then punching them even harder. The Revenant is — whatever else it may be — as quintessentially Iñárritu-esque a movie as Iñárritu has ever made.
He clearly has the skills to pull an audience into this narrative, launching into the loosely fact-based story of Hugh Glass (Leonardo DiCaprio), working as a guide with his son, Hawk (Forrest Goodluck), on an early 19th-century fur-trapping operation. The party is attacked by a band of Arikara Indians looking for the kidnapped daughter of their chief, and it's a breathtakingly chaotic sequence of flying bullets and arrows, with men frantically attempting to survive an enemy they can't even see.
Then there's the horrifying, already much-commented-upon (and crazily misunderstood) bear attack, which cripples Glass and places his survival initially in the hands of his employers, including a trapper named John Fitzgerald (Tom Hardy) who thinks it's better to leave Glass for dead rather than risk being slowed down. The improbable duration of that bear attack makes it hard to watch, but Iñárritu grasps how to use glimpses of possible relief as a sucker punch before another savage flurry of tooth and claw.
But for every occasion when The Revenant benefits from its director's conviction that too much is never enough, there are two or three where it's just too damn much. The story is gripping as it finds Glass — abandoned and near-mortally wounded in the winter wilderness, driven by his compulsion to avenge himself upon Fitzgerald — dealing with the excruciating effort of trying simply to drag himself upright. Far too much media coverage has focused on the real-world suffering DiCaprio endured for his art, which unfortunately makes it hard to focus on how strong his performance actually is. He strips Glass down to pure primal survival instinct, playing long, dialogue-free stretches that convey a man with enough experience to think he has an outside chance at living through this, and enough common sense to understand how outside that chance is.
The trouble comes when The Revenant's two-and-a-half-hour-long march through Glass' ordeal starts to feel like twice that. Every extreme moment — chowing down on raw bison liver, igniting gunpowder to cauterize a wound, burrowing into a dead animal as a makeshift shelter — accumulates not additional emotional force, but the impression that Iñárritu is merely flexing his muscles of cinematic machismo. By the time it reaches what should be its climactic confrontation, The Revenant has simply become exhausting.
That's why that aforementioned moment of respiratory condensation on the camera lens — wait, not moment, but moments, because one wouldn't be enough — is a marker of what Iñárritu misunderstands about a story like The Revenant. As infatuated as he seems to be with making sure that audiences appreciate the gritty realism of it all, he also wants to make sure they know they're watching a movie, made glorious through Emmanuel Lubezki's natural-light cinematography — and he can't have it both ways. The movie's self-aware final shot somehow ends up being perfectly, sadly fitting. For all of Iñárritu's gifts as a filmmaker, he never wants you to forget that he's there behind the camera. ♦