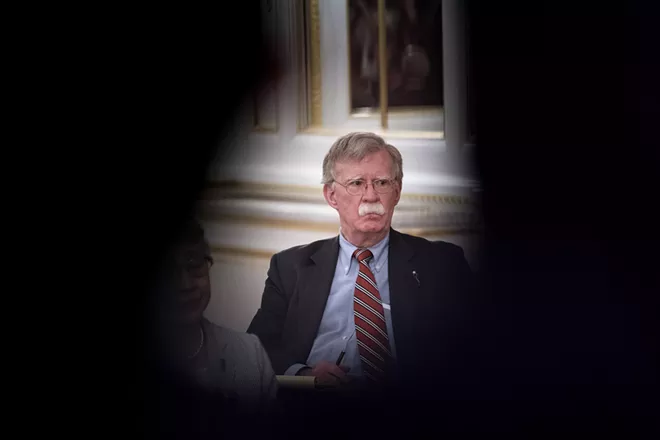 By Nicholas Fandos and Michael S. Schmidt
The New York Times Company

W
ASHINGTON —
John Bolton, the former White House national security adviser, said Monday that he was willing to testify at President Donald Trump's impeachment trial if subpoenaed.
"I have concluded that, if the Senate issues a subpoena for my testimony, I am prepared to testify," Bolton said in a statement on his website.
The development is a dramatic turn that could alter the dynamic of the impeachment proceeding, which has been stalled over Democrats' insistence on hearing from critical witnesses Trump blocked from testifying in the House inquiry into his pressure campaign on Ukraine. Bolton is a potentially vital witness, with crucial knowledge of the president's actions and conversations regarding Ukraine that could fill in key blanks in the narrative of the impeachment case.
Democrats quickly seized on his public declaration, arguing that it strengthened their case that the Senate must hear from Bolton and other senior officials as part of Trump's impeachment trial.
It is unclear how the White House will respond to Bolton, but his statement strongly suggested that he would be willing to testify regardless of whether Trump sought to prevent him.
"It now falls to the Senate to fulfill its constitutional obligation to try impeachments, and it does not appear possible that a final judicial resolution of the still-unanswered constitutional questions can be obtained before the Senate acts," Bolton wrote. "Accordingly, since my testimony is once again at issue, I have had to resolve the serious competing issues as best I could, based on careful consideration and study."
Bolton's willingness to tell the Senate what he knows could change the political calculus for Sen. Mitch McConnell, R-Ky., who has steadfastly refused to commit to calling witnesses. McConnell, the Senate majority leader, may face new pressure from some moderate Republicans to allow him to testify.
"Given that Mr. Bolton's lawyers have stated he has new relevant information to share, if any Senate Republican opposes issuing subpoenas to the four witnesses and documents we have requested, they would make absolutely clear they are participating in a cover-up," Sen. Chuck Schumer, D-N.Y., the minority leader, said in a statement.