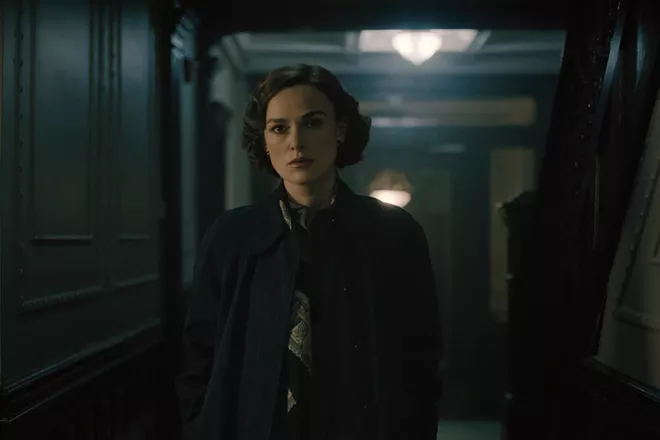 Only one of the 13 so-called Boston Strangler murders committed between 1962 and 1964 has ever conclusively been solved, which should offer plenty of moral ambiguity and existential doubt to explore in a movie about the case. Writer/director Matt Ruskin mostly opts for a straightforward procedural in Boston Strangler, though, leaving larger questions about the nature of truth until the very end. It's a reasonably satisfying procedural, but it offers a fairly superficial examination of the deeper issues surrounding the investigation.
One of those issues is sexism. The movie focuses on the two female reporters for the Boston Record American who first broke the story. Loretta McLaughlin (Keira Knightley) is working the lifestyle desk, reporting about toasters and political candidates' wives, when she notices a pattern in reports of women found strangled. Her hard-nosed editor, Jack MacLaine (Chris Cooper), doesn't take her seriously when she insists that there's a connection between the murders, and he only reluctantly allows her to pursue the story on her own time.
Once she puts together key pieces of evidence, angering the police department in the process, he has no choice but to keep her on the story, although he assigns veteran reporter Jean Cole (Carrie Coon) to work alongside her. The two women soon become media sensations, as the murders continue and the paper coins the term "Boston Strangler" for the killer. They pick up clues that the police miss, lobbing heavy criticism at law enforcement's mishandling of the investigation. They also become the only reporters with their own photos in the paper accompanying their articles, with headlines referring to them as "girls."
Ruskin devotes a perfunctory subplot to Loretta's domestic conflicts with her husband (Morgan Spector), who's initially supportive of her career before becoming increasingly hostile to her long hours and late-night meetings. There's a single scene of Jean at home with her own husband, and the characters' children are virtually invisible. The pushback from their male bosses has a bit more bite, but overall the movie's depiction of institutionalized sexism is tame, missing the strong thematic connection to a series of murders committed against vulnerable women living alone.
Boston Strangler is more successful when it digs into the details of the grueling, yearslong investigation, as the murders continue while seemingly every potential lead turns into a dead end. Loretta befriends a detective (Alessandro Nivola) who shares information with her, expressing his own frustration at the lack of communication and coordination among various police jurisdictions. The lengthy, labyrinthine investigation resembles the similarly confounding case in David Fincher's brilliant Zodiac. A scene of Loretta suddenly panicking while being led through a suspect's creepy home recalls one of Zodiac's tensest, most effective moments.
It also serves as a reminder that Ruskin is no Fincher, and Boston Strangler pales in comparison to landmark investigative-journalism movies like Spotlight, The Insider and All the President's Men. Knightley projects determination and compassion as Loretta, and Coon balances her out as the world-weary Jean, who gets somewhat short-changed on character development. Their dynamic holds the movie together, as Loretta and Jean doggedly track down every new clue, no matter how tenuous.
Ruskin uses a muted color palette that's probably meant to project seriousness, but often results in ugly yellow-tinged interior shots that just make the characters look sickly. The period detail is effective, though, and there's a pervasive sense of dread as the movie progresses, even while the characters are just looking through documents or making phone calls. The movie's power comes in watching these people never give up on finding the truth, even in the face of fundamentally unknowable danger. ♦

BOSTON STRANGLER
Rated R
Directed by Matt Ruskin
Starring Keira Knightley, Carrie Coon, Chris Cooper
Streaming on Hulu starting March 17