Joe Dahl, drenched with sweat after practicing under the relentless Palouse sun, slowly made his way off the field to find a place to sit.
"I feel like the old guy," Dahl says. "I'm a redshirt senior!"
Indeed, Dahl is one of the Washington State Cougars' best and most experienced players. In a world of uncertainty, the Cougars take comfort in knowing that only death and taxes are more certain than the steady excellence of Dahl at offensive tackle.
"He's been such a solid, consistent player since he's been here," offensive line coach Clay McGuire says. "Once he gets a concept or technique down, we don't have to re-teach it, re-teach it, re-teach it. He's got it, so you can continue to move forward.
"He's got football smarts, he's intelligent, he understands what we're trying to do."
WSU fans must wonder what the former coaching staff was trying to do when they failed to offer Dahl — who grew up a Cougars fan and starred at Spokane Valley's University High School — a scholarship until he had committed to Montana.
Dahl redshirted with the Grizzlies in 2011 before transferring to Washington State in January 2012. After sitting out the 2012 season to satisfy NCAA transfer rules, Dahl started all 25 games the past two years. However, he didn't go on scholarship until the end of 2013, his "rookie" season.
"That first year," Dahl recalls, "I started 13 games. I was paying my whole way (with student loans). That was a rough one. That hurt the pockets a little bit."
Dahl tells his story with a smile on his face. A 6-foot-5, 308-pound road-grader on the field, Dahl is exceedingly polite and easygoing once the game ends. Former WSU quarterback Connor Halliday, who shared a house with Dahl in Pullman, once said Dahl would be his first choice if he had a sister who chose to date one of the Cougars.
"Just an unbelievable kid," McGuire says. "You wouldn't meet a nicer kid."
The nice guy knows how to turn into a tough guy when necessary. The 2014 Cougars led the Football Bowl Subdivision with 771 pass attempts, and Dahl gave up just one sack. Mind you, that's against rivals who revved up their pass rush because the Cougars ranked dead last in rushing carries (243) and yards (478). As the left tackle, Dahl protects the quarterback's blind side.
"He's almost flawless sometimes," left guard Gunnar Eklund says.
Dahl, an all-Pac-12 honorable mention pick last year, modestly spreads around the credit for his one-sack season.
"There were a lot of times last year where I could have given up sacks, I could have given up tackles in the run game, but somebody helped me out," says Dahl, a marketing major. "My (running) backs, my quarterback and my offensive linemen helped me out."
This season, Dahl is bigger, stronger and more fit than ever. That won't hurt one bit as he tries to fulfill his childhood dream of playing in the NFL.
"You just look at the guy," quarterback Luke Falk says, "and you know he's worked his butt off this season to look like a freakin' freak."
Dahl said he never doubted he could play at the Pac-12 level, so he's glad he left Montana after one semester.
"I didn't really have my heart into it," he says. "I really regretted not giving myself a chance to come here. I didn't really understand how to handle the recruiting process, and I didn't really look to my parents as much as I should have."
He adds, "If something turned around here and I wasn't part of it, that would have killed me."
Dahl has one last chance to help the Cougars turn things around, then he'll aim for the pros.
"Luckily," he says with a wry grin, "they turned it into a job in this country and you just can just play it and make a bunch of money. It's a pretty good deal." ♦
---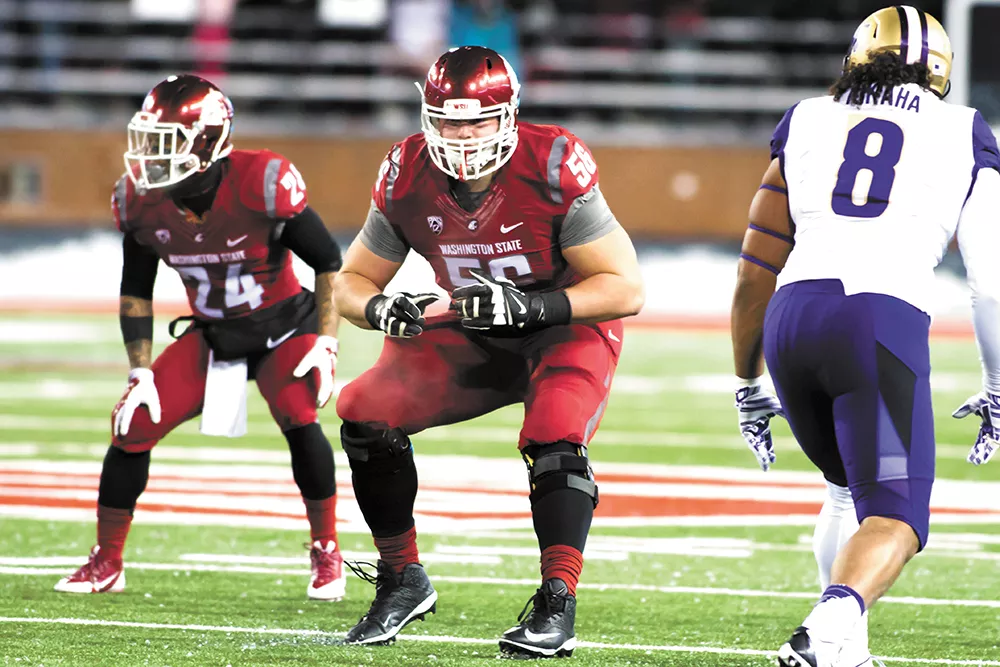 WASHINGTON STATE COUGARS
2014 record: 3-9, 2-7 Pac-12
Preseason coaches poll: 5th, Pac-12 North
Notable returning players: OL Joe Dahl, QB Luke Falk, LB Jeremiah Allison, WR River Cracraft
Notable newcomers: WR Gabe Marks (redshirted last year, played in 2013 season), RB James Williams, WR Tavares Martin Jr.
Head coach: Mike Leach (4th season, 12-25 overall)
Season opener: Portland State, Sat, Sept. 5 in Pullman at 11 am
---
The Cougs Get Serious About Defense
The Princeton Review ranks Washington State students the 14th-happiest college students in the nation.
Obviously, they didn't poll WSU students who have watched the Cougars' football team attempt to play defense in recent years.
The new man placed in charge by Mike Leach of the raging tire fire that WSU's defense had become is Alex Grinch. The Cougars' third defensive coordinator and secondary coach in five years comes to Pullman after three years as the safeties coach at Missouri.
Grinch changed WSU's base defense by removing a linebacker and replacing him with a fifth defensive back. Perhaps more important, Grinch is an eyes-bulging, veins-popping, fire-breathing motivator who — at least during fall practices — had the Cougars racing to the ball and punishing those unfortunate souls who dared to take possession of the football on offense.
Three seniors give Grinch their stamp of approval.
"Coach Grinch demands perfection out of everybody," linebacker Jeremiah Allison says. "He's really 'hands-on.' We don't want to disappoint him."
"Communication is cleaned up," safety Taylor Taliulu says. "We know exactly what we are doing at all times."
"Coach Grinch is a real intense coach, so we feed off his energy," says linebacker Ivan McLennan.