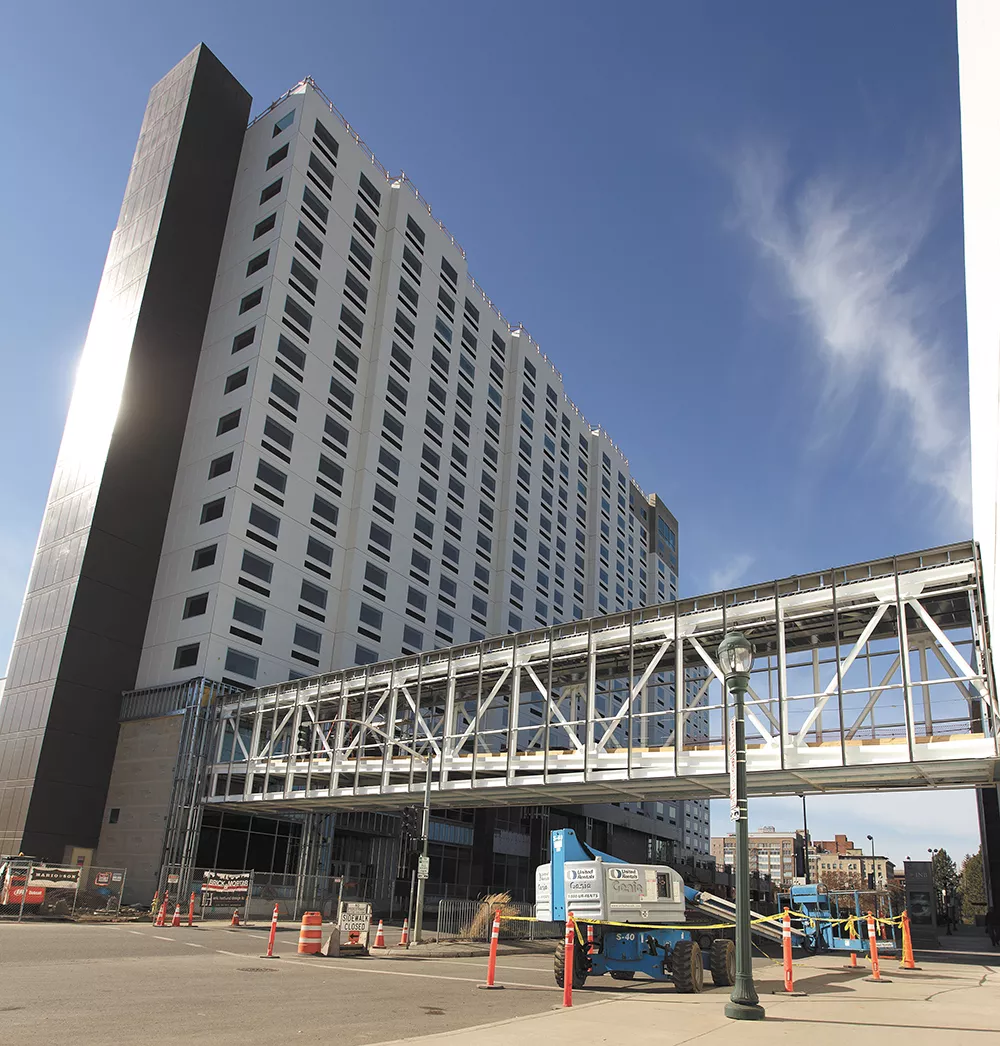 Work on the skywalk between the Spokane Convention Center and the accompanying Davenport Grand Hotel is wrapping up, and shipments of supplies are being brought in to get the hotel ready to host a convention that would have been unthinkable a few years ago.
About a half-mile away on Division Street, hospitality mogul Jerry Dicker is getting ready to unveil his latest project, adding to his portfolio of upscale accommodations, including a hotel that just opened up in 2013.
Not to mention all the hotels that have undergone remodels or upgrades in recent years.
If it seems like Spokane is seeing a hotel boom, that's because it is. In 2012 and 2013, more than 700 hotel rooms were added to downtown Spokane. More are on the way.
Following recent economic growth in downtown Spokane, the promise of an enhanced Riverfront Park and a revamped convention center, hoteliers are bullish that more visitors are on their way. But just because they build it, does that mean they will come?
Center of it all
"It's not tentative," says Matt Jensen, corporate director of sales and marketing for the Davenport Hotel Collection, of the 716-room Grand Hotel's June 20 opening date. "It's pretty solid."
It has to be, because much is already predicated on the hotel, which will be the fourth in developer Walt Worthy's Davenport Hotel Collection, opening on time.
In July, the Spokane Convention Center will host its first big event: the World Science Fiction Convention. Last year, the convention was held in London, says Johnna Boxley, the convention center's general manager, and this year Spokane beat out Orlando, Florida, and Helsinki, Finland, to host the event because of upgrades to the facility, which include an improved exhibit hall and 25,000 square feet of new meeting rooms.
The Grand Hotel will provide more hotel rooms that she says will make conventions like this possible.
Five to 10 years ago, says Boxley, most convention organizers thought that Spokane was a suburb of Seattle, and there's no way it could have hosted the World Science Fiction Convention, which is expected to have a $12 million impact on the area economy and attract approximately 6,000 attendees.
"In the long run, we are doing what we need to do to compete for the business," she says. In coming months, says Boxley, the convention center will attract other conferences centered on religion and cakes that will also bring in millions of dollars.
But Heywood Sanders, a professor of public administration at the University of Texas at San Antonio, says he has heard this story before, and it doesn't end well.
"It's a pretty typical story, because lots and lots of cities have built new or expanded convention centers," he says. "There has been an explosion of convention centers, and the result has been, in my judgment, that the convention center industry is overbuilt."
The West Coast in particular, he says, is seeing cities build or remodel convention centers. Seattle and Tacoma put money into their convention centers, but haven't seen more visitors. The solution to this problem, he says, often offered by consultants, is to build a hotel or expand further, when the real problem is that there are just too many convention centers competing for too little business.
Jensen says that recent downtown economic development, the revitalization of Riverfront Park scheduled to begin this year and the possibility of a new sports facility will make the hotel's prospects strong.
"We've seen a lot of interest from people who want to give Spokane another look," he says.
According to Tim Robinson, spokesman for Visit Spokane, out-of-towners brought in $877 million in 2013. That number could rise, but not just because the convention center attracts more conventions to Spokane.
"It's a whole concerted effort," he says. "We say, look at our dining; look at our shopping; look at our Riverfront Park; look at our outdoors."
Overbuilt hotels?
"There's too many things happening at once," says Robert Schuster, the general manager of the soon-to-open Ruby Suites. He's a bit flustered by all the loose ends that need to be tied down, including putting the final touches on the "living wall" made of plants in the lobby, before the new facility opens in about 30 days.
Schuster says the Ruby Suites, the latest addition to Jerry Dicker's Ruby Hospitality brand, is technically not a hotel, but a boutique-serviced residence geared toward visitors staying for at least a month or more, such as a visiting professor at nearby Gonzaga University or someone doing business in Spokane. When the planned medical school opens up, he says, that could further bolster the potential client base.
Nationally, hotel trade publications have periodically expressed angst that too many hotels are being built, which could cause occupancy rates to plummet.
But Mark Richard, president of the Downtown Spokane Partnership, says that's not the case here. Richard says that there might be too many rooms initially, but he expects demand to catch up with supply.
"My sense in the market is there's a recognition that there will be a short-term saturation," he says. "And capacity will be met."
He says that recent investments in downtown Spokane are all going to attract new visitors to the Lilac City, and it's better to risk having too many hotels than having too few and playing catch-up.
According to numbers from Visit Spokane, the agency that encourages visits to the city, currently there are 7,091 hotel rooms in Spokane County, 3,536 of which are in downtown Spokane. The Ruby Suites and Davenport Grand will push that number close to 8,000. Compare that to Pierce County, home to similarly sized Tacoma, where there are only 5,673 hotel rooms, according to figures from Travel Tacoma.
Despite Spokane County having more hotels rooms than Pierce County, consulting firms used by Visit Spokane find that the area is "underbuilt."
Robinson of Visit Spokane says that hotels in downtown Spokane have an occupancy rate of 67 percent, while county hotels have a rate of 63 percent. He says the target rate is 65 percent to 70 percent, making more hotels feasible.
"If you build it, they will come, if you tell them about it," says Robinson, adding, "If you tell the right people." ♦