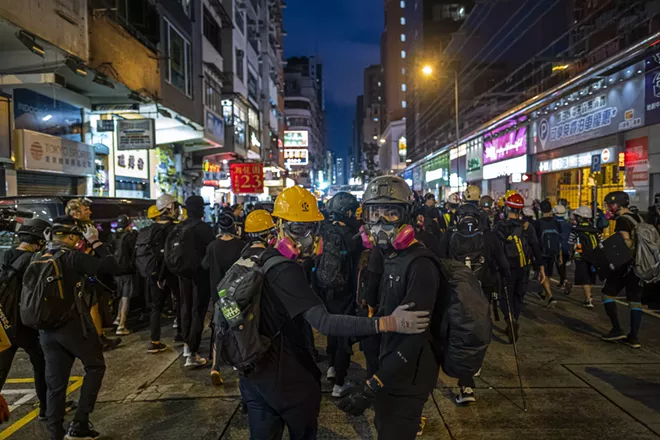 By Keith Bradsher, Austin Ramzy and Tiffany May
The New York Times Company
B
EIJING —
China is moving to impose new national security laws that would give the Communist Party more control over Hong Kong, threatening to erode the freedoms that distinguish the global, commercial city from the rest of the country.
The proposal, announced Thursday, reignited the fear, anger and protests over the creeping influence of China's authoritarian government in the semiautonomous region. It also inflamed worries that Beijing is trying to dismantle the distinct political and cultural identity that has defined the former British colony since it was reclaimed by China in 1997.
In the party's view, such laws are necessary to protect China's sovereignty from external forces determined to undermine its rule. The legislation would give Beijing power to take aim at the large, often violent anti-government protests that roiled Hong Kong for much of last year — unrest that has posed a direct challenge to the party and its top leader, Xi Jinping.
A broad outline for the new rules would likely be approved by China's rubber stamp legislature, the National People's Congress, which holds its annual session starting Friday. The process would effectively circumvent the Hong Kong government, undercutting the relative autonomy granted to the territory through a political formula known as "one country, two systems."
Zhang Yesui, spokesman for the National People's Congress, said at a news briefing Thursday that delegates would review a plan to set up a legal framework and enforcement mechanism for safeguarding national security in Hong Kong. He did not elaborate on the details of the plan.
"Safeguarding national security serves the fundamental interest of all Chinese, Hong Kong compatriots included," Zhang said.
In a clear effort to head off international concerns, China's foreign ministry sent a letter Thursday night to ambassadors posted to Beijing, urging them to support the legislation and laying out the government's position.
"The opposition in Hong Kong have long colluded with external forces to carry out acts of secession, subversion, infiltration and destruction against the Chinese mainland," the letter said.
Almost immediately, the move by the Chinese legislature prompted concerns about the ramifications for Hong Kong and condemnation by the city's democracy advocates.