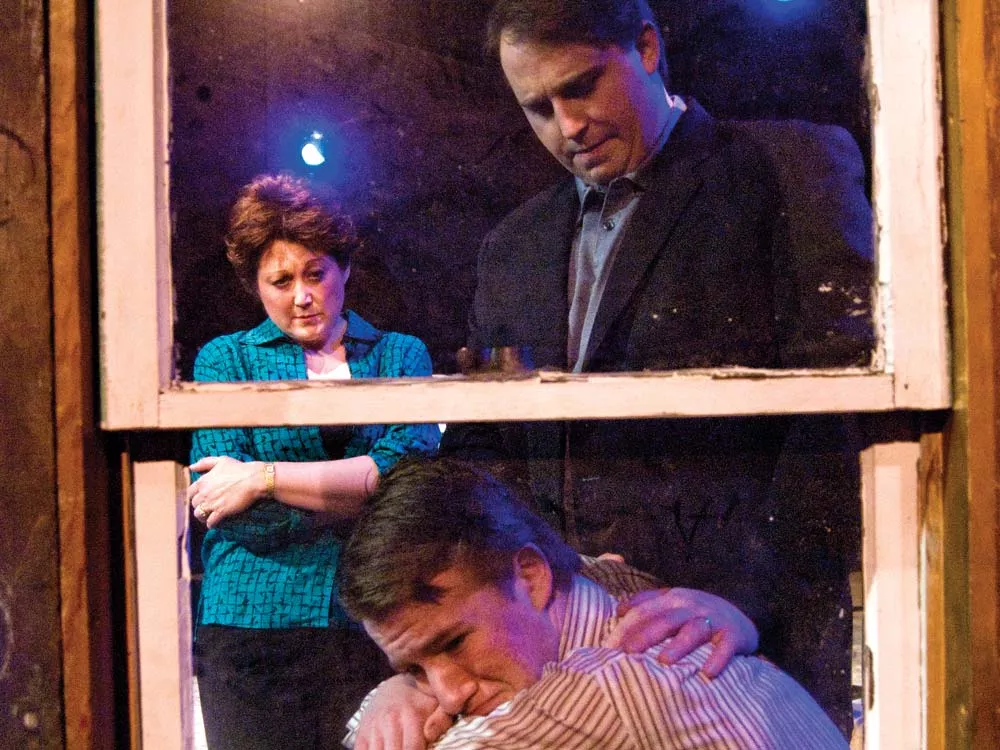 When it comes to the effects of white-collar crime, usually you think of the swindled victims: all those people who'd like to eviscerate Bernie Madoff. Privilege focuses on a different set of characters: the wife and sons of an insider-trading crook.
In Paul Weitz's 2005 dramedy, we witness the family crisis mostly through the eyes of the two teenage sons (Christopher Rounsville and Bryton Martin). In the opening scene, full of joshing horseplay, the talk runs to girls, sports fantasies and farts. Underneath the posters for the Dead Kennedys and Pretty in Pink, however, Rounsville and Martin are posing instead of behaving: At the sound of scene-ending bad news, heads droop, or else the brothers mirror each other, scratching the backs of their heads. The bedroom needs to feel more lived-in; the mutual goofing needs to feel more spontaneous.
Then Tami Grady Rotchford barges in as the mom, not nearly haughty or desperate or angry enough, and soon some long scene changes slow the momentum.
But director Maria Caprile's production at Interplayers still elicits sympathy for the mother and her sons. They find themselves in a financial disaster through no fault of their own.
Dad brought down the walls that are crashing all around them, and Jeffrey Sanders artfully portrays the capable ineptitude of a man who's brilliant with numbers but clueless when it comes to dealing with other people's emotions.
Hear Director Maria Caprile talk about her production of Privilege
Putting his arms around the boys' shoulders and mussing their hair, Sanders tries to assure them that everything will be OK — Dad's merely facing a federal indictment. Nothing to worry about. Sanders' smile freezes as his eyes dart from face to face, checking to see how he's doing.
What he's doing is a sales job on his own sons.
Both young actors respond engagingly to the phoniness. Rounsville journeys from cheeriness to ironic detachment, even from his own sadness. Martin's an idealistic toy soldier who tries to make amends and won't even listen to suggestions that Dad might actually be guilty.
Act Two drags, however, while making already-made points: Dad feels inept, the kids feel guilty, Mom feels depressed.
With the parents emotionally aloof, it falls to Erla the maid to do the real parenting. Sarah Denison has an easy familiarity with the boys, but Erla is convinced that some changes need to be made around here. "You have become accustomed to the idea of people serving you," she says. Start picking up your dirty socks.
Erla's the one in this play who clings to her passions and her principles. The parents are trying to regain theirs; the boys haven't yet learned what it means to believe in something and work hard for it. After all the joking and denial, Privilege manages to reach a conclusion that, while devastating for the family, still contains some seeds of hope.
As Hemingway supposedly said, rich people are different from you and me: They have more money. What they have in equal measure, sometimes, are flaws and fears and resilience.
Privilege • Wed-Sat 7:30 pm, with some 2 pm weekend matinees, through March 12 • $14-$22; $12-$20, military and seniors; $10-$12, teachers, actors and students • Interplayers • 174 S. Howard St. • interplayers.com • 455- PLAY