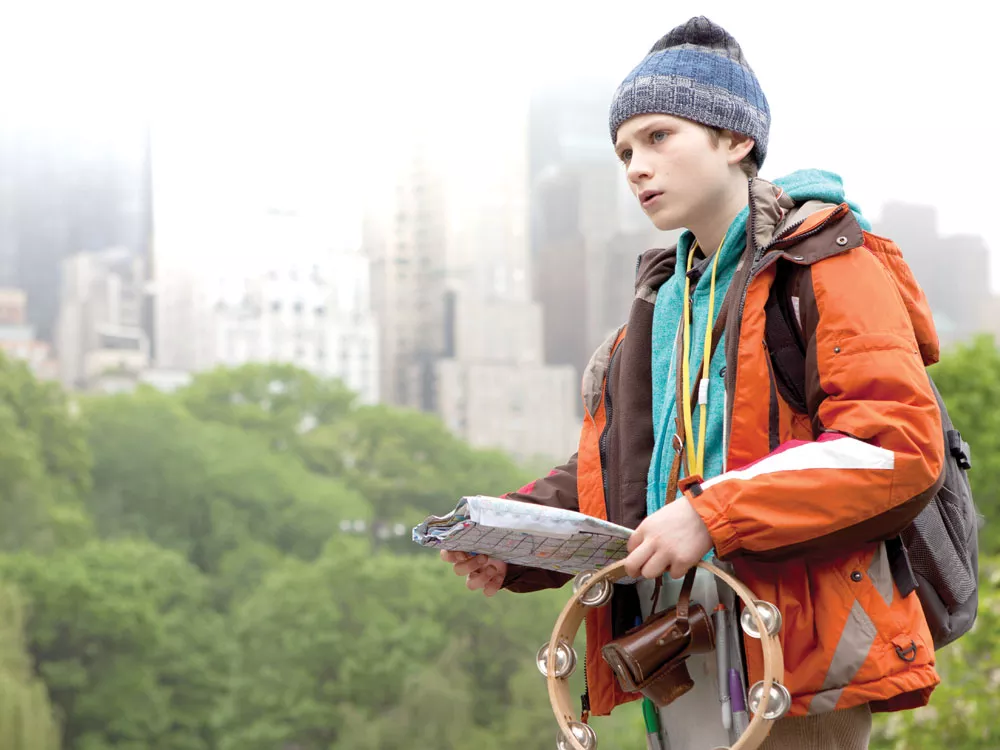 Maudlin and insufferably precious, Extremely Loud & Incredibly Close is the story of a New York lad who's a little odd to begin with, then must deal with the overwhelming loss of his loving dad on 9/11.

Rated: PG-13
Directed by: Stephen Daldry
Starring: Thomas Horn, Max von Sydow, Sandra Bullock, Tom Hanks
Oddly, one of the major problems I had with the film, which is based on the best-selling novel by Jonathan Safran Foer, is what its makers are proudly crowing about — that it's told through the eyes of this shy but precocious, earnest and well-organized, very demanding and often rude kid. He gets some points for being inquisitive and doing whatever it takes to find answers, but he loses those points for also being so deceitful, for lying about certain things and, less harsh, hiding the full truth about others.
I think we're supposed to be cheering for young Oskar — even when he's annoyingly banging on an ever-present tambourine in order to cope with his rampant OCD. Yes, I felt twinges of sorrow for him, but I sure didn't like him. Played by first-time actor Thomas Horn, he's in almost every scene and even narrates a chunk of the film in voiceover. But he doesn't hold the film together. His performance is far too unbalanced and distracting.
While there's some strong acting around him from adult cast members, most of them are given short shrift due to either very brief screen time (Tom Hanks is only there in flashback as his dad; I have no idea why John Goodman's doorman character is even in the film) or a blurrily written persona (Sandra Bullock, as his mom, comes across as a flip-flopper, letting the kid run wild one moment, being secretly overprotective the next).
At least the film's overabundance of emotional turmoil is made clear. It's set in the New York of one year after 9/11, when grief was still very palpable. It's then that Oskar goes rooting through his dad's still-untouched closet, and finds a small envelope. On the outside is written the name "Black." On the inside is a small key, likely for either a mailbox or a post office box. The story becomes a search for whatever lock it will
open, behind which, Oskar is convinced, will be a message from his dad. The search involves tracking down every person named Black in New York, then going to visit them, hoping to find some answers.
The story also deals with a mysterious neighbor who refuses to speak (Max von Sydow) and Oskar's keeping what he believes to be a terrible secret (which, when finally revealed, turns out also to be a cruel one).
This is a film full of people keeping secrets, and sometimes just outright lying to friends and loved ones. There are absurd revelations about Mom right near the end that are supposed to turn the story around, make everything and everyone better. It doesn't work.
But things get worse, at least for me. I know that this movie is going to be a hit, for the same over-sentimental reasons the book was. And I'm positive that certain filmgoers will be crying over the kid, just as certain critics will be lauding his performance. That's where my thoughts differ. I found him unbearable.