When two men were attacked and beaten in the head with rocks last weekend during a Phish concert at the Gorge Amphitheater, the internet blew up with theories.
Some thought the attackers were neo-Nazis. Some thought they were the same neo-Nazis who were caught selling nitrous earlier that weekend. And some even thought Live Nation security called in neo-Nazis for help with enforcement.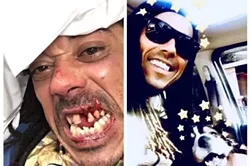 There's no evidence of any of that, says Grant County Sheriff's Office spokesman Kyle Foreman.
What they do know is that two men suffered severe head injuries in the attack and had to be hospitalized. The attacks happened around the same time at night, but in locations far away from each other at the venue. The victims, Samir Poles and Joe Allen Jr., both are still recovering.
But neither victim could identify who attacked them.
It is true that white men with swastika tattoos were sent away from the concert, which was a three-day event. Those men were selling nitrous cylinders, but they were not arrested. Neither was a group of black men also caught selling nitrous that same weekend. Nitrous sales are not uncommon at Phish concerts, Foreman says.