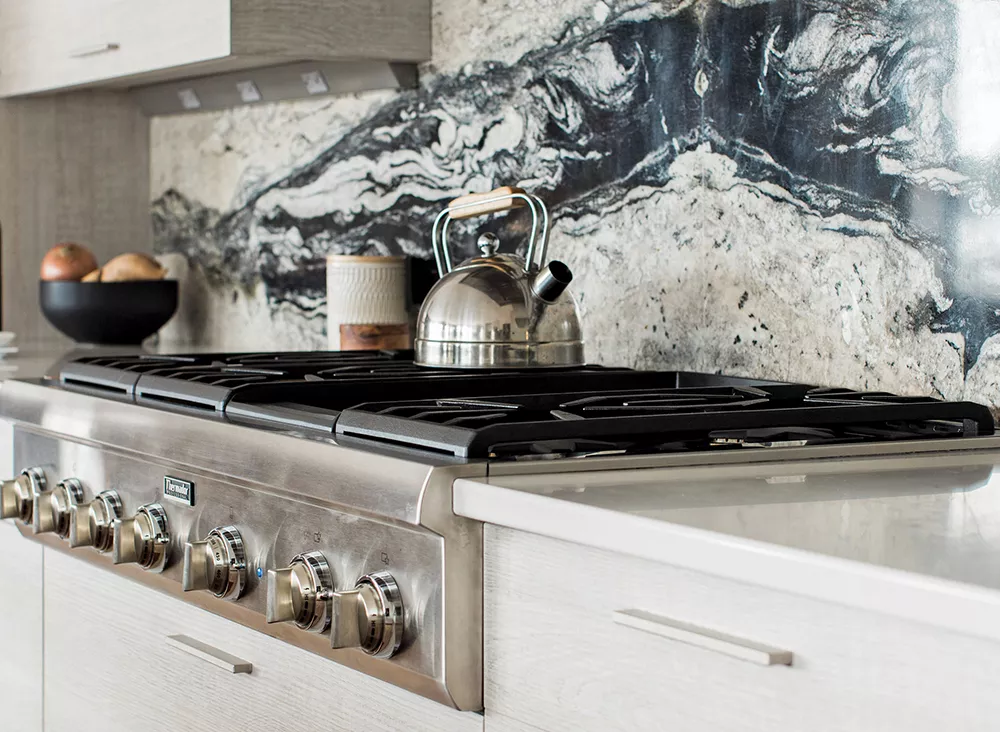 The kitchen is the undisputed hub of the household — not only a place for preparing food, but also the preferred spot for paying bills, the at-home office, homework and entertaining. But, of course, function isn't the only priority. Kitchens are also often the best place in the home to showcase innovative, thoughtful design. From new trends in cabinetry that offer the opportunity to maximize efficiency to fearless use of dramatic materials and breaking old rules on matching metals, kitchens are often the epicenter of cutting-edge design for modern homes.
Art in the Kitchen
"Kitchens and baths are the most challenging and technical spaces in the home," says Sara Berry, who earned her bachelor's in interior design from WSU and owns Berry Built with husband Matt, a home builder with more than 22 years in the industry. "I love creating functional art," she says.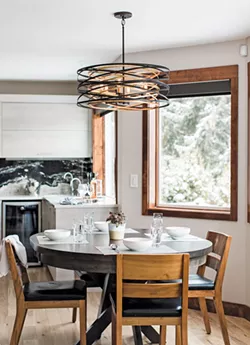 That passion is on full display at a recent 1980s South Hill home kitchen remodel. Berry took an innovative approach to the granite versus quartz debate, incorporating matched slabs of natural stone to create a dramatic kitchen backsplash. In addition to being an obvious focal point for the large space, the stone offers easy maintenance — no grout lines to clean — and is exceptionally durable. Durable quartz counters mimic the look of stone, without the maintenance issues, while light gray cabinets with visible, horizontal wood grain add to the modern vibe.
The kitchen's large island accommodates casual seating and considerable storage, and a nearby eating area reveals the on-trend mixing of metals, with a dramatic black and gold light fixture.
Mixing metallic finishes took a different twist in a kitchen the Berrys remodeled for a young family of five. Berry incorporated the stainless steel of the appliances and the black accents from cabinet pulls into the design of unique bi-fold upper cabinet doors fronted with frosted glass. While open shelving is trendy, homeowners are rightly apprehensive that it can end up looking jumbled and messy. The frosted glass insets allow subtle glimpses of the cabinets' contents when the kitchen isn't in use. The unique hinging allows the panels to be up and out of the way, functioning like open shelving during busy kitchen prep time.
Seeing design elements at work is what inspires the Berrys.
"We often get invited back to our projects after completion," Berry says. "Matt and I love to stand back and watch the space perform the way it was intended to."
Island Life
"The kitchen is our favorite interior space to design because this is really the center, or heart, of the home," says Alison Taylor, who founded Taylor Design with husband Josh. The couple met at Central Valley High School, attended University of Washington together and formed their company 20 years ago. "We like to think about what each drawer or cabinet will hold, and how people will function in the space."
Some of their own favorite memories have occurred in the kitchen, specifically around their kitchen island. Ever larger islands are undeniably popular, but not every kitchen can accommodate them.
"We don't believe in designing a kitchen to keep guests out, but instead in making it comfortable when they all crowd around the island," Taylor says.
Two recent empty-nesters on the South Hill employed the Taylors to create a kitchen featuring radiant heating and a wood-look tile floor, floating shelves and drawers — versus standard base cabinets with shelving — beneath the counter. "The custom range hood is also a popular feature now," says Taylor, because it allows a necessary, functional component of the kitchen to blend in seamlessly. Thoughtful details like drawer dividers help maximize storage and minimize the tendency for kitchen clutter.
In the recently completed kitchen for an active family with four boys in the Spokane Valley, the Taylors of course incorporated blue, playing off of Pantone's Classic Blue "Color of the Year" for 2020. The deep blue base cabinets add crisp contrast to the fresh white of the upper cabinets. Though the appliances are stainless, and the pendants feature black metal, the Taylors chose gold hardware for the cabinet pulls, which adds a warm touch to both the dark base and crisp white upper cabinets.
"The kitchen is really the heart of the home."

tweet this
"Mixing metal finishes seems to be a big trend now," notes Taylor, whose roots in the business go back a while, since she and her husband built their first spec house. "Over 20 years later, we still love working together and now our oldest daughter has finished college and joined us."
Challenging Tradition
Scott and Ally Tedrow of Contempo Homes consider three things when designing a kitchen: "We want our clients to have kitchens operate with finesse, 'wow' guests and have timeless features," Ally Tedrow says. Their company builds on Scott's background in building and Ally's education in business and design.
Like other designers, they do extensive research on their clients' needs, from how and what they cook and eat to entertainment needs.
"One new trend we are finding of value to many of our clients is providing a pantry in a close proximity," says Tedrow, including one that is separate from the kitchen, but also one built into the kitchen cabinetry as a mini bar, coffee station or larger storage. Or in the case of a kitchen they designed for a Peaceful Valley couple, a television cabinet. "We love how they are sleek, but still provide cabinet space, and add a touch of surprise," Tedrow says.
"When it comes to any design, the eye should be slowly directed or be told where to look with a 'pop!'" Tedrow says. They added color — the orange stools in an otherwise light, neutral kitchen — and a strong vertical element connecting the island counter and ceiling.
From the ceiling, the eye drops back down along the lines of the drop lighting, which in this case is a mix-and-match approach: one rounded, the other a horizontal bar.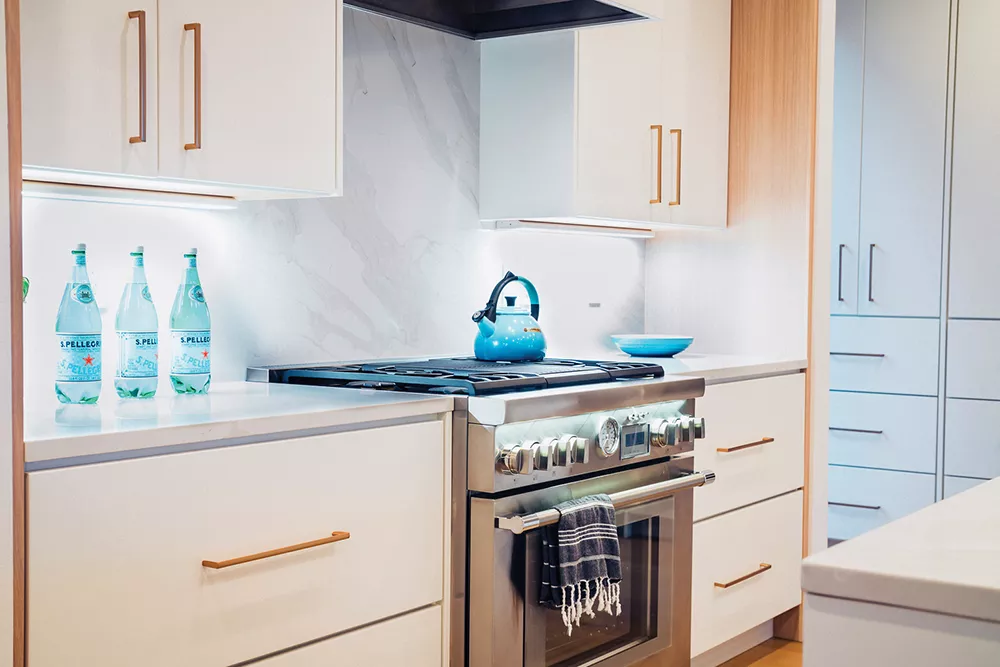 "As kitchen lighting is changing, moving away from the three to four pendant fixtures and more towards linear fixtures, it is exciting to dive in and create," Tedrow says.
Although they had lots of choices for appliances, which are trending in bright colors, retro styles and a new black stainless steel finish, the Tedrows went with stainless steel for a timelessness combined with longevity.
Another home they designed for a young family of four in the Liberty Lake area also showcases the trend the Tedrows mentioned regarding mixed metal finishes. Featured in the 2019 Fall Festival of Homes through Spokane Home Builders Association, the kitchen includes three drop lights, one each in white, silver and black, as well as both flush-mounted and cylindrical tube lighting.
"The family loves the kitchens' diversity," Tedrow says. "The Thermador range can change from a grill to a griddle, and they have even sent us pictures of pancakes ready to be flipped!"