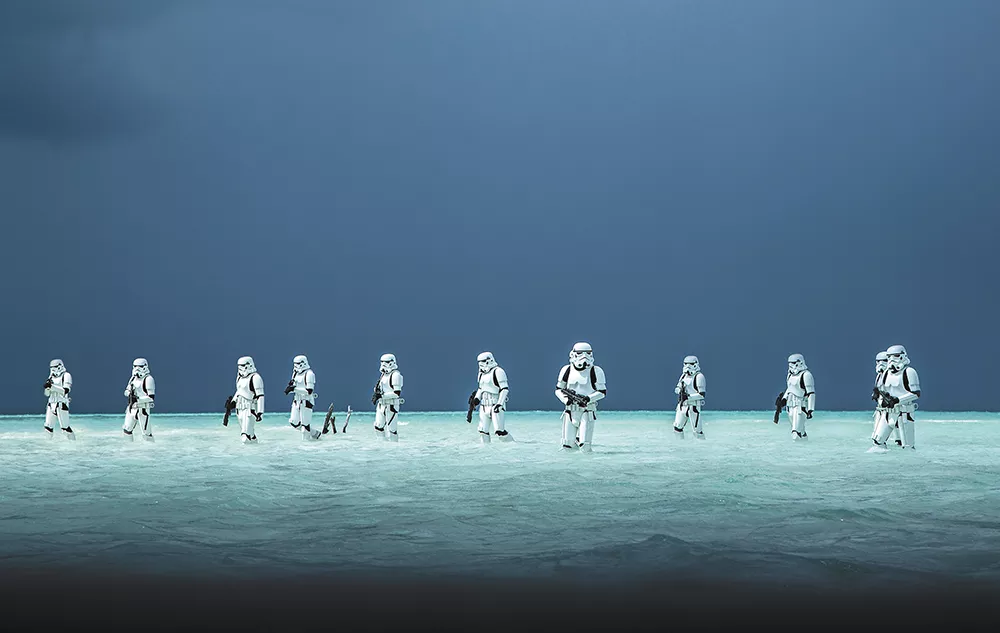 Expanding the Star Wars cinematic universe outside of the tent-pole-numbered episodes presents a dicey proposition for a number of reasons, and Rogue One: A Star Wars Story checks all of the potentially worrisome boxes: diluting the brand and cheapening future anticipation (aka Marvel-ization), re-covering storytelling ground that the extended universe already did well (before Disney declared it all non-canon), and giving the side films to lesser moviemakers (Rogue One director Gareth Edwards' biggest credit is 2014's Godzilla). But while Rogue One lacks some of the signature Star Wars adventurous fun, there's enough creativity to make the first Star Wars spin-off succeed.
Set immediately before A New Hope, Rogue One follows Jyn Erso (Felicity Jones), the daughter of reluctant chief Imperial engineer Galen Erso (Mads Mikkelsen). When Rebel intelligence soldier Cassian Andor (Diego Luna) rescues Jyn from prison, she becomes part of the mission to find out if there is any way to stop the new project that her father designed — the Death Star.
The strength of Rogue One lies in a cast of characters that reward genuine investment. Jones plays Jyn with a steely edge of a fiercely strong and independent woman who's totally capable of fighting her own battles. Her connection to her father carries real emotional weight, and her relationship of standoffish mutual admiration with Cassian wonderfully avoids clichés. Donnie Yen almost steals the movie as Chirrut Îmwe, a blind warrior-monk. With a calm aura, steadfast beliefs, and preference for physical combat (using his staff), the character manages to tap into the Jedi's real-world samurai origins more effectively than any actual cinematic Jedi. It doesn't hurt that Chirrut is always flanked by his loyal pal/muscle (and only guy in the universe with an automatic blaster rifle) Baze Malbus (Wen Jiang). Ben Mendelsohn sinks his teeth into the antagonist role of Death Star Director Orson Krennic, boasting an aloof, sneering disdain for both Rebels and the Imperials in his way. The lone comic relief comes from Cassian's blunt-talking reprogrammed Imperial Security Droid, K-2SO.
Because its fictional time period allows it, the film goes a bit overboard with brief moments of unsubtle and unnecessary fan service. That said, the way certain characters from A New Hope get worked into Rogue One — Grand Moff Tarkin, in particular — is downright stunning, on a "this may change moviemaking history going forward" level. There are also a few extremely clever combat moments both on the ground and in space, adding zest to the familiar battle plotting.
The biggest departure Rogue One takes from previous Star Wars films comes from Edwards' directorial tone. This is not a movie made for little kids. The darkness on display makes The Empire Strikes Back look downright sunny. At times, Rogue One gets oppressively bleak. But that bleakness helps the film stick. Rogue One isn't a safe expansion of the Star Wars cinematic universe, but bold first steps rarely are. ♦