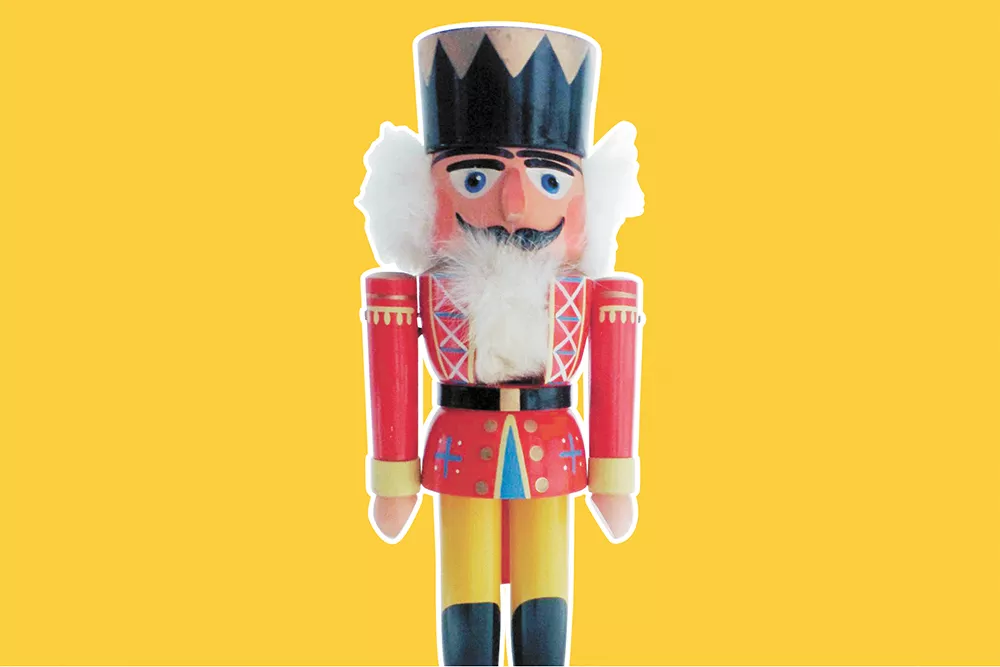 I'm sure my grandmother's nutcrackers did not, at time of purchase, seem like garbage that people who love her would one day be unable to throw away. In 1955 they were fist-sized, with human hair and fingerless hands holding beer steins and ski poles, a cockeyed nullity in their un-pupiled eyes, Westdeutschland stamped beneath their feet. In 1965 the nutcrackers were forearm length, and most wore military jackets. Red army, green army.
By 1975 their helmet-covered hair that wasn't human, wasn't even animal, would in fact, if grabbed during a Christmas-light-sparked house fire, melt brown or blond plastic into the skin. By 1985 the nutcrackers were knee height, bucktoothed, bought at Walmart and still dressed for war. The majority were made in China. None of them could crack nuts.
Nutcrackers are guardians of the house and symbols of good luck, square- and glass-jawed, as Fritz discovers in Tchaikovsky's Nutcracker, where breaking Clara's nutcracker turns Fritz into an asshole and the nutcracker into a human prince. They came from Germany in the rucksacks of WWII soldiers like my grandfather, who married my grandmother, had children, and collected objects to delight and protect their children. And so: all my life, toddler-sized nutcrackers bossed kitten-sized nutcrackers into protective formation, poised and ready for the war on Christmas.
Not long ago, my grandfather locked the keys in his still-running car and fell down walking home, precipitating a move to assisted living. They'd delayed leaving their house as long as they could. The move was agonizing. A relief.
That is how I came into my inheritance: 100 nutcrackers in various states of limb, paint, and hair loss. My grandfather's dead now, my grandmother still alive. She's 97. Through the manic glitz of Christmas, no Lebo goes unguarded. ♦
Kate Lebo is the author of the cookbook Pie School, the poetry chapbook Seven Prayers to Cathy McMorris Rodgers, and co-editor with Sam Ligon of Pie & Whiskey: Writers Under the Influence of Butter and Booze, a collection of writing and recipes from the Pie & Whiskey reading series.