Whether you're fast or slow to ditch your Christmas tree, Spokane's got you covered, with free curbside pickup for customers starting Thursday, Dec. 26, and going through Jan. 10.
There are a few caveats: Make sure you snagged all those precious decorations and packed them away first, and the trunk of your fresh cut tree can't be more than three inches in diameter. The free pickup doesn't apply for flocked (covered in white dust or paint to mimic snow) or artificial trees.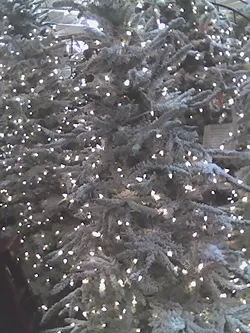 Also, if your tree's more than 6 feet tall, cut it in half to make it easier on the workers who'll be chipping the trees up.
For other options, you can also pay the clean green fee to take an undecorated, unflocked tree to:


Waste-to-Energy Facility, 2900 S. Geiger Blvd. Open 7: 30 a.m. to 5 p.m. daily.
Spokane Valley Transfer Station, 3941 N. Sullivan Road. Open 8:30 a.m. to 4 p.m. daily.
or the North County Transfer Station, 22123 Elk-Chattaroy Road. Open 8:30 a.m. to 4 p.m. daily.
Scout troops often offer tree removal for a small donation, so keep an eye out to see if they're headed to your neighborhood.
One last recycling tip: Gift wrap without metallic foil or cellophane can be recycled, but styrofoam, plastic bags and tissue paper should go in the garbage.
NEW YEAR'S EVE
At the newly renovated Pavilion, Spokane's Riverfront Park will host a special New Year's Eve celebration on Dec. 31, with fireworks early in the night so families can participate.
The first special Pavilion countdown light show for families with children is scheduled from 8 p.m. to 9 p.m., at which point a 12-minute fireworks show is set to start.
Then, the countdown light show will happen again from 11 p.m. to midnight for the real ringing in of 2020.
Spokane Parks and Recreation is also offering extended hours that day for Riverfront attractions:
Numerica Skate Ribbon & Cafe: open 10 a.m. to 10 p.m.
Carrousel: open 10 a.m. to 9 p.m.
Numerica SkyRide: open 10 a.m. to 8 p.m.
For more New Year's options, check out our
events calendar here
.