BREW YOUR BREWS
A lot of people enjoy drinking beer. Others have the personal drive to make their own brew. For those who fit that description, local professional brewer Adam Boyd has got you: This summer, on July 11 and Aug. 15, Boyd is teaching a step-by-step home brewing class at Spokane Community College. These $59 intensive courses will dive into the science and necessary equipment and ingredients that go into making beer. Go get 'em, beer fanatics. Visit scc.spokane.edu to secure your spot.
DRINK LIKE IT'S 1920
Did you just binge all of HBO's Boardwalk Empire? Does Steve Buscemi frequently appear in your dreams making shady deals in Prohibition-era bars? That could be you, too — sort of. Every Thursday night, Spokane's Prohibition Gastropub on North Monroe hosts Scotch and Cigars, an event on an outdoor patio where patrons pay between $15-$25 for a flight of bourbon, scotch, or whiskey and a finely paired cigar. Staff from Cigar Train are experts in fine-tuning liquors with tobacco and bring an impressive array of 20-30 different types of cigars. It runs from 6-10 pm.
NOBLE INDULGENCE
Well-maintained trails are crucial to the liveability of our region. That's why you should swing by Coeur d'Alene's McEuen Park on Aug. 10 for Ales for the Trail, an annual outdoor craft beer, wine, and cider celebration that directs proceeds to the North Idaho Centennial Trail Foundation. Featuring beer from over 10 participating brewers — both local and not — food vendors, a free bike corral for cyclists, and live music, the feel-good event promises to deliver for some Saturday afternoon fun. Tickets are priced at $20 on Eventbrite and the party starts at 2 pm.
UNDERRATED SUMMER COCKTAIL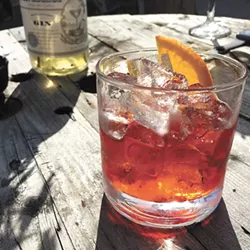 Do you drink negronis? At least during the summer? Because you should be. This simple Italian classic provides a refreshing and vibrant — yet not overpoweringly sweet — salve for today's apocalyptic smoky summers in the Inland Northwest. Here's how you make one:
1. Throw equal parts campari, gin and sweet red vermouth into a cocktail shaker (or any sort of vessel — who cares really) with ice and stir it up.
2. Fill a glass with ice and pour your drink. (I'd say use some large ice cubes, but you do you.)
3. Garnish it with orange peel on top. Maybe even run the citrus bit around the rim of the glass and squeeze it over the top of the drink if you want to get fancy.
4. Then drink it. Your life will be changed.
SPECIALITY IDAHO SPIRITS
Hop over to downtown Coeur d'Alene on June 27 for a showcase of spirits from eight Idaho craft distilleries served at local bars and restaurants. Industry professionals will be present at each spot to fill you in on their wares, and tickets to the event include a commemorative glass and tastings at each location. Some participating distilleries include 44 North, Koenig Distillery, and Bardenay, and some of the host locations are Ironhorse Bar & Grill, Kaiju Sushi & Spirits, and Beacon Crickets. Tickets are $20 at Eventbrite.
TUNES, SUN SALUTATIONS AND VINO
Yoga, music and wine. Can it get any better? (The correct answer is "yes," but everyone is entitled to their own opinion.) On Aug. 27, Arbor Crest Wine Cellars in Spokane Valley is hosting a one-hour guided yoga and pilates class — geared for all levels of experience — accompanied by keyboard and percussion music from Danny McCollim and Chris Kohut. Decompress afterwards with a glass of wine in the gardens. And you'll get an Arbor Crest glass. Tickets are $35 on kazzit.com and the session will start at 5:30 pm.
ALL THINGS BEER (IN NORTH IDAHO)
Swing by Slate Creek Brewing in Coeur d'Alene for the second running of the now annual North Idaho Brewery Olympics, where patrons can enjoy local beer — from both Slate Creek and Radio Brewery — as well as a slew of other offerings, including food trucks and live music. Best of all, there's an absurd number of games, such as bucket beer pong, a putting green challenge, cornhole, and an antler toss. It's $20 to compete in the games with a chance to win prizes, and all the proceeds go to charitable causes. Slated for June 29 at 5:30 pm, visit eventbrite.com for tickets.
THE ULTIMATE PATIO PARTY
Get ready: Party on the Patio at Three Peaks Kitchen and Bar at the Spokane Tribe Casino is back for more this summer. After kicking off in May with additional celebrations slated for July 11, Aug. 8 and Sept. 12, from 4-7 pm, this event promises live music, free shuttle pickups from a variety of regional hotels, prizes, local beer, wine and cocktails. Oh, and there's food specials; baked oysters and boursin stuffed mushrooms? Yes, please. The food and drink specials seem reasonably priced, too.
THE IDEAL SUMMER HOME BAR
Cocktails are great. But drinks that you make at home without having to tip at a bar — bartenders everywhere, we still love you — are even better. As we move into the summer months, you'll want to have the basic components to whip up drinks on the fly when it's too hot (or smoky) to go outside. But you'll need a few essential items to make that happen.
First, some foundational booze: Gin, tequila, vodka, light and dark rum and some type of whiskey are the pillars, but you can add or subtract other liquors to your heart's content. Then you need the secondary ingredients, such as sweet and dry vermouth and bitters. (Angostura bitters is a safe bet.) Mixers you might want to snag are tonic, soda water and ginger ale. Limes, oranges, mint and lemons will also need to be on-hand for juices and garnishes. Don't forget sugar or simple syrup.
Then there's your tools: A full-blown cocktail shaker is quite useful, so I'd say go ahead and invest in one. (Ideally, this would come with its own filter if you're trying to keep fine particles out of drinks as well as a bar spoon.) You'll also want some sort of muddler, though you could honestly just use a thick stick. Bar knives are great to work with for garnishes, but you don't really need one. Oh, and don't forget a jigger for measurement.
What can you make with your investment? A lot. Whiskey gingers, mojitos, negronis, old fashioneds, mint juleps, margaritas, daiquiris, gin and tonics, and Moscow mules come to mind. You won't be able to make absolutely every cocktail in the book (e.g., a pina colada or a Cuban old fashioned), but it's a good place to start. ♦