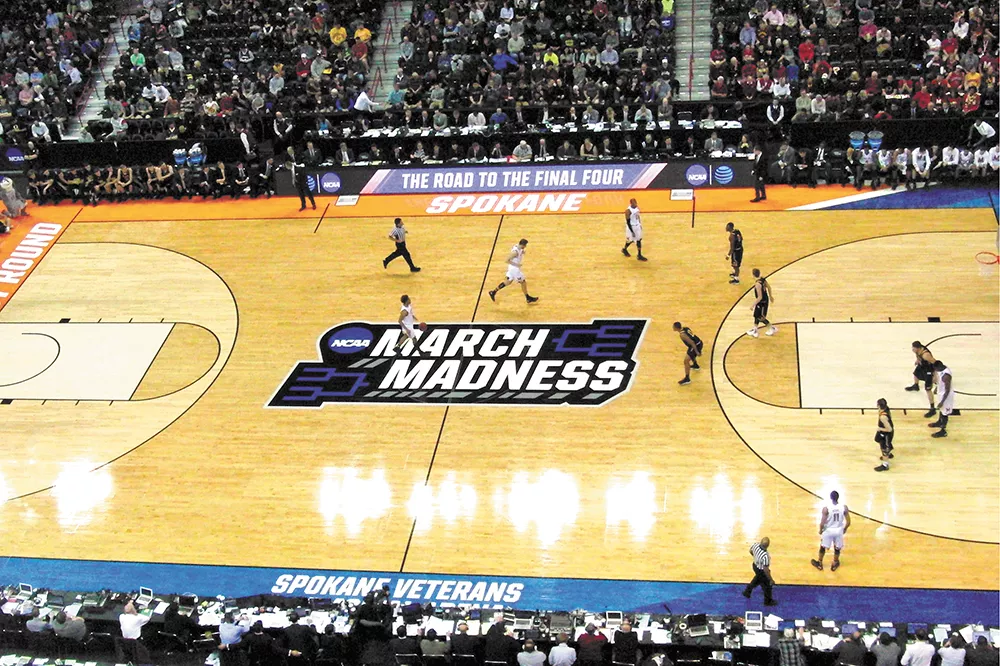 Honolulu, Hawaii, is almost 2,900 miles from Spokane, and the cities don't share much in common. One is landlocked, while the other looks out at the open Pacific Ocean. On this mid-March Friday, there's about a 30-degree difference in high temperatures between these two locales, but today the cities are bound together by the hope that the University of Hawaii's Rainbow Warriors can beat the Cal Bears.
This is why you go to an NCAA Tournament game if the event comes to your town. It doesn't matter who's playing, because as was the case at the Spokane Arena last weekend, you can always just pull for the underdog. And on that Friday, Hawaii, a 13 seed that hadn't been to the tournament in 14 years, beat fourth-seeded California, and did so handily, 77-66.
In the concourse after the win, David Kawakami celebrates with fellow Hawaii fans, several hundred of whom made the trans-Pacific trek. He's also getting plenty of high-fives from random passersby.
"We knew we were going to win," he says, having finally landed in Spokane that morning with just a few hours to spare before the first of four games tipped off at the arena.
"We'd been in Anaheim [for the Big West tournament] and then got back to Hawaii, and then now we're here. It's amazing," he says.
Still in the stands and gazing out at the court, Kristen Brummel's voice is hoarse from screaming. She was there with the Rainbow Warriors in 2002 for their previous NCAA appearance.
"I have been a fan for years. This was our day," she says with a rasp.
It was a win that should have shocked the basketball world. And for maybe about half an hour, it did. But while Hawaii fans were still celebrating, Michigan State, a 2 seed widely thought to be a contender to win the national championship, fell to Middle Tennessee State. Suddenly, even inside the Arena, that Hawaii win was shadowed by something even crazier.
Throughout the day, there would be other upsets around the country. In Spokane, it seemed for a moment like South Dakota State could knock off mighty Maryland. But a turnover on a late possession killed that dream, no matter how hard the just-hopped-on-the-bandwagon fans in the Arena tried to will it.
For the rest of the weekend, you didn't need to even be at the Spokane Arena, or any other arena where perhaps the craziest tournament ever was taking place, to feel its impact. This improbable string of games made for several days when it was possible to go about your life without hearing of any non-basketball insanity in the media — namely, that one guy running for president and the people who want him to be president and think they can punch you in the face if you try to keep him from office.
By the time Oregon, the first No. 1 seed to play an NCAA game in Spokane, arrived on the floor, the building was marked by the familiar Day-Glo green and yellow of the Ducks, who'd materialized in Spokane from far and wide, or in the case of local UO alumni, just across town. Oregon easily topped woefully overmatched Holy Cross 91-52.
"This felt like a home game," said Chris Martin, a Spokane native and Oregon alum.
That night, there wasn't upset magic in the building when Cincinnati and St. Joseph's faced off in the nightcap, but just an old-fashioned, knock-down, drag-out game of basketball. In the end, Cincy's Octavius Ellis dunked a ball about a tenth of a second too late, in one of many of the day's insane finishes. St. Joe's prevailed.
On Sunday, there was no more magic to be found, even if Hawaii's rooting section had doubled and most of Oregon's fans were pulling for the Rainbow Warriors as they tried to eliminate Maryland. Despite leading midway through the second half, Hawaii fell. St. Joe's had Oregon on the ropes in the game's final minutes, but the Ducks, too, escaped Spokane.
Outside the Spokane Arena, the warmest day of the young year had turned to a downpour, as if to remind us all that reality had returned — at least until games started up elsewhere in four long days. ♦