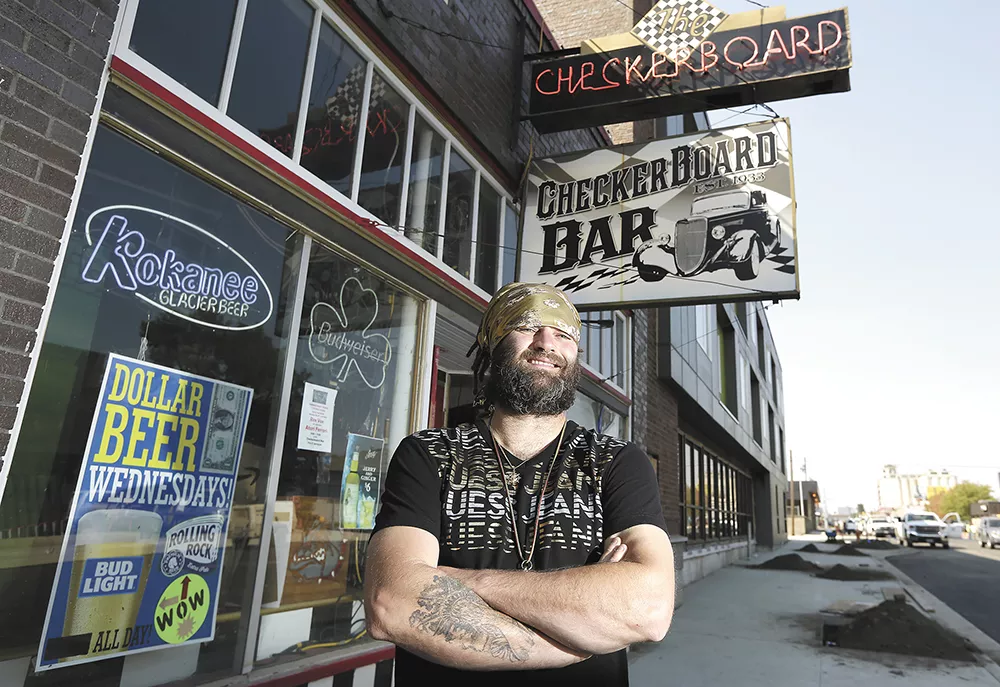 New sidewalks now reach farther into the road along a nearly half-mile stretch of Sprague Avenue, making room for new lighting, trees and hanging flowers, and making it safer to use parking spaces along the revitalized stretch of the well-traveled city commute.
With the last layer of asphalt on the final four-block stretch of this $4.3 million project being laid in recent days, there are only a few finishing touches left until the road reopens to traffic in mid-September.
Where there used to be four lanes, there's now one in each direction, with a center turn lane sporadically dotted with pedestrian islands, making crosswalks safer for those on foot. Round concrete corners stick out at the end of each block, which should calm traffic and also make it easier to see pedestrians getting ready to cross.
Many business owners, such as Heather Hanley of the Tin Roof furniture store, say the end result is beautiful, and well worth the "Main Street" feeling it's giving this stretch of the city, but businesses all along this stretch have been hurting during construction. With confusing detours and communication issues over water shutoffs, there are lessons to take away as the city prepares to redo another major commuter corridor along North Monroe Street next year.
The Checkerboard Bar on Sprague near Madelia Street is at risk of closing again, as owner Ian Maye says they're behind on payments to the previous owner.
The seller has given them a foreclosure notice, and if they don't raise about $25,000, their doors could close come Nov. 6, ending the bar's tenure that started at the end of Prohibition in 1933. They've got a GoFundMe page for the bar, hoping to collect donations.
The bar was hit with a "double whammy" of construction, with apartments going in next to it starting last fall, and then the road construction starting in spring. With other projects all around that area, including work on Altamont Street and now on Riverside Avenue, it's been difficult for people who aren't familiar with the neighborhood to navigate their way.
"Of all the obstacles we have faced, gang violence, threats and intimidation, prostitution, vandalism and the negative reputation of East Central Spokane, we always managed to survive somehow," Maye writes for the GoFundMe page. "I never would have thought road construction and the building of apartments adjacent to us could take us out."
The city has been trying a new method of road work here, closing four full blocks at a time for everything from sewer line replacement to sidewalk and road work, rather than shutting down a few lanes of traffic at a time. That's made it safer for workers, and the construction is set to wrap up much earlier than expected.
It also avoids the type of delays seen with partial road closures, like downtown road construction work last year, which was delayed by weather and had to be finished this summer.
"From an operational standpoint, it's been much safer and easier for crews to work out there without having to look over their shoulder constantly for traffic," says city spokesman Brian Coddington. "Obviously, there's been an impact to business owners; there's no way around that. But from a psychological standpoint, it's allowed them to see the work done in sequences. They were able to see the end in sight, so to speak, when we finished the first phase."
Closing the entire stretch also makes it easier to replace pipes and do underground utility work, Coddington says.
"Especially with stormwater pipes crossing the roadway, it's always a tricky dance how to sequence all of that to get that done when you're only closing a few lanes at a time," he says.
The work on Monroe is likely to be done in a similar manner to Sprague, Coddington says, with contractors working on a few blocks of a closed stretch of the street, because it's safer and faster.
One of the main issues that has arisen with that method, though, is that it completely shuts down traffic along that route. For many businesses along Sprague, which saw as many as 14,000 cars per day in 2016, customer traffic decreased dramatically as soon as the first portion of the road was blocked, even as the street in front of their shops was still open.
And it's not just affecting establishments in the district, says Tin Roof owner Jim Hanley.
"We're almost through this thing, but gosh, when you look at those people up north, I'm not sure how they're going to do that," Hanley says. "Because it hurt our business, and it's hurt some businesses a lot. Everyone in the whole district, from Sherman to Freya."
Business owners who spoke with the Inlander say they've lost 40 percent or more of their customers and sales during construction.
Detour signage is one of the main concerns. While alleys and back doors were open, signs well ahead of the road work detoured traffic away from the area, and in some places, drivers had to pull around road closure signs to get to a specific business.
Not only have drivers been unable to use Sprague, but in the past few weeks, Riverside was also closed in that area, says Chris Bennett, who owns Bennidito's Brewpub.
Co-owner Sigrid Bennett says it's a good thing they have a second location on South Hill, or they might have had to take a loan out to make it through the season.
The restaurant also had to close for a day when the construction crews came in one morning to say that water would be shut off for half the day.
"They don't talk to each other really well, I don't think," Chris Bennett says of the city and contractor, "and they don't communicate to us. We have a brewery and have tons of hot water. We've got a 30-barrel hot water tank. That would have screwed us up if he was doing a batch."
There are always issues with detours during construction, but the city has tried to keep traffic as close to businesses as possible, and it seems to have worked well, Coddington says.
"We've had some learning on signage," he says. "It's always difficult when you sign one of these projects, there's a lot of signs competing for visual space. You've got road closure signs, business signs and directional signs. We try to do the best we can to address those needs."
To help make communication easier, the city has also hired a construction ombudsman, Michele Vazquez, to make sure neighbors and businesses have one point of contact through the many projects going on. This year is the biggest construction season in city history, Coddington says, with $100 million in projects going on at once.
Even as the city is wrapping up the work on Sprague, planning for the North Monroe "road diet" project is underway, Coddington says.
"We are fully committed to a single construction season for that project next year," he says. "A lot of work is happening, but there's a lot of planning in the background to make sure we can apply lessons learned from this year."
For Monroe, traffic will be diverted to arterials, not residential areas, for safety, Coddington says.
"That's all something they'll work through on sequencing, how to move people through in an efficient manner and keep traffic in close proximity to those businesses so they still benefit," he says.
Through outreach, the city is trying to give owners as much of a heads-up as possible to prepare for the road work, as construction is the hardest part for businesses to weather.
Heather Hanley says the city gave them a document with tips for how to survive road construction. Among the advice they took, Hanley says the furniture store held events each month and ran a promotion with Northern Quest Resort & Casino, where everyone who came in got a pass to the spa, and could enter to win a $100 gift certificate for the spa.
"Your customers will still come, especially if you keep inviting them back and you give them a reason to come down," she says.
She was shocked when the number of customers coming in dropped by half, but Hanley says their sales weren't affected to the same extent, because those who were coming in really wanted to be there. She suggests that business owners along Monroe plan for the worst, expect to advertise more, speak with landlords about reducing their rent, and be sure to stay in touch to know where things are at with the work schedule. For some, she recommends they consider moving or opening a second location.
As for the actual construction work in front of their store, she says it has been amazing to watch.
"Everything was so well orchestrated," she says. "I called it a ballet of bulldozers; it was amazing to watch these guys work."
And as the work is wrapping up, some owners agree that for East Sprague, the improvements will be worth the inconvenience. At least, for those who can afford the hit on their business.
"It's like remodeling a kitchen. You know you'll be without that kitchen 'til it's done, and once you're started, you have to go forward. There's nothing you can do until you get through it," Maye says. "I just hope we're around to enjoy those changes." ♦