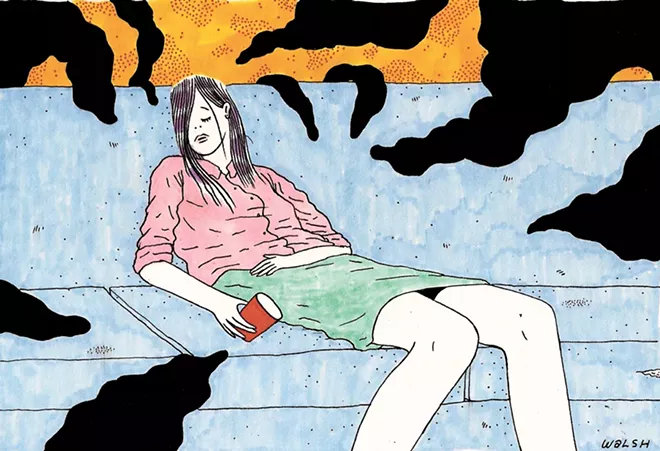 There's a slight chill in the air, night comes quicker and the changing of leaves is almost upon us — the time of the year when students arrive at college, and I'm reminded how the big first steps on campus are an exciting experience. Or it could be a nightmare, when one in five women attending college will be a victim of rape or some form of sexual assault, and 6 percent of men are sexually assaulted during their college years. (Campus sexual assault is a definitely not a gender-specific issue, but women represent most victims.)
It's become so widespread, the Centers for Disease Control determined that sexual violence poses a public health crisis. Since 2014, 96 colleges and universities nationwide, from Amherst to Berkeley, have been under investigation by the United States Department of Education's Office for Civil Rights for violation of Title IX — the federal law that protects against discrimination in education — relating to how they have handled sexual violence cases.
Washington State University is one of these schools, with a total of 96 complaints to be settled by the investigation; already, Pullman police are investigating an alleged rape that occurred two weeks ago involving a fraternity member. WSU has made stronger efforts to raise awareness, but it's not good enough. This case is the latest in a disastrous epidemic. The Rape, Abuse, and Incest National Network reports college-aged women are four times more likely than any other age group to face sexual assault.
If you haven't seen this year's documentary The Hunting Ground, you must. An exposé on campus sexual assaults, it follows the institutional cover-ups and the brutal social toll on victims and their families, while examining specific cases involving fraternities and student-athletes, most notably Jameis Winston — the Tampa Bay Buccaneers' No. 1 overall NFL draft pick in 2015 — who was accused of rape by Erica Kinsman while both were in college at Florida State. Police intentionally bungled the case and charges were swept under the rug. Considered alongside Missoula: Rape and the Justice System in a College Town by Jon Krakauer, which explores how the University of Montana and the Missoula city and county governments mishandled sexual assault cases, a sordid pattern emerges. Krakauer says that less than 4 percent of college students also are athletes; however, student-athletes commit 19 percent of sexual assaults on campus. In the Greek system, fraternity brothers are three times more likely than their non-affiliated peers to commit rape. Meanwhile, the courts haven't caught up.
In an evil twist, the political wing of the nation's fraternities (and sororities) lobbies Congress to make it more difficult for colleges to investigate sexual assault allegations. The Fraternity and Sorority Political Action Committee, fittingly called FratPAC, wants "a requirement that the criminal justice system resolve cases before universities look into them or hand down punishments." Gun-rights advocates such as Students For Concealed Carry have stooped as low as to argue for arming female college students to help curb campus sexual assault.
There's hope. New York Gov. Andrew Cuomo created "Enough Is Enough" legislation that defines consent with a "yes means yes" policy, requiring both parties to give a clear, affirmative agreement.
With strong bipartisan support this year, the Washington State Legislature passed a bill, signed into law by Gov. Jay Inslee, that mandates campus violence assessments to gauge the prevalence of sexual assault and establishes a uniform process for investigations and disciplinary proceedings, regardless of the categories of students, such as fraternity members and athletes. It also requires campuses to ensure that all students are informed of their policies and procedures on sexual violence and on Title IX.
We need to continue the work from this past session, take an honest look at the statistics and stories coming out of our colleges, and act accordingly to end the era of neglect when it comes to sexual assault on campuses. Enough is truly enough. ♦
Paul Dillon is the Eastern Washington Program Director for YMCA Youth & Government, teaching democracy to youth through hands-on civic engagement.