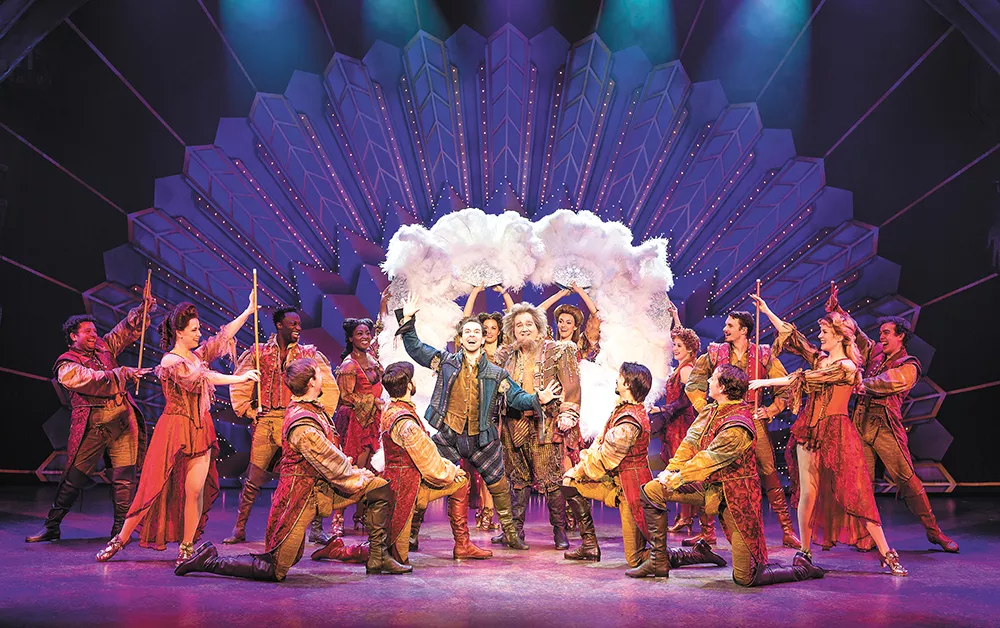 Sept. 15-Oct. 1
RIPCORD
After debuting off-Broadway just two years ago, the latest play by David Lindsay-Abaire (Good People, Rabbit Hole) gets its regional premiere at Ignite!. Ripcord is an odd-couple pairing — aloof, no-nonsense Abby and her new roommate, the unshakably upbeat Marilyn — set in a retirement home. Though it has broad similarities in terms of backdrop and setup with The Gin Game, staged last season at the Civic, Ripcord is a very different animal, a battle of wills that plays out in the form of ever-escalating practical jokes. But darker subjects come to light, as each woman tries to get the other to crack. Ignite! Community Theatre, $12-$15, Fri-Sat at 7:30 pm, Sun at 2 pm (E.J. IANNELLI)
---
Oct. 3-7
SOMETHING ROTTEN!
This Tony Award-winning, exuberantly tongue-in-cheek musical about, well, the whole strange show business of musicals, is on its first-ever national tour after wrapping up a long run on Broadway earlier this year. It tells the story of brothers Nigel and Nick Bottom, contemporaries and rivals of William Shakespeare, who take direct aim at the Bard's popularity with their pioneering Omelette: The Musical. Something Rotten's five-day stint in Spokane, kicking off the INB's Best of Broadway season, is one of only two stops in the Pacific Northwest. INB Performing Arts Center, $37.50-$77.50, Tue-Sat at 7:30 pm, Sat at 2 pm (EJI)
---
Oct. 12 & 14
THE NEW AMERICAN & KLONDIKE: THE LAST ADVENTURE
Educational theater company Living Voices Theater is coming to WSU with two separate shows that put a personal spin on formative episodes in our country's history. The New American (Oct. 12) chronicles a young immigrant's grueling transatlantic journey from Ireland to Ellis Island, circa 1910, in search of liberty and opportunity. Klondike: The Last Adventure (Oct. 14) examines the lure of a different kind of promise, that of instant wealth, through the eyes of a female prospector who joins the mad scramble to Alaska during the Klondike Gold Rush. Real archival photos and films will augment the actors' live performance. Jones Theatre at Daggy Hall, $5-$10 (free for WSU students), Thu at 7:30 pm, Sat at 2 pm (EJI)
---
Oct. 20-Nov. 5
BACK OF THE THROAT
Stage Left's second production of the season takes its title from the guttural k in Arabic, the pharyngeal consonant that's needed to properly pronounce the name of the play's protagonist, Khaled. Yet it's also symbolic of the otherwise innocuous cultural differences that can foment suspicion and paranoia under the wrong circumstances. This one-act black comedy by Yussef El Guindi (and directed by Heather McHenry-Kroetch, pictured) was written in response to the charged, hostile atmosphere that followed 9/11, and sees Khaled detained in his apartment by a pair of government agents who insist that he has ties to terrorist groups — however tenuous their evidence and however crude their methods of interrogation might be. Stage Left, $20, Fri-Sat at 7:30 pm, Sun at 2 pm (EJI)
---
Nov. 2-12
TICK, TICK... BOOM!
Most audiences are familiar with writer and composer Jonathan Larson through his hit musical Rent. His tick, tick...BOOM! was an autobiographical one-man show about showbiz rejection that actually predates his most famous work. Not long after Larson's death in 1996, the show was fleshed out and augmented into a full-scale rock musical about a frustrated waiter named Jon who dreams of writing the kind of show that Rent would become. Courtney Smith of Gonzaga's Theatre and Dance Department will direct. GU's Magnuson Theatre, $10-$15, Thu-Sat at 7:30 pm, Sun at 2 pm (EJI)
---
Nov. 9-19
NEIGHBORHOOD 3: REQUISITION OF DOOM
Do violent, role-playing video games provide a healthy outlet for the latent brutality that societal norms are supposed to keep in check? Or do they actually incite brutality and the rupture of those norms? Jennifer Haley's four-person play (directed by Ashley DeMoville, pictured) isn't necessarily out to provide definitive answers, but it does explore the blurred lines between a blood-soaked virtual world and the real one, through a suspense thriller in which teenagers battle zombies in a suburban subdivision that has eerie parallels with the one where they live. SFCC Spartan Theatre, $10, Thu-Sat at 7:30 pm, Sun at 2 pm (EJI)
---
Nov. 10-18
HEATHERS THE MUSICAL
EWU's Jeff Sanders directs this popular rock musical of the '80s cult film Heathers, adapted to the stage in 2014 by Kevin Murphy (Desperate Housewives) and Larry O'Keefe (the musicals Bat Boy and Legally Blonde). The song-and-dance version roughly follows the same events as its cinematic counterpart, taking bullying and alienation to darkly comic extremes in order to touch on themes like social hierarchies, homophobia, sexual abuse and violence. EWU Theatre Main Stage, $10, Thu at 5 pm, Fri-Sat at 7:30 pm, Sun at 2 pm (EJI)
---
Nov. 17-Dec. 17
A CHRISTMAS STORY, THE MUSICAL
For the holidays, the Civic dishes up an extra helping of nostalgia with A Christmas Story, The Musical, based on the much-loved 1983 film of the same name (itself adapted from a 1966 novel by Jean Shepherd) that has long since become a staple of seasonal TV. Along with a slew of original songs, all the memorable props and lines are here — including the Red Ryder Carbine Action 200-shot Range Model air rifle with a compass in the stock, the leg lamp and the melodramatically dire warnings of "You'll shoot your eye out!" Kathie Doyle-Lipe directs. Spokane Civic Theatre, $15-$32, Thu-Sat at 7:30 pm, Sun at 2 pm (EJI)
---
Dec. 1-17
A DOLL'S HOUSE
Henrik Ibsen's classic play about the assumed roles of men and women in 19th-century marriages is as relevant today as ever, given the stubborn persistence of atavistic ideas about gender even as the definition of marriage grows more inclusive. But the staying power of A Doll's House doesn't come down to that alone. It also deals with the pernicious imbalances in our relationships, the destructive potential of white lies, and the secret selves of those we think we know best. Lake City Playhouse, $21-$27, Thu-Sat at 7:30 pm, Sun at 2 pm (EJI) ♦