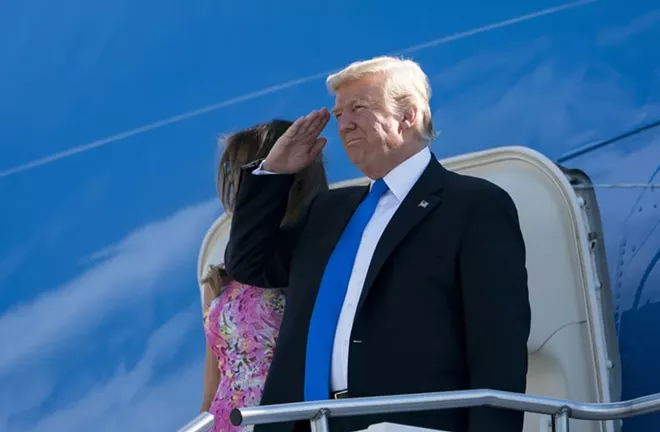 By DAVE PHILIPPS
© 2017 New York Times News Service
A U.S. District Court judge on Monday blocked a White House policy barring military service by transgender troops, noting that the policy did not appear to be based on facts, but instead on "a desire to express disapproval of transgender people generally."

President Donald Trump announced in a series of tweets in July that U.S. forces could not afford the "tremendous medical costs and disruption" of transgender troops, and said "the United States Government will not accept or allow transgender individuals to serve in any capacity in the U.S. Military." A presidential memorandum released in August required all transgender service members to be discharged by March.
Transgender groups sued the administration in late August on behalf of transgender service members, arguing that the ban was discriminatory and violated their constitutional right to due process equal protection under the law.
On Monday, Judge Colleen Kollar-Kotelly of the U.S. District Court for the District of Columbia issued an injunction blocking enforcement of the ban until the case was resolved, saying the effect of the order was to revert to the status quo.
The judge — who was named to the court by President Bill Clinton — noted in her ruling that the changes in transgender policy were "not genuinely based on legitimate concerns regarding military effectiveness or budget constraints, but are instead driven by a desire to express disapproval of transgender people generally."
The ruling allows transgender troops to join the military and re-enlist, pending the outcome of the case, but leaves in place a White House provision that prohibits federal spending on sex reassignment surgery for troops.
Supporters of transgender troops noted that the injunction was temporary, but were optimistic.
"The court has clearly recognized the Trump administration is discriminating. We hope this is the beginning of the whole policy being overturned," said Matt Thorn, executive director of the advocacy group OutServe. "Hopefully the White House learns the Constitution doesn't allow you to do this kind of thing."
Conservatives have pushed to curtail transgender policies since a long-standing ban on transgender troops was lifted in 2016.