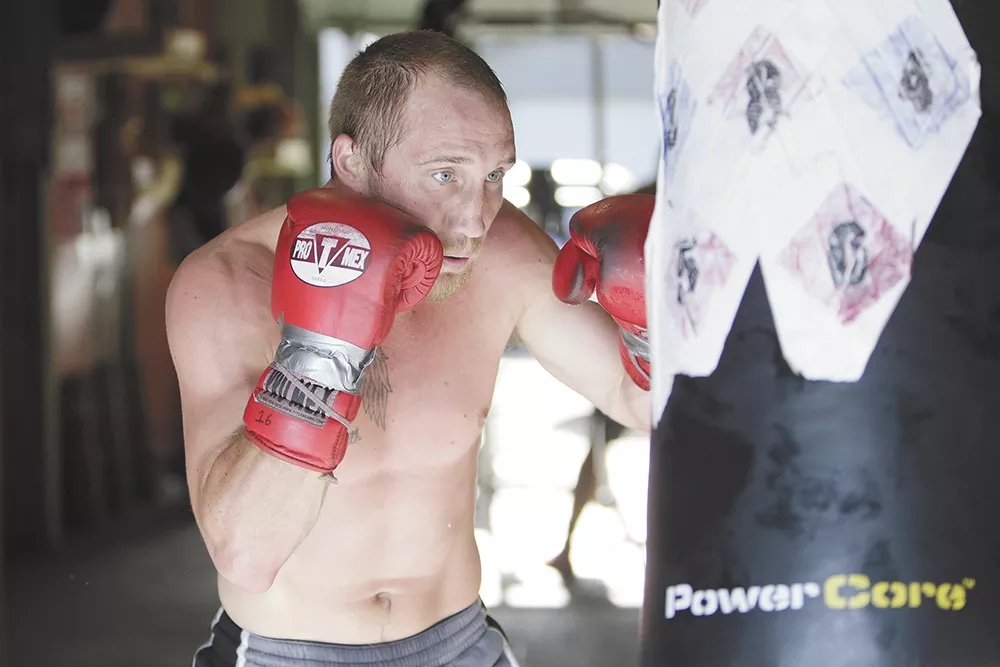 In a garage in north Spokane that's been converted into a boxing gym, Jacob Szilasi gets ready to go to work.
He gives each nostril a blast of nasal spray to help him breathe through a nose that's been punched more than once, straps on a pair of red Nike boxing shoes and warms up by jumping rope.
"Alright, Jake. Just me and you, baby," says his coach, Jesse Mora, who enters the ring and sets a 3-minute timer. "Just me and you. Relax."
Mora calls out punches that Szilasi delivers to mitts worn by his coach. "Left hook!" "One, two, left uppercut!" "Switch it to southpaw!"
After a few rounds, a film of sweat covers Szilasi, and Mora delicately drapes his student in a towel. Mora didn't intend to become a coach. Six years ago, at age 50, he was training at a local gym for his comeback as a professional welterweight boxer. While training he met Szilasi, a kid out of Idaho eager to soak up any lessons from the older fighter.
While training, Mora suffered an injury leaving him with a detached retina, a glass eye and dashed hopes of fighting professionally. He says it was hard to give up his fighting ambitions. But in the process, he's gained Szilasi, a promising student who had to battle an illness before becoming a fighter.
Szilasi, 26, is 5 foot 7 and has a fighting weight of 147 pounds. He has clipped red hair, a short red beard, and a chipped tooth from sparring with Mora.
He had his first fight with a neighborhood kid in a trailer court in St. Maries, Idaho, the town where he spent most of his childhood.
"We would always fight and be friends, fight and be friends," recalls Szilasi. "This one time we got in a fight and I broke his nose."
He wrestled his senior year of high school and figured he would eventually transition to boxing. "I always had a plan to fight," he recalls.
But after graduation, Szilasi stuck around St. Maries. He says he fell in with drug dealers and addicts. After a particularly bad bar brawl, he decided it was time for a change and moved to Spokane in 2011, where he started training at Spokane Boxing and Martial Arts. There he met Mora, who taught him to jab and how to snap back a punch to make it sting.
One Saturday in April 2013, he felt a deep pain in his right testicle that turned out to be testicular cancer. He underwent chemotherapy, leaving him weakened and unable to train. He also underwent surgery. "They removed the right testicle," he says. In August, his chemotherapy ended, leaving him weakened but with renewed focus on training.
"It was an unexpected blessing," says Szilasi. A year later, still weak from the cancer, Szilasi approached Mora.
"He comes out of chemo and he comes up to me, tells me he wants to fight," recalls Mora. "No eyebrows. No nothing. White as a ghost."
"Jesse, I wanna fight," Szilasi insisted.
"Hey man, now's not a good time," said Mora.
But Szilasi looked him in the eye and asked once again. Mora couldn't refuse.
Szilasi wakes up at 5:30 am. He starts the day with a glass of two or three raw eggs underneath a layer of orange juice. He does lots of calisthenics and cardio. Even in the snow, he alternates between doing sprints and running 5 to 8 miles. No partying on Friday nights.
Rick Welliver, Spokane Boxing and Martial Arts' owner and head coach, says he was coaching Szilasi until he saw that he and Mora had a natural chemistry. Welliver says that when Szilasi had his first fight after his cancer treatment, "he was better than ever; he came back stronger."
Last year, Szilasi and Mora decided to take the next step. Szilasi underwent a physical and Mora filled out some forms. That July, Szilasi received his professional boxing license in the welterweight division, becoming one of a handful of boxers in Spokane to go pro.
After getting management, Szilasi started well, winning his first four fights. But he suffered a setback in April, losing a match in St. George, Utah, to a fighter with a 9-0 record.
Although Szilasi gets paid to box, even receiving about $2,000 for a match in Chicago that was canceled, he still works a day job as an administrative assistant at a recovery center. In the meantime, he and Mora continue to train.
Although Mora's fighting days are over, he says what he's doing makes sense.
"I know this is what I'm supposed to do," he says. "God gave us this blessing to work together." ♦