MUSIC
You may have seen Apple's new iPod commercial where a lone iPod Touch bursts into a spectrum of different iPod devices and colors. The music accompanying, a catchy Brit-pop/'50s swing fusion, is the elegant and bizarre sound of Willy Moon. Perhaps best described as New Zealand's prim, youthful, big-eared take on a modern Elvis, Moon has caught the attention of organizations such as the BBC and The Guardian with singles such as "Yeah, Yeah" (the iPod commercial song), "I Wanna be Your Man," and "Shakin'."
BANDS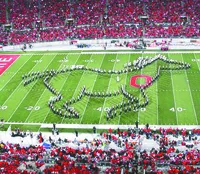 Marching bands, that is. The
Ohio State Marching Band
is revolutionizing the halftime show in college football, most recently with a mind-boggling video game homage during the school's matchup with Nebraska on Oct. 6. After acting out a phenomenal
Space Invaders
opening, the band touches on
Pokemon
,
Tetris
,
Super Mario Bros
and
Halo
before morphing into an incarnation of Epona, Link's horse from
Ocarina of Time
, that actually galloped. Find it by searching "Ohio State Marching Band" on Buzzfeed.com.
COSTUMES
Normally when Halloween rolls around, women rise/cave to the self-empowerment/self-whoring of cute/slutty costumes. Most women (and men, obviously) will agree with one of the adjectives you were just presented with, but the pervading question stands: Is this tradition empowering or degrading??
F***NoSexistHalloweenCostumes.Tumblr.Com
presents just this question. The blog juxtaposes the male and female versions of a particular costume and lets you decide how American women are represented. On a man, Campbell's soup is soup. For a woman, however, Campbell's soup is cleavage and stilettos.