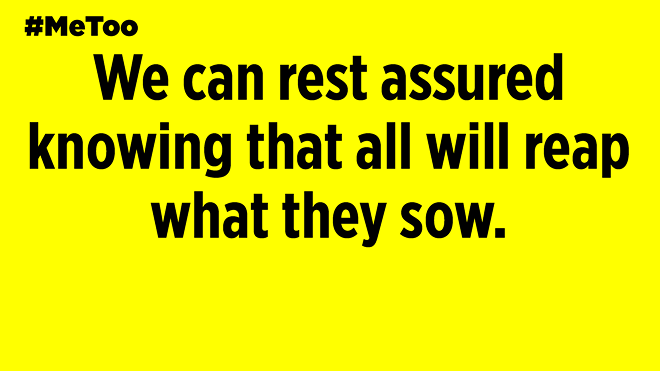 As a woman who survived eight years of child/teen sexual abuse, I wish to thank all the men who, through strong personal convictions and integrity, have kept their hands, and others body parts, to themselves or solely to their wives. Thank you, thank you, thank you! However, with the adult entertainment industry (porn) raking in billions of dollars a year, strong sexual overtones in the fashion industry, sexually explicit music lyrics easily accessible, sex trafficking, etc., why should it surprise us when sexual abuse and/or harassment among prominent members of our society (or anyone for that matter) comes to light? Do you really believe that we can be a morally lawless nation and not become morally corrupt?
The Word of God clearly states we have a sin problem, "For all have sinned and fall short of the glory of God." — Romans 3:23. Sin knows no bounds in its reach and effect; male and female, young and old, black and white, rich and poor, Republican and Democrat. Sin has many names such as sexual immorality, idolatry, jealousy, outbursts of anger, selfish rivalries, factions, lying, murder, greed, drunkenness, etc. (See Galatians 5.)
Some sins are brought to light almost immediately, some are uncovered years later and others kept secret from the eyes of man forever. However, nothing escapes the eyes of God! "Do not be deceived: God is not mocked. A man reaps what he sows. Whoever sows to please their flesh, from the flesh will reap destruction; whoever sows to please the Spirit, from the Spirit will reap eternal life." — Galatians 6:7-8.
So, what can we learn from the recent uncovering of sexual sins? Some may judge the perpetrators and say, "They're not sorry for what they did, they're just sorry they got caught!" That may be true, but God alone knows hearts and is the ultimate judge. Either way these men will have an opportunity to be set free from the burden of their secret sin. "If we confess our sins, he is faithful and just to forgive us our sins and to cleanse us from all unrighteousness." — I John 1:9. Natural consequences could mean loss of a job, public humiliation or even prison time. However, no earthly consequence compares to eternity separated from the God who created us due to unconfessed sin! It is because of God's deep, deep love for us that he uncovers our sin and provides an avenue of reconciliation through his son, Jesus Christ. "For God so loved the world that He gave His one and only Son, that everyone who believes in Him shall not perish but have eternal life." — John 3:16.
But what about the hurting victims of sexual abuse or harassment? There is good news. The God who saves, also heals broken, wounded lives! "The Lord is near to the broken-hearted and saves the crushed in spirit." — Psalm 34:18. As a "healed" victim myself, I cannot over express the tremendous power of forgiveness. "For if you forgive other people when they sin against you, your Heavenly Father will also forgive you." — Matthew 6:14. Forgiveness is never about the abuser... it sets you free! Remember, in every situation you have the opportunity to become bitter or better. Choose better! If you've been a victim and would like to talk, message me on Facebook under Nancy Myers McLaughlin.
One final thought. I've been asked, "What about the men who may have been wrongly accused?" I'm sure many of you know what it feels like to have been wrongly accused at some point in your life. We can rest assured knowing that all will reap what they sow, God is our vindicator and He hates lying! "Nothing is hidden from God's sight; everything is uncovered and exposed before the eyes of Him to whom we must give account." — Hebrews 4:13 ♦