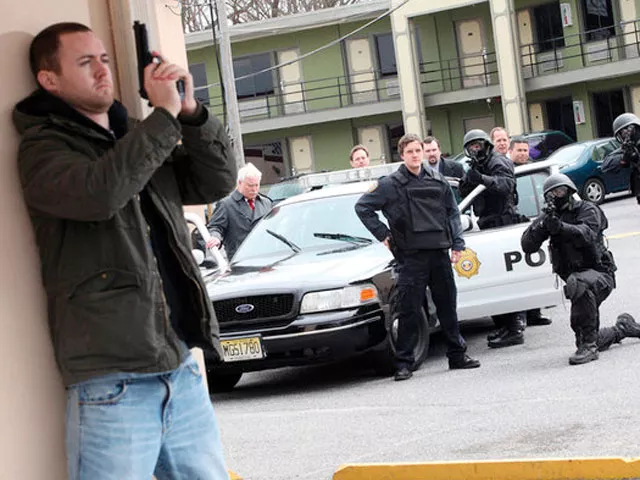 "Try re-loading a revolver while hauling ass away from a cop you just shot at," quips once-famed fugitive Danny Ray Horning in the first few days after his prison escape. After avoiding several close calls with cops and surviving in rugged conditions, Horning earned the nickname "Rambo," and a small fan base. He even charmed his theft victims by leaving polite thank-you notes after stealing food and clothes.
Needless to say, Horning was a perfect study for A&E's new docudrama series, Fugitive Chronicles: True Stories of Life on the Run. Each program brings a renewed sense of urgency to even decades-old stories of the nation's most notorious manhunts. Each re-creation is pieced together from old case files, real news footage and personal interviews.
What makes Fugitive Chronicles distinct from other crime shows is that half of each story portrays the criminals' motivations and emotional states.
While Horning stayed pretty cool (according to an old journal entry: "We ate steaks and watched TV, it was a very pleasant kidnapping"), thief and murderer John DiMeo was much more high-strung and creepy. Hopped up on heroin, DiMeo killed three jewelry-store owners while robbing $350,000 worth of diamonds. He had no fans.
Each Fugitive Chronicles episode is highly produced; the editing is almost film quality, and the transitions between real scenes and scenes played by (re-en)actors are seamless.
During the course of the stressful and fruitless chases, the detectives working the cases are obsessed. As the now retired officers recall the details of the exasperating manhunts, you still sense the futility.
"You have to accept the fact [that he] has alluded you … but the pressure, the anxiety … the realization that … you have an important job to do, and the ultimate responsibility for his capture … rests with me," says former Coconino County Sheriff Joe Richards with a heavy sigh. "It's a responsibility that I subsequently wish I didn't have."
A&E is definitely investing time and money on cinematography and hiring decent re-enactors. The Fugitive Chronicles is filled with as much creepy intrigue as any of the crime shows I am forced to watch with my husband; this one I actually would watch on my own.
TIVO-WORTHY
Make Room for Multiples
Everyone who has twins (triplets, or more) remembers how they reacted when an ultrasound tech said something like, "There's more than one heartbeat." Most of us cried. TLC's Make Room for Multiples portrays the stress of the unknown, and the sleepy, overwhelmingly ridiculous logistics of raising multiples. (TLC, weekdays through 5/12, 2 pm)
Good Luck Charlie
The Charlie in this charming, close-knit family of six is its Cindy-Lou-Who-looking toddler. Featuring a video blog "moral of the story" ending, the show manages to be cute and silly without being sappy or condescending. Mom (Leigh-Allyn Baker) is good with slapstick and comedic timing. (Disney Channel, Sundays, 8:30 pm)
Southern Fried Stings
Southern Fried Stings is a ridiculous blend of America's Funniest Home Videos and Reno 911 with Dog the Bounty Hunter overtones. By the completion of one episode, former state Trooper Jay Russell and his team of intimidating freelance investigative types have taken down a drug-dealing midget at an amusement park and an aggressive prostitute at a truck stop. (TruTV, Mondays, 10 pm)