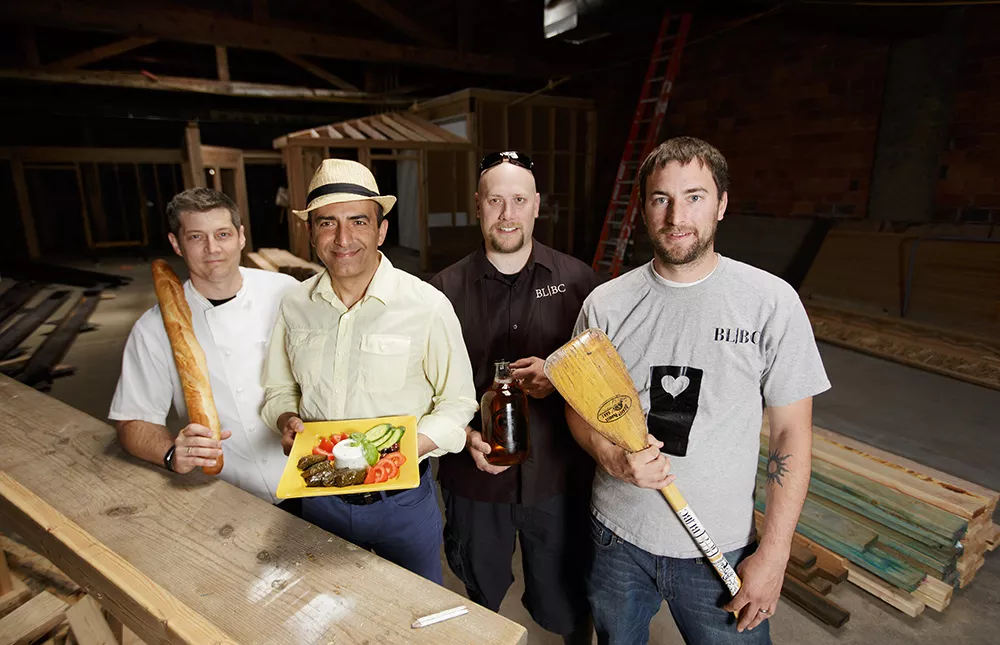 With a wealth of gathering places, the community vibe is unmistakable on this stretch of West Main Avenue. Between Browne and Division streets, you can grab drinks at Zola or Boots Bakery, catch an indie flick at the Magic Lantern, dine at the Saranac or get your fill of what's local and organic at Main Market Co-op.
On the south side of the street, a hole will soon be filled at 19 W. Main by a cluster of new food and drink businesses opening under one roof.
Jim Sheehan — the building's owner who also owns the adjacent Saranac Building and Community Building, which houses mostly nonprofits — swapped spaces with Merlyn's comic book shop in December. Merlyn's moved to 15 W. Main, which Sheehan previously owned. Sheehan got 19 W. Main, so he could keep his three buildings in a row.
The space has been named Saranac Commons to keep it visibly related to Sheehan's other two buildings. It's tentatively scheduled to open by the beginning of July, says Pat Coleman, the property and community manager of the three buildings.
The Layout
Currently it's all bare floors, strewn materials and construction machinery inside, but the vision for the 7,000-square-foot Saranac Commons is clear. Large windows face out to the street, where sitting counters will be installed using repurposed slabs of a bowling alley and skylights will let in natural light. For summer, a roll-up garage door will be the mouth of the space.
"From the entrance you'll be able to see all the way back and see everyone in here," Coleman says.
Common seating will fill the spaces between the five businesses lining the walls, and entrances will open up into Merlyn's and out to the patio space behind Saranac.
Sticking to a community format and coming together in one space gives the businesses strength and support to help them thrive, says Coleman.
"It's a way of giving back to this community, giving businesses a leg up and chance to make it," he says.
The Faces
Shahrokh Nikfar has been working for one of the nonprofits in the Community Building for more than 11 years. Now he's venturing into something that's always been a big part of him: food.
Nikfar plans to open two places. One, called Caffé Affogato, will be an Italian espresso bar brewing coffee from wood-roasted beans. It will serve affogatos — a scoop of ice cream or gelato topped with a shot of espresso. Mediterrano will be the other, serving Mediterranean fare like sandwiches, stuffed grape leaves, rice bowls, pasta and housemade hummus from local organic beans.
He chose the name Mediterrano because it's the Italian word for a lifestyle of savoring life, good food and the weather, Nikfar says. "That's how I want to cook for people. I want them to enjoy themselves."
Jeremy Hansen, the chef/owner of Santé Restaurant and Charcuterie located farther west on Main, plans to move all bread making out of Santé to a new bakery in the Commons, where he'll also make pastries and other confections. A business from the owners of Sun People Dry Goods also plans to join the others. And while not at 19 W. Main, a pizzeria with a full bar aims to open around the same time inside Merlyn's next door.
Situated at the back of Saranac Commons, Dan Dvorak and Steve Wells are constructing Black Label Brewing Company, their four-barrel brewery which will be viewable from their taproom attached to the front. Dvorak and Wells keep beehives and grow some of the hops at their farm to use for their brews, such as their Honey Bandit Blonde.
"We're trying to produce as many of our own ingredients and be as organic as we can," says Dvorak.
In addition to their own brews, Black Label plans to make root beer for the under-21 crowd and also pour other local beer, cider and wine. Sticking with the collective feel, Dvorak says customers are welcome to bring anything from the surrounding food vendors to the taproom.
"All of the other people in the building are really awesome," he says.
Nikfar agrees. "I really love this community," he says. "This sort of feels like an enclave." He says he wants to provide people with a homemade, slow-paced experience.
"We've been trained to eat like robots," says Nikfar. "But food isn't fuel. It's love. It's joy. It's happiness."
By the sound of it, there'll be plenty of all four going around Saranac Commons. ♦