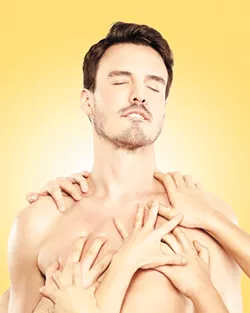 The very notion of watching adult entertainment on a big screen probably inspires thoughts of dingy X-rated theaters that have long since closed, and of creepy old dudes in trench coats with collars pulled high enough to cover their faces.
That may be a pastime that has since gone the way of the VCR, but HUMP! Fest, an annual festival showcasing homemade porn films, has been drawing boisterous and adoring crowds in Seattle since its inception in 2005. And it's hardly seedy.
A touring version of the event, featuring 22 shorts that have won audience awards in the last couple of years, makes its way to the Garland Theater this weekend; it's the first time Spokane has hosted the festival.
HUMP! was founded by Dan Savage, best known as the editorial director of Seattle alt-weekly the Stranger, the author of the weekly sex advice column (and host of its accompanying podcast) "Savage Love," and the brains behind the "It Gets Better" campaign, which he started with his husband (and Spokane native) Terry Miller.
It all started when Savage asked his readers (somewhat in jest) to send him their, uh, "home movies"; he was so impressed by what he saw that he started a festival just to screen them. HUMP! is designed to be both sex- and body-positive, and the folks you'll see on-screen cover the spectrum in terms of size, gender, ethnicity and orientation. The films are often humorous, and generally designed to push audiences well beyond their comfort zones.
"People laugh, they gasp, sometimes they cover their eyes," Savage says in a statement. "But at the end of every film, people clap and cheer. It's moving and wonderful, and newcomers don't expect it.
"The whole festival is a celebration of sexual diversity."
Although HUMP! Fest represents an open call to consenting adults, there are some ground rules. Participants can choose to remain anonymous, cellphones are not permitted during screenings, and many of the films are destroyed after they're shown (other than the ones that go on the tour circuit, of course). Submitted shorts can be up to five minutes long, and meeting certain criteria gets you extra credit. (You'll notice a lot of "Make America Great Again" hats and accordions in this particular batch of films.)
Some shorts are scripted, and some are not. Most of the films in the upcoming program are indeed quite explicit (only a few forego nudity altogether), and therefore no one younger than 18 will be admitted. And there's a lot of variety, both in terms of the acrobatics on display and the general tone of each film.
One involves an orgy with people in bondage gear and dog masks. Another takes the form of a wordless ballet in which a beautiful merman gets his sea legs, among other things. A couple of films utilize GoPro cameras in ways that the inventors probably never imagined. One is an animated fable inspired by Japanese artist Katsushika Hokusai's woodblock prints.
Perhaps the funniest sketches involve a couple revealing increasingly outlandish kinks to one another, an office phone sex session that goes horribly wrong, and a faux nature documentary about the mating habits of leather gimps.
They're not all bawdy, though: Some are artsy and experimental, others are designed to be genuinely erotic. You will no doubt see things that you have never seen before, and things you can't believe you're seeing, but the general attitude of HUMP! Fest isn't leering or lurid; it's inclusive and inviting.
No trench coat required. ♦
HUMP! Film Festival • Fri-Sat: Oct. 6-7 at 7:30 pm • $20/$25 at the door • 18+ • Garland Theater • 924 W. Garland • garlandtheater.com • 327-1050