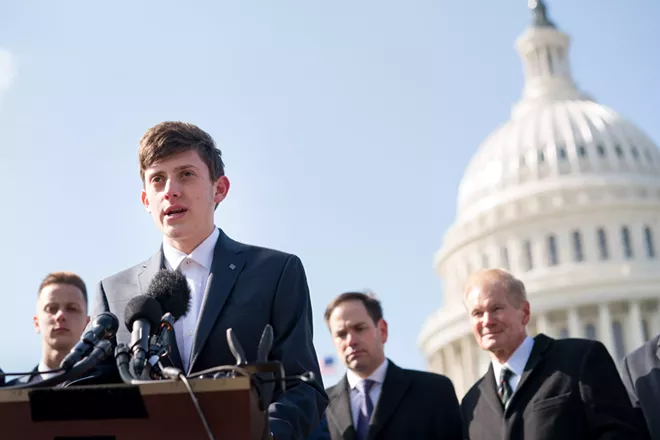 Patricia Mazzei
New York Times News Service
M
IAMI —
A recent graduate of Marjory Stoneman Douglas High School in Parkland, Florida, who became a gun rights activist in the wake of the deadly shooting that killed 17 people in 2018, said Monday that Harvard College rescinded its admission offer over racist and offensive remarks he made as a 16-year-old student.
The graduate, Kyle Kashuv, 18, announced Harvard's decision on Twitter, posting letters he received from the college — first asking him to explain the comments, and then informing him that it would no longer accept him, citing its serious consideration of "the qualities of maturity and moral character."
In a telephone interview Monday, Kashuv, who moved to Washington after graduation to lobby for school safety legislation, described the past few weeks dealing with the fallout of his comments as "rough" and a "whirlwind."
"Hopefully people have the goodness in their hearts to forgive me," he said. "I really hope that. What I said two years ago isn't indicative of who I am," he said.
Unlike some of his classmates who became national figures for starting a youth movement against gun violence, Kashuv garnered widespread attention as a conservative student in favor of gun rights. He served as the high school outreach director for Turning Point USA, a conservative group with ties to the Trump family. Kashuv has since stepped down from that position.
He first apologized in May for the comments, which he said he made in a Google Doc and in text messages a couple of years ago. A video showing screenshots of what he wrote, including repeated racial slurs, was posted online in May, apparently by at least one former classmate. Kashuv said "former peers and political opponents" then questioned Harvard directly about admitting him.
Two other Parkland student activists, Jaclyn Corin and David Hogg, both of them vocal proponents of tighter gun restrictions, are headed to Harvard this fall.
Harvard informs students upon their admission that the college reserves the right to withdraw its offer for several reasons, including if an admitted student "engages or has engaged in behavior that brings into question their honesty, maturity or moral character."