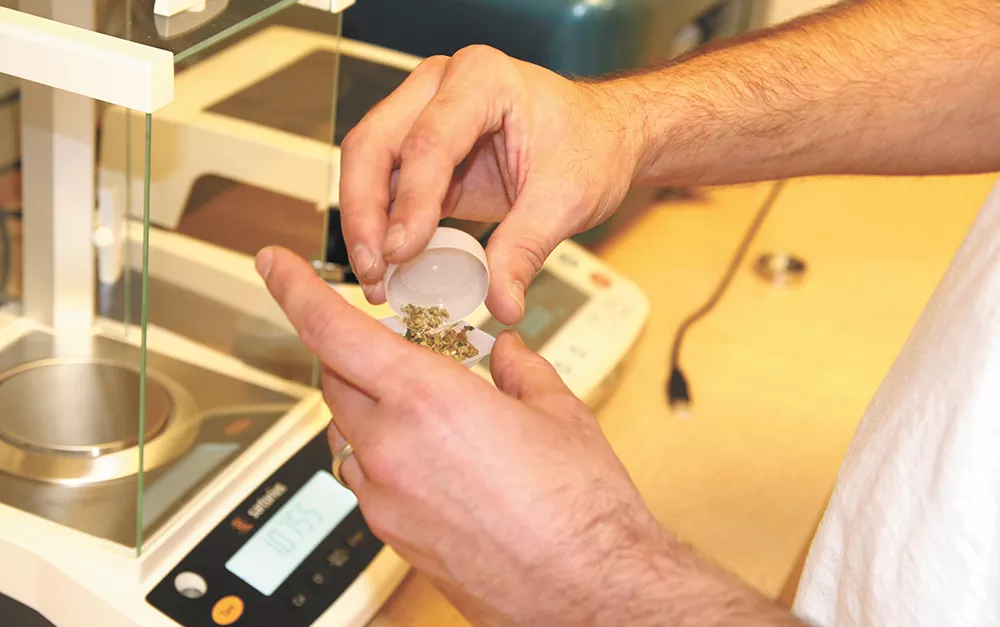 A handful of labs scattered across the country are collaborating with an Oregon company to build the world's greenest family tree — cannabis.
"The whole point of this project is so people know what they are getting," says Mowgli Holmes, the chief scientific director and co-founder of Phylos Bioscience in Portland. "Now it's just a mess. No one knows what anything is."
Holmes, who has a doctorate in microbiology from Columbia University, is attempting to build a visual database of all the modern and historical cannabis strains. In order to create this cannabis family tree, Phylos Bioscience is trying to collect DNA samples from all over the world to map strains ranging from modern varieties to a 2,700-year-old specimen from northern China.
Once the project is complete, Holmes said it could lead to a resurgence of older cannabis strains.
"It will be like bringing back a woolly mammoth," Holmes says.
Phylos Bioscience partnered with eight cannabis testing labs in five states, all equipped to extract DNA from cannabis samples. One of these partners, CannaSafe Analytics, has applied to open a certified lab in Pullman.
"Being right next to the technology park of [Washington State University], it gives us the ability to collaborate with some of these other scientists," says Matt Haskin, president of CannaSafe Analytics.
Holmes says the samples should fill in some of the gaps in the history of cannabis.
"The stuff we don't have enough of is the stuff that was around in the '70s and '80s," Holmes says, "the stuff that is the parent strains of what's out there today."
Holmes says he has collected a number of samples by offering free genetic testing when partner lab clients pay for a potency test. Washington state requires that before being sold, recreational cannabis must be tested for safety and potency by a third-party lab.
So far, the Phylos lab has found marijuana strains with levels of tetrahydrocannabinol (THC), the active ingredient in the plant, as high as 25 percent. That is roughly 10 to 20 times higher than the percent found in the 1970s, according to national testing data.
Owners and operators of the partner labs say the scientific integrity shown by Phylos Bioscience made them interested in getting involved.
"It's such a new industry, there's lots of shady areas," says Ashley Preece-Sackett, director of industry outreach at Cascadia Labs, one of the two partner labs in Oregon. "We like to keep our science and our research very open."
Jeremiah Busch, a Washington State University biology professor who studies plant evolutionary genetics, says although genome-sequencing projects are common, the gaps Holmes describes are an unusual difficulty. Busch is not involved with the Phylos project.
"I would imagine the checkered historical legacy of these strains has something to do with the underground nature of having to grow it in the past," Busch says. "It's pretty uncommon to have strains that are missing if there is a history of work on standard organisms."
By creating the database, smaller growing operations would at least have some way of protecting their strains, Holmes says.
"Already those growers are being forced out of business," Holmes says. "All of those middle farms, they are going to look up and their business will be gone because they are competing with Canadian companies that have aircraft hangers."
Not all the potential applications of the project are scientific in nature, however. Haskin says law enforcement might want access to the completed database as well.
"Let's say the Idaho police made a bust, and they said, 'Hey, we want to know if this came from a Washington source,'" Haskin says. "Technically, this tool could be used to identify where it came from."
Holmes hopes to complete the project by December. ♦
This article was provided by Murrow News Service, which is produced by journalism students at the Edward R. Murrow College of Communication at Washington State University.