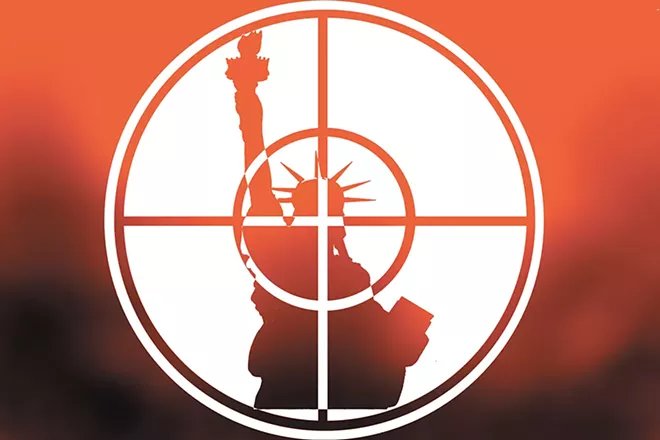 Anyone who has ever worked in a newsroom knows Jarrod Ramos, the 38-year-old man charged with killing five people and injuring two others in a mass shooting June 28 at The Capital Gazette in Annapolis, Maryland. He is the guy who never fails to leave a nasty comment on every story posted to the web; whose Twitter and Facebook feeds are never-ending streams of paranoid takedowns of reporters and editors; who fills inboxes with long denunciatory screeds.
Most times, he — and it's almost always "he" — keeps his all-consuming beef against the paper online. Sometimes he visits the office armed with plastic grocery sacks brimming with reams of documents proving his case. Sometimes, as in the case of the Gazette, he comes with a 12-gauge pump shotgun and smoke bombs, barricades the back exit and opens fire.
The murders in Annapolis followed years of online harassment directed at staff of the paper over a story published in 2011 detailing a social media stalking case in which Ramos was the defendant. A judge ruled in the paper's favor in a defamation case brought by Ramos, which touched off the war of words. In 2013, managers considered filing misdemeanor charges against Ramos but decided not to for fear that it would only make matters worse. As the saying goes: Don't feed the trolls.
It is a maxim that is harder to live by as trolls proliferate and gain in power, counting among their numbers a resident of 1600 Pennsylvania Ave., who has declared the news media "the enemy of the American people." He, like Ramos, clearly feels a deep and constant sense of defamation.
Still, the morning after the massacre, a Google search for "The Capital Gazette" provided the following top two auto search suggestions: "liberal" and "liberal or conservative," in that order. It was neither. The Gazette is a community news outlet covering city council meetings, local sports, arts and culture. Nor was Ramos' alleged motive apparently political. Rather, it was seemingly rooted in an inarticulate rage that leaves no room in the world for people or institutions to live alongside it.
By assigning this attack a place in our vast partisan matrix, we obscure the reality that assaults on the practice and principle of journalism are also assaults on the connective tissue of community.
As printer John Campbell put it in the April 9, 1705, edition of the Boston News-Letter, the newspaper exists to serve "the Publick Good, to give a true Account of all Foreign and domestick Occurrences, and to prevent a great many false reports of the same."
The evening of the Annapolis tragedy, the Poynter Institute echoed Campbell's words when it described the killings as "a devastating reminder that journalism is difficult and dangerous work, performed in service to a greater good." Yet, the United States has fallen two places to 45th on the World Press Freedom Index, which noted, "the climate of hatred is steadily more visible. ... [M]ore and more democratically elected leaders no longer see the media as part of democracy's essential underpinning, but as an adversary to which they openly display their aversion."
Should this aversion prevail, we risk unraveling the threads of our shared identity.
The basic function of any news media is to provide people with a broader understanding of the world around them. But by vilifying news media as dangerously anti-American, when the press helped create and sustain the very idea of Americanness — half-joking about shooting reporters in the streets, as professional troll Milo Yiannopoulos did recently; and actually shooting newspaper employees in their own offices — we've established a perilous pattern of violating one of our sacred democratic spaces.
The newsroom is a factory floor, a classroom, a forum, a clubhouse, a confessional booth, the deck of a battle ship, an art studio; like the country itself, a mess spiced with stress and rivalry, camaraderie and commitment to achieving something together that too often — increasingly so — gets taken for granted. ♦
Zach Hagadone is a former co-publisher/owner of the Sandpoint Reader, former editor of Boise Weekly and current grad student at Washington State University.