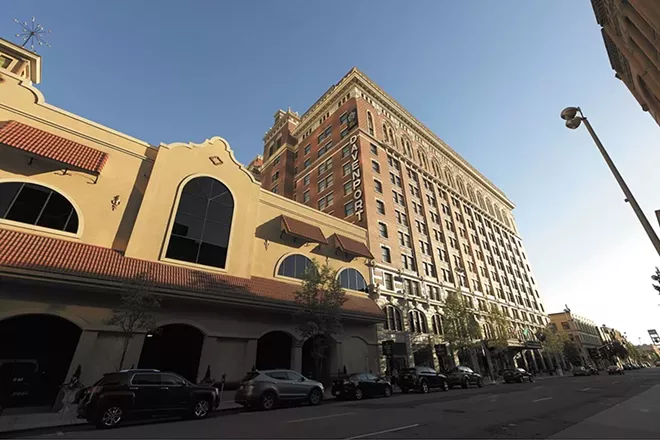 W
hen Washington Gov. Jay Inslee
announced Sunday night that he planned to drastically slow the spread of COVID-19 by temporarily closing restaurants and bars to anything but take-out, it was hard to imagine just how many people that could impact.
But state economists are able to help shed some light on the scope of what we're seeing this week.
The
Inlander
spoke with Doug Tweedy, an economist with the state Employment Security Department who covers counties in our area: Ferry, Stevens, Pend Oreille, Lincoln, Whitman and Spokane.
Not surprisingly, it turns out there's a
lot
of people in the service industry.
While they're not required to close, many hotels and motels are also laying off staff and closing as travel drops off steeply, so they're included in these counts. Locally, that includes the Davenport, which temporarily
laid off staff at four of its five hotels
, the
Spokesman-Review
reported on Monday, and others who were following suit.
Statewide, there are about 288,000 workers in motels, hotels, restaurants and bars.
In Spokane, which is lumped in with regional statistics for Stevens and Pend Oreille counties, there are 24,000 workers in those hospitality areas, Tweedy says.
That doesn't include retail workers. Some retail stores are already opting to limit hours or close for this time as customer walk-ins have steeply declined.
In Spokane, there are about 40,000 people in retail trade, of which about 5,000 are in grocery and beverage sales that aren't likely to close as they're necessary services right now, Tweedy says.
Statewide, there are about 391,000 retail workers, of which 68,000 are in grocery and beverage sales.
"These are the storekeepers, so vehicle sales, parts dealers, furniture, garden supply, health and personal and general merchandise," Tweedy says.
We won't know for a few weeks just how many people have applied for unemployment due to the governor's order, in part because some people will be using up sick leave first, and in part because those statistics take a little more than a week to compile for release, he says. But we do know already that the state's
unemployment site had more than half a million hits
on Monday and Tuesday alone.
Looking at initial unemployment insurance claims, which are kind of a leading indicator for the future, Tweedy says that King County had 1,500 claims for the last week of Febraury, which jumped to 5,000 for the first week of March.
"That was still before some of the business shutdowns," Tweedy says. "That's a big jump."
The state will have more official projections for what we could expect in a week or two, as data for the next few weeks of March is compiled, he says. But already, we know that 2,000 of those claims in King County for the first week of March came from the food and beverage industry.
When asked if this could be similar to what we saw with the Great Recession in 2008, Tweedy says it's really very different.
"It's much different," Tweedy says. "It's a health event, so it's really hard to project, because we don't know what the spread of the virus will be. I couldn't even hazard a guess right now."