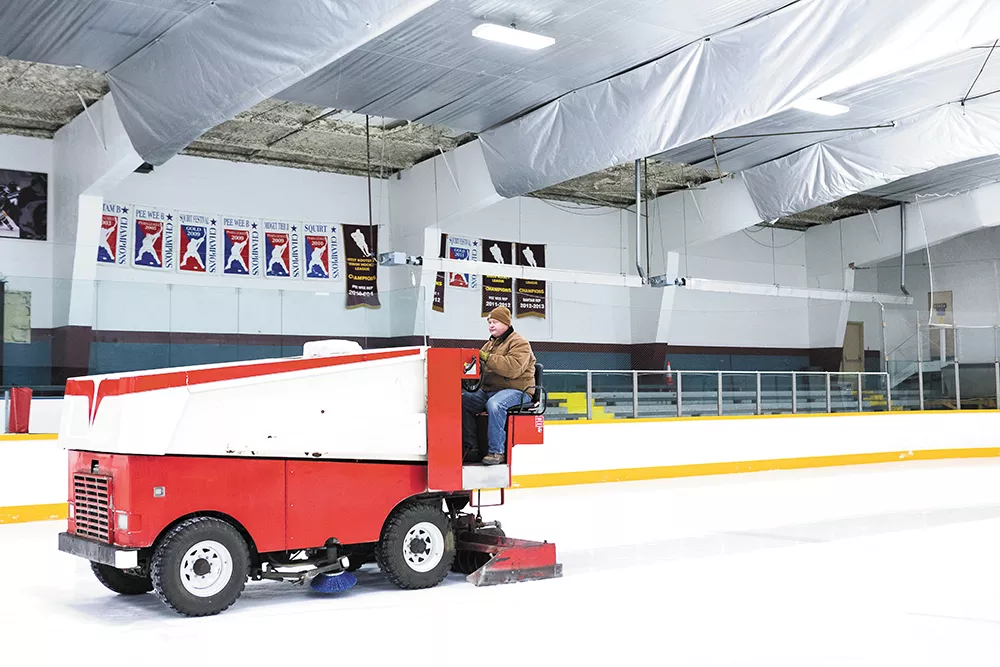 Dan Martin travels in continuous circles. Five times a day, five days a week, for the past 25 years, Martin has orchestrated a mechanical waltz — a one-man performance set to the dull roar and lumbering hydraulics of a 6,000-pound hulk of wheels and metal.
The 46-year-old auto and diesel mechanic by trade drives a Zamboni at Eagles Ice Arena in North Spokane, patching the rutted grooves and cracks of ice left behind by hockey teams and figure skaters.
He drives atop a bucket seat, behind what looks like a dumpster on wheels. He turns left — always left — in slow, methodical loops at five miles per hour.
While the Zamboni beguiles hockey fans and pop culture alike — its likeness is trademarked and featured in McDonald's happy meals, Monopoly pieces, on bumper stickers and in the beloved comic strip Peanuts — Martin sheepishly admits he drives in circles.
He does not "dance" or "orchestrate."
"There is a lot of allure around Zambonis," he says. "Everyone wants to drive one. I don't really understand. ... I guess I've just been doing it for so long. I don't see what the big hoopla is about."
Martin didn't start out behind the wheel.
He was hired by Eagles Ice Arena as a "parking lot picker upper" in high school. The owners taught him to drive the Zamboni after he got his driver's license.
"It was kind of exciting," he says. "My other friends were flipping burgers, and here I was driving the Zamboni."
He worked nights and weekends and learned to manipulate the $100,000 vehicle that instead of a clutch or gas pedal featured a 78-inch blade. He learned to make ice.
The Zamboni drags an adjustable blade that removes approximately 1/16th of an inch — up to 2,500 pounds — off the ice. Parallel to the blade is a horizontal corkscrew that gathers the ice shavings to the center of the machine; a vertical corkscrew propels the shavings into a tank. Jets of water then clean the ice, removing debris from the grooves into a vacuum hose.
The water is filtered by a conditioning unit before being heated and delivered back onto the ice through a series of pipes.
The trick is to shave off just enough ice and lay down just enough water to create a glass-like surface for skaters. Martin equates the Zamboni to an overgrown riding lawnmower.
"You can't see directly in front of you while driving, so it's all done by feel and sound," he says. "You have to hear how much snow is going into the tank. You have to feel how much you're taking off. ... We have a saying: 'Anyone can drive a Zamboni, but not everyone can make ice.'"
Frank Zamboni was the first to successfully make ice. The Pocatello, Idaho, native opened the 20,000-square foot Paramount Iceland skating rink in 1940 in Paramount, Calif.. An electrician by trade, he patented an ice rink floor system, then set his sights on an ice-resurfacing machine.
Shaving ice without a huge yet sophisticated machine was laborious. Before the Zamboni, crews scraped off layers of ice with a tractor, shoveled the shavings, sprayed the surface with hot water, and waited for it to refreeze. The process took more than an hour and cost entrepreneurs like Zamboni money.
In 1949, he patented the Model A Zamboni ice-resurfacing machine — a hodgepodge of aircraft, oil derrick and Jeep engine parts.
Current Zambonis are similar to the Model A. Today, the machine is a mainstay at the Winter Olympics, figure skating competitions, National Hockey League games and mom-and-pop ice skating rinks alike. The family-run company has a handful of competitors — although the word Zamboni has become synonymous with the machine — and has delivered more than 9,000 Zambonis worldwide.
Martin travels in continuous circles.
When not on the ice, he races a 1979 Ford Mustang at the Stateline Speedway. Race announcers have nicknamed him "Ice Man."
"I always joke that I go around in circles for a living, and I go around in circles for fun," he says.
Martin speaks of the four Zamboni drivers at Eagles Ice Arena, of the three machines the rink deploys, and the 15 minutes it takes to clear the ice. He does not understand why patrons are memorized by the whir of a machine and the somehow beautiful, hypnotic act of polishing a tattered sheet of ice.
He does not think of anything while driving. Certainly nothing of art or the allure of his magical machine.
"I just go out and do it," he says. "I actually don't even like to look out and see how many people are watching me. I keep my head down and just go... " ♦