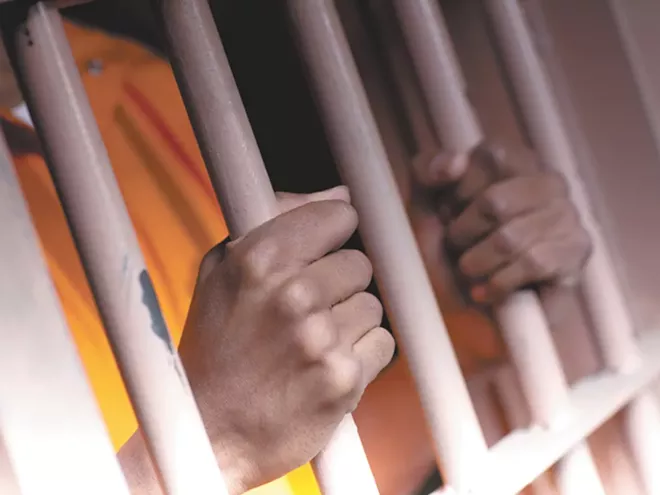 N
ewly elected Idaho Gov. Brad Little
(R) announced on Jan. 9 that the state Department of Corrections has appealed a recent ruling from a federal judge mandating that they provide sex reassignment surgery to a transgender inmate.
The appeal stems from the case of
Adree Edmo
, a 31 year-old transgender inmate — she was born male but identifies as female — held in Idaho State Correctional Center, a men's prison, who sued the state with the help of attorneys from the Center for Lesbian Rights after prison medical staff declined to provide her sex reassignment surgery.
"The hardworking taxpayers of Idaho should not be forced to pay for a prisoner's gender reassignment surgery when individual insurance plans won't even cover it," Gov. Little says in a statement released on Jan. 9. "We cannot divert critical public dollars away from our focus on keeping the public safe and rehabilitating offenders."
Lori Rifkin, lead attorney on Edmo's case and a partner at the California-based civil rights law firm, Hadsel Stormer & Renick, tells the
Inlander
that their team will be fighting the appeal in the Ninth Circuit Court of Appeals.
Edmo, who has been incarcerated since 2012 on a child abuse conviction, was diagnosed by with gender dysphoria — a medically recognized condition where one's gender identity doesn't align with their biological sex, causing clinically significant distress — shortly after her admission to prison. (The diagnosis came from a psychiatrist with Corizon, a private firm that provides medical care in prisons across the country.) Despite receiving hormone therapy, she became "depressed, embarrassed and disgusted" about her male genitalia on a daily basis, and eventually attempted self-castration in 2015 with a razor blade, according to court documents. After Edmo again attempted self-castration in 2016, a prison psychiatrist judged that hormone therapy was sufficient for Edmo's situation.
On Dec. 13, U.S. District Court Judge B. Lynn Winmill sided with Edmo, and mandated that the Idaho Department of Corrections provide the surgery within six months. In his ruling, Winmill argued that Idaho prison medical staff failed to accurately evaluate Edmo using guidelines set out by the World Professional Association for Transgender Health, willfully denied her the surgery, and ultimately, violated her Eight Amendment right to protection from cruel and unusual punishment.
"For more than 40 years, the Supreme Court has consistently held that consciously ignoring an prisoner's serious medical needs amounts to cruel and unusual punishment in violation of the Eighth Amendment," Winmill wrote in his ruling.
Specifically, Winmill charged that prison medical staff have been "deliberately indifferent to Ms. Edmo's medical needs by failing to provide her with available treatment that is generally accepted in the field as safe and effective" despite her "actual harm and ongoing risk of future harm including self-castration attempts, cutting and suicidal ideation." He went on to state that the case's evidence "suggests" that both Corizon and the Idaho Department of Corrections have a "
de facto
policy or practice of refusing" sex reassignment surgery to prisoners diagnosed with gender dysphoria.
He also noted that while not all people diagnosed with gender dysphoria require or desire sex reassignment surgery, some require it to be able to function without substantial distress or impairment.
Idaho officials contest the notion that there is medical consensus on suitable treatment for gender dysphoria.
"If Ms. Edmo had a broken arm, we'd all agree that it should be treated," Dr. David McClusky, a licensed general surgeon and chair of the Idaho Board of Correction, says in a statement. "But disagreement among medical professionals does not constitute cruel and unusual punishment."
"We take seriously our responsibility to provide adequate care to those in custody," Idaho Department of Corrections Director Josh Tewalt says. "But prison is not where you go to get unwarranted surgery. We're confident subsequent rulings will agree."
Rifkin, Edmo's lead attorney, slams the state's decision to appeal the ruling. "They are showing themselves to be outliers in the medical community and corrections community by taking this view," she tells the
Inlander
. "This shows that the state officials in Idaho and the Department of Corrections continue to view this as some kind of elective procedure, rather than recognizing what the medical community has reached consensus on."
"Ms. Edmo didn't make this up. Their own providers diagnosed her with gender dysphoria. There's a recognized treatment for it and it's something they're continuing to deny her," she adds. "They are treating her differently and they are treating this particular medical condition differently than they treat other medical conditions."