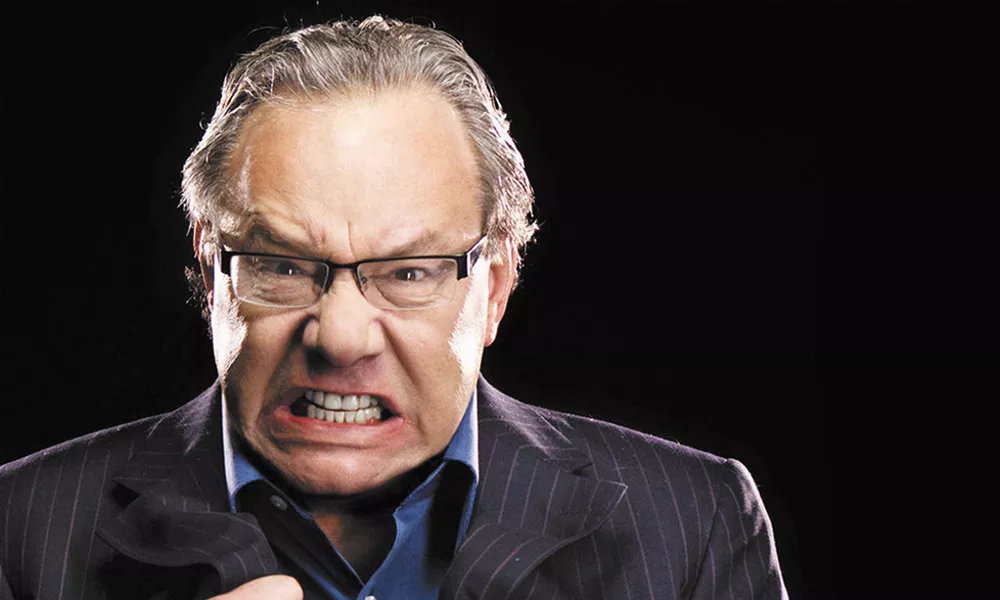 Pixar has a new computer-animated feature coming out next June called Inside Out. It's about a young girl uprooted from the Midwest to fast-paced San Francisco and her resulting emotional roller coaster. Her inner emotions — Joy, Anger, Disgust, Fear and Sadness — are all voiced by well-known comics. Guess who they picked for Anger?
"Yeah, I was up for Joy," deadpans Lewis Black from his home in Manhattan, "but when I lost, I got so pissed off they gave me Anger."
Black started his career as a playwright and actor — he's a Yale drama grad and has appeared in 12 films — but he's landed in our collective consciousness for his comedy, especially his "Back in Black" appearances on The Daily Show. His "The Rant Is Due" tour hits the INB Center on Sunday night. Bring your questions, comments and observations, as you can text him right there on stage. He's been wrapping up his recent shows by riffing on the best ones.
Black still gets calls for film jobs, but he says he's often too busy to audition. He tours almost nonstop, having just returned from gigs in Europe. Europe? Do they even get his American politics-centered jokes? "Trust me, they get it better than some people in this country," he says.
Recently Black has lent his outrage to the ACLU in its campaign to roll back the various voter ID laws that have been sweeping Republican-controlled states.
"It's nuts that we need a group like the ACLU to monitor the groups that are supposed to do this shit in the first place," says Black, his voice rising. "None of this is difficult, people! But the Supreme Court, they just seem to flip coins on this stuff. They knocked out [voter ID laws in] Wisconsin and North Carolina — those two, they said, 'Enough is enough.'
"But with Texas," Black is now literally yelling into the phone, "they said, 'That one? Oh, that one — well, that one's OK.'
"I DON'T GET IT!"
Then calmer, he continues: "There's no sense of us moving forward; this is taking us back to when I was a kid. And if they want it to be 1961 again, well, go ahead and get out your black-and-white TV and enjoy life."
That's the appeal of Lewis Black. He's funny, for sure, but he's also serious and — amid the F-bombs — high-minded about what America is supposed to be. "This is a country that screams and yells about freedom, and the big thing is you get to elect people here. But it's not inspirational anymore. There's a feeling we make no difference and it's all about money."
Instead of being lulled into apathy, Black uses that sad state of affairs to launch his next rant. If politicians can't or won't do it, he's ready to use his jokes to inspire people to care.
The need for outrage, idiot alerts and, of course, laughter is urgent and palpable — Black's show is just two days before the midterm elections.
"Now we go from the saddest Congress ever to the saddest midterms ever," he says. "Right after the government shutdown, 51 percent of Republicans and 49 percent of Democrats said they wouldn't vote for their member of Congress. But watch — they're all going to get reelected. That's not government; that's Groundhog Day." ♦
Lewis Black: The Rant Is Due • Sun, Nov. 2, at 7 pm • INB Center • 334 W. Spokane Falls Blvd. • $40-$65 • inbpac.com • (800) 325-SEAT