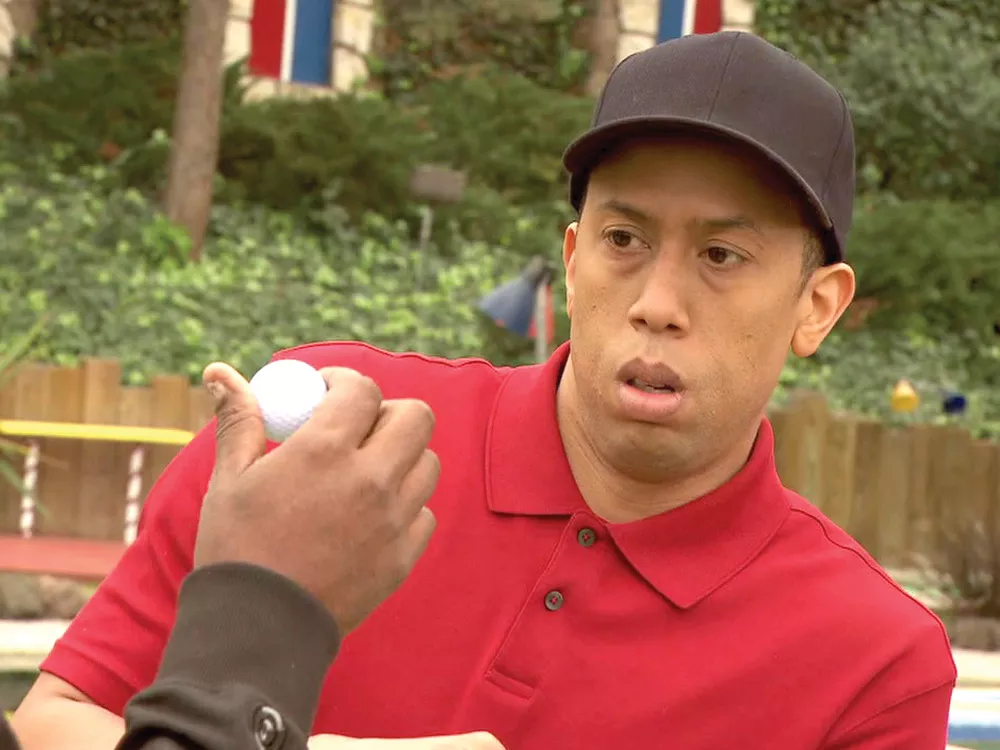 Affion Crockett has been referred to as a "modern-day Sammy Davis, Jr." Maybe, if you consider the Wayans family a modern-day Rat Pack. (We don't.)
Crockett has paid dues, though, working up to his new Fox show through character roles in the Wayans brothers' Dance Flick, Soul Men (with Bernie Mac and Samuel L. Jackson) and a handful of network shows, including MTV's Wild and Out, Curb Your Enthusiasm and The District.
The Wayans comparisons don't end there. In the Flow is reminiscent of the 1990s sketch variety show, In Living Color — breakdancers flip around freestyle, a prom photo backdrop-like night scene sparkling behind them. The studio audience sits in a lounge, scattered with tables and contemporary white leather ottomans.
Crockett's shtick is impersonating famous black men, which is apparently why he's been loosely compared to Sammy Davis Jr. But it's just a stretch. And while celebrity impressions have always kind of creeped me out (including those by Sammy), Crockett's Tiger Woods is spot-on. And the Samuel L. Jackson cameo? Delightful.
"You drive a cart like you hook your driver now!" Jackson yells at "Woods" after he rams a golf cart into his luxury sedan. "You need to get you some ass so you can win again!" A veteran of Def Comedy Jam, Crockett has his own street cred, and Academy and Grammy Award-winner executive producer Jamie Foxx provides star power, which has helped nab additional cameos from media mogul Russell Simmons and rapper Snoop Dog.
In the Flow also feels like a network-TV Chapelle Show. While Dave Chapelle's trademark was displayed in characters like crack-addict Tyrone Biggums, Crockett creates characters like "Mighty Marvin Clardy," the world's most arrogant gospel singer (reminiscent of Arsenio Hall's pastor from Coming to America).
I am always rooting for a scripted comedy with actors — particularly one led by a comedian. I hope even a small percentage of his reported 40 million YouTube hits will transform into TV viewers. Someone else will need to help Crockett out there, though. I likely won't watch In the Flow again.
(Sundays, 9:30 pm, Fox)
---
TIVO-WORTHY
Necessary Roughness
After seven successful seasons playing a bipolar bimbo from Brooklyn on Rescue Me, I can't suspend disbelief far enough to accept Callie Thorne as a psychotherapist. Psycho? Sure. Therapist? No. In Necessary Roughness, Thorne's character, Dr. Dani Santino, helps high-end athletes "tackle" their famous-person issues. (Wednesdays, 10 pm, USA)
Hot in Cleveland
Cedric the Entertainer's appearances in the last few episodes of this season's Hot in Cleveland are an audition. If the right TV execs dig Cedric's guest role as an outrageous minister, it could turn into a spinoff for him. Whether or not you've watched, tune in for Hot in Cleveland's season finale (Aug. 31) with pure, darling Betty White as a bride from Hell. (Wednesdays, 10 pm, TV Land)
MTV Music Video Awards
Can the sort-of-attractive plus-sized blonde girl who sits in a chair possibly defeat the bacon-dress diva and the aquamarine-eyed babe with a sparkler in her chest? ("Firework" is up for best video and best video "with a message.") See if Adele can pull off the upset of the year. My vote is for the crazy Beastie Boys spoof, "Make Some Noise." (Sunday Aug. 28, 8 pm, MTV)