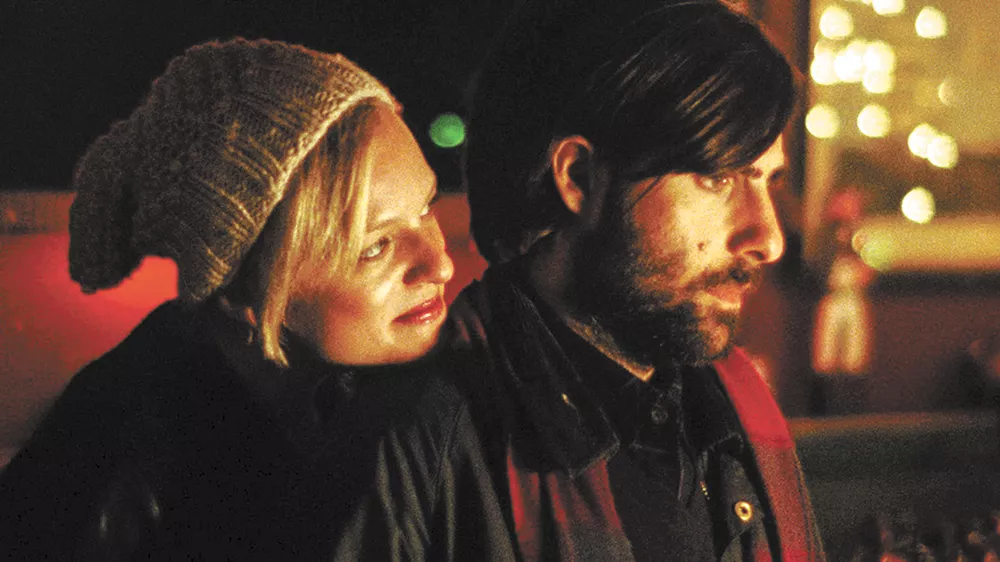 There's a problem with Jason Schwartzman. Or maybe it's my own problem with Jason Schwartzman. Here it is: no matter how he's cast, it's near impossible not to see a little Max Fischer.
It's not that Schwartzman can't play-act beyond his breakout Rushmore role, but there's something about this guy — maybe it's the eyebrows — that never lets me forget the very worst of Max Fischer. It's the weaselly, self-serving tendencies of that indelible teen that never cease to seep out of Schwartzman.
In other words, Schwartzman has a nagging penchant for coming across as an asshole. And maybe that's why he's so damn good as the titular character in Listen Up Philip, where he plays a miserable novelist hellbent on destroying every relationship in his life. With his new book coming out, we meet Philip as he sets about dressing down an ex-lover, an old college friend, his publisher and, ultimately, his photographer girlfriend Ashley (Elisabeth Moss in her best non-Mad Men role yet). None of this helps the release of his book, so he retreats to the country to live with a similarly sour literary legend named Ike Zimmerman (Jonathan Pryce) with the intention of writing for months on end. Because he's a human snot bubble, he expects Ashley to wait in their cramped New York apartment while he's gone.
Everyone Philip includes in his life is worse for it, and we know of the scorched emotional earth that follows in Philip's wake because the narrator (Eric Bogosian) tells us so. The narration is initially grating, but its recurrence throughout the film ultimately proves unique, in that it's the sort of overwrought prose we can only assume Philip (clearly inspired by Philip Roth, as is the filmmaker) would write. Does it feel a little like cheating that the narrator tells us, on no less than four occasions, that Philip feels "isolated"? Yes, but that direct knowledge takes you even deeper into the film's escalating desperation.
Written and directed by Alex Ross Perry, Listen Up Philip at times feels like it's wandering into the sort of creative-NYC-youngsters-have-it-so-hard ennui you might expect from an NYU film grad like Perry. But his script plays out on the screen with literary flair and suprising humor, keeping us engaged, even if he makes Philip so singularly unlikable that we're sometimes left wondering how any woman, especially the generous and intelligent Ashley, would ever give him the time of day. He's a genius writer, though and people like ostensibly accomplished people, so he's given a pass.
Unfortunately for Philip, and everyone in his world, that pass sends you nowhere but to a situation where you try, like Ashley, to break up with Philip, only to have him tell you that you need a haircut. This is dark stuff that doesn't escape the aging Zimmerman, who tries to put all his hopes on Philip and his youthful promise, only to see it further strain his relationship with his own daughter (Krysten Ritter, Jesse Pinkman's ill-fated girlfriend on Breaking Bad).
There are people who will hate this film, but those who stick with it — much like suffering through the first hundred or so pages of a tough but rewarding book — are treated to an emotional tour de force. There are some laughs, sure, but mostly you're left with a piece of art that forces you to think about the people in your own life. That might be a bummer, and you have Jason Schwartzman's greatest asshole performance to thank for that. ♦