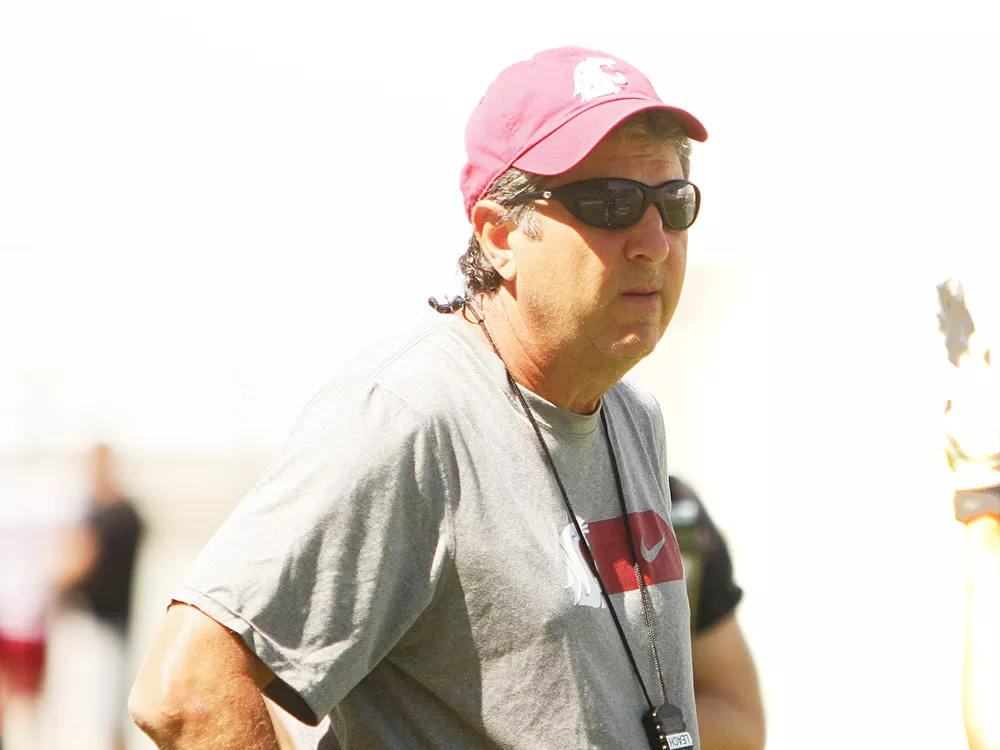 Mike Leach came to Washington State with a reputation for filling reporters' notebooks with hilarious, off-the-wall (and sometimes scathing) quotes, and Leach did nothing to disappoint fans and the media in that regard last year during his first season with the Cougars. He was back at it again during a question-and-answer session with The Inlander.
The colorful coach discussed everything from the Cougars' prospects for 2013 to hunting in New Zealand to his in-laws' reaction to his decision to give up a law career to become a football coach.
INLANDER: You always seem to do something unusual in the off-season. How about this year?
LEACH: I went hunting in New Zealand … I got a stag and a tahr … and I got to have dinner with the All Blacks coaches on their rugby team. I'm a big rugby fan. [Leach, who did not play college football, played club rugby at Brigham Young.]
Not only is All Blacks confusing to most Americans — the team's name has nothing to do with race — but what the heck is a stag and a tahr?
A stag is kind of like a cross between a deer and an elk, with tangled antlers. A tahr is a Himalayan mountain goat.
You've made it clear you expect the Cougars to be improved this year. Why are you so optimistic after a 3-9 season filled with turmoil?
Most people are back. We're a year older. We've had a really good off-season. We are a little bigger. I would say the chemistry and enthusiasm of the team is really strong.
That was a problem last year. Why has that aspect of the team improved?
Some of the guys who played last year have really stepped up in leadership roles. [Quarterback] Connor Halliday has done a great job stepping up in a leadership role. (Linebacker) Darryl Monroe has. (Safety) Deone Bucannon and (center) Elliott Bosch have.
You drew criticism from some fans and media for your handling of a few matters last season. Would you change anything you did last year?
Nah. Last season's over. A lot of what we did last year has helped build us up this year.

What is your biggest strength as a coach?
Probably persistence.
What is your biggest weakness as a coach?
Probably impatience.
You're not a morning person, but how long do you work some days?
Sunday and Monday are the two longest. Monday during the season is probably something like 10 am to probably 1 to 3 am.
You're making plenty of money now ($2.25 million a year), but what did your in-laws initially think of your decision to give up law to coach part-time at Cal Poly for $3,000 a year?
I don't think they were real fired up. They thought their daughter had married an attorney. We'd been broke for a while, and I think it made it pretty apparent we were going to be broke longer.
Have you convinced the in-laws that your career change was a good idea?
They're big football fans now. It's not like they weren't supportive. There might have been about 10 years' worth of eye rolls, and don't think that didn't come from my family to some extent, too. My dad hated attorneys, so he really didn't have much problem with it.
Do you think you'll ever coach in the NFL?
The NFL is kind of a different game … if you talk to most NFL players, their happiest time playing football was in college. I mean, they like the paychecks in the NFL, but they enjoyed playing in college more than the NFL. In the NFL, based on ownership, a lot of coaches don't really have any say on the roster. I don't think that's a real healthy situation. I wouldn't want to be part of a deal like that, so that eliminates about a third of the teams.
---
WASHINGTON STATE UNIVERSITY COUGARS
2012 record: 3-9; 1-8 in Pac-12
Preseason Pac-12 ranking: 6th, Pac-12 North
Key games: at Auburn, at Washington
Key returning players: QB Connor Halliday, WR Gabe Marks, WR Brett Bartolone, LB Darryl Monroe, S Deone Bucannon
Tickets: wsucougars.com, 1-800-GO-COUGS