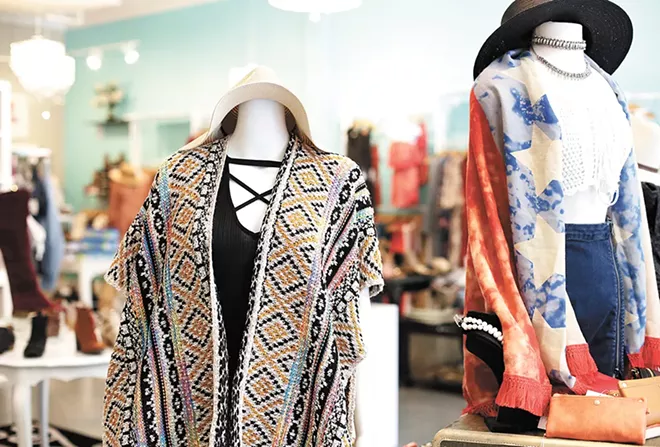 North Idaho Girls' Day Out
SHOP: Shop until you drop along the quaint streets of downtown Coeur d'Alene, which are filled with boutiques, vintage and antique shops, art galleries, restaurants and more. Suggested stops for a day of shopping include Marmalade Fresh Clothing (308 W. Sherman), Tiffany Blue (404 W. Sherman Ave. and 2027 Main St.) and Into the Woods (507 W. Sherman). For vintage shopping galore, head up Fourth Street to Junk (811 N. Fourth).
PAMPER: Spend a morning or afternoon at the Coeur d'Alene Resort Spa for manis and pedis ($55-$95) with the girls. Depending on your day's plans, we advise scheduling your appointment in advance. For groups looking for a bit more pampering, the Resort Spa offers plenty of luxury packages for massages, facials and other salon services. For special group pricing and scheduling, contact the spa.
WINE: Enjoy some pre- or post-dinner wines at the new Castaway Cellars tasting room, located in the Coeur d'Alene Resort Plaza shops. Opening last fall, Castaway's winemaker and co-owner Shelly Crawford chose its name and label as a tribute to her childhood in Western Montana and the region's fly-fishing culture. With eight wines that represent vineyards across Montana, Idaho and Washington, Castaway also offers light snacks and shared plates to pair with each.
DINNER: Consider Tito's Italian Grill, 210 Sherman Ave. ($21/person); Satay Bistro, 2501 N. Fourth St. ($31/person)
---
A Date with the Dudes
SPORTS: Any group of dudes will tell you that hockey is one of the dude-liest sports there is: Everyone drinks beer and cheers at the fights, and you can prove just how manly you are by wearing flimsy nylon jerseys in a really cold building. The Spokane Chiefs are playing home games during Restaurant Week at the Arena on Feb. 23 and 24, both start at 7 pm.
ACTION MOVIE: Take in a movie at the River Park Square AMC Theaters, where the 20 screens include IMAX and Dolby Digital auditoriums. Check out Marvel's Black Panther (opening Feb. 16), starring Chadwick Boseman as the titular superhero, which looks action-packed and special effects-heavy enough to satisfy Dude Movie needs.
MUSIC: The Young Dubliners are an ideal party band, a raucous Celtic rock group that puts on a hell of a live show, and it seems like they're at the Knitting Factory every year around St. Patrick's Day. They're returning there on March 2; be sure to have a big dinner before knocking back a few green beers.
DINNER: Consider O'Doherty's Irish Grill, 525 W. Spokane Falls Blvd. ($21/person); Tortilla Union Southwest Grill, 808 W. Main ($21/person)
---
For Beer and Wine Lovers
BEER: A lot of great local breweries have popped up in the last few years, and Iron Goat is one of the very best. Try one of their delicious rotating taps — the Head Butt IPA or Paul's Pale Ale, named for the brewery's late co-founder Paul Edminster. And if you can't quite make up your mind, go with a beer flight.
WINE: If you've got some wine connoisseurs in your group, not to worry. Barrister Winery is right around the corner. Their Rough Justice blend, so named because the winery was started by attorneys, is a local favorite.
BOTH: To please both beer and wine aficionados, head over to Kendall Yards, where Nectar Wine and Beer allows you to pick your poison from a wide selection. They host beer tastings on the third Thursday evening of every month, and wine tastings every fourth Thursday; they'll only run you $10.
DINNER: Consider Iron Goat Kitchen & Tap Room, 1302 W. Second ($21/person); Central Food, 1335 W. Summit Pkwy. ($31/person)
---
Family-Friendly Cultural Adventure
SCIENCE: Experiment with one of Mobius' two hands-on science centers. If your kids are very young, choose the Children's Museum in the lower level of River Park Square where the kids can build a house out of pool noodles at the new "Build Exhibit." Or, just a short walk to the north, check out the new Workshop at the Mobius Science Center, where you'll be able to learn how cardboard is made. (It's more interesting than it sounds, we swear.)
MUSEUM: If your kids are a tad older, we recommend voyaging over to the Northwest Museum of Arts and Culture, where kids can learn all about the Titanic, and Mom can tell them about how she saw the movie 14 times when she was in seventh grade. The museum is open Tuesday through Sunday, from 10 am to 5 pm (late on Thursdays, until 8 pm). Tickets for adults are $18, children are $10, and kids under 5 are free.
SPEED: If you're heading to a restaurant up north, spend some time racing go-karts and getting angry at golf balls at the Wonderland Family Fun Center. Or maybe try out roller-skating — like ice skating, but drier! — at Pattison's North nearby.
DINNER: Consider MacKenzie River Pizza, Grill & Pub, 9225 N. Nevada ($21/person); Nudo Ramen House, 818 W. Sprague and 9602 N. Newport Hwy. ($21/person)
---
Nature Lovers (even in February!)
BIKE: Depending on conditions and warmth, your more active restaurant goers might take the time to bike the loop around the river near Kendall Yards. Start at the Inlander building on Summit Parkway, take the Centennial Trail, dive down the Sandifur Bridge, and then chug through Peaceful Valley. By the time you get back to Kendall Yards, you'll have convinced yourself you deserve an appetizer.
SLED: And say it's too snowy for biking? That's the time for sledding, obviously. If you live up north, Holmberg Park can make for great sledding. So does Manito up on the South Hill. Underhill Park in southeast Spokane is another prime location. As always, be careful. Stay far, far away from the path the sledders take downhill as you're trudging up.
HIKE: Or go on a wildlife hike. We recommend critter-packed hiking spots like Riverside State Park, Iller Creek in Dishman Hills and local favorite, the Turnbull Wildlife Refuge.
DINNER: Consider Remedy Kitchen & Tavern, 3809 S. Grand Blvd. ($31/person); EPIC at Northern Quest, 100 N. Hayford Rd., Airway Heights ($21/person)