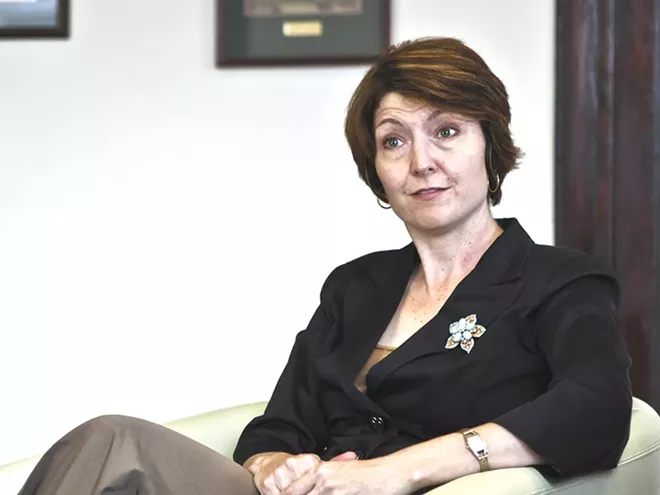 CUT OFF
Even before Spokane City Council President Ben Stuckart GAVELED the Monday meeting to a sudden close — denying the chance for two citizens to address the council on the record — the tension was palpable.
Last week, the Inlander had reported on the experiences of city council candidate Kate Burke, who said she had been sexually harassed by former city councilman, and then-council aide, Richard Rush. In the article, Burke had also said she'd been hurt by Councilman Mike Fagan's off-color joke about a picture she took with former President Bill Clinton, and by her feeling that Stuckart had been dismissive about what she went through. (Stuckart apologized to Burke in a Spokesman-Review article after the Inlander article was published.)
The article sparked the local chapter of the National Organization for Women to encourage people to come to city council to speak about the issue of sexual harassment.
At Monday's meeting, several speakers criticized Stuckart and Fagan's actions without mentioning them by name, as some audience members stood in solidarity.
But during the second open forum at the end, as a woman named Erin Georgen delivered an emotional speech about sexual harassment, Stuckart cut her off for going significantly over the three-minute time limit.
When activist Alfredo LLamedo began booing in objection, Stuckart ended the meeting completely. It meant that two other citizens who'd signed up to speak on the record, Karen Blaine and Spokane County Democrats chair Andrew Biviano, wouldn't get the chance.
"If people aren't going to be quiet, then the meeting is going to be cut, especially in the second open forum," Stuckart told the Inlander as he left.
Though the TV camera and microphones had been shut off, Blaine made her way to the front anyway. She held up an an onion, tearing back the layers, to demonstrate the power of speaking out about sexual harassment. "We can start peeling away some of that pain, layer by layer," she said, urging listeners to not "let anyone silence what you need to say."
Several councilmembers, including Amber Waldref and Lori Kinnear, stayed around to listen. (DANIEL WALTERS)
EAGLES DOWNED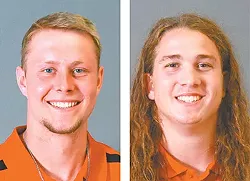 Two members of Eastern Washington University's football team, star quarterback Gage Gubrud and linebacker Kurt Calhoun, were ARRESTED over the weekend for trying to prevent their friend from being taken to jail, Cheney police say.
At midnight on Sunday morning, hours after Eastern lost 28-20 to Weber State, a man started kicking the fencing of a Cheney coffee shop called the Mason Jar, which was closed at the time. Officers told him to stop, but he kept kicking, Cheney Police Captain Rick Beghtol tells the Inlander. As they put handcuffs on the man, Calhoun tried to stop the officer from making the arrest. When the officer told him to leave, Calhoun said he wasn't leaving without his friend. The officer then placed Calhoun under arrest for obstructing a public servant, a misdemeanor, Beghtol said.
At this point, a crowd gathered around the scene. Gubrud arrived and did the same thing as Calhoun, demanding that his friends walk free, police say. He also was arrested for obstruction.
Nobody, however, was booked into jail. Beghtol says the police department didn't have the resources to do so, especially since it was after the Homecoming game.
The football players are due to show up in court on Nov. 16. In the meantime, Eastern head coach Aaron Best suspended the two from participating in Saturday's game against North Dakota. He said the incident was "in violation of our team rules."
"I have suspended both players for this week's game at North Dakota," Best told media. "Unless something else unveils itself, we will then move forward." (WILSON CRISCIONE)
SPEED FOR HYDROPOWER
This week, the U.S. House is expected to vote on and likely pass the HYDROPOWER POLICY MODERNIZATION ACT, first introduced by Republican Rep. Cathy McMorris Rodgers this summer.
Among other things, the bill adds hydropower to the list of federally recognized renewable energy sources, acknowledging that it makes up about half the country's renewable energy portfolio, and provides 70 percent of the electricity in the Pacific Northwest, McMorris Rodgers says.
"I think it's important that we recognize hydro as a renewable," McMorris Rodgers says by phone from D.C. on Tuesday. "It's reliable, affordable and we need to just recognize the role that it plays in even making other renewables possible. We need base load like hydro for wind and solar to function properly."
The legislation is primarily intended to reduce the amount of time it takes to license or relicense a hydropower project. Currently, it takes about a year and a half to license a new natural gas facility, but it can take eight to 10 years to license or relicense a dam, McMorris Rodgers says.
"If anything, the legislation would encourage private investment in hydropower," she says. "The National Hydropower Association has done an analysis and showed that we could double hydroelectric power in America without building a new dam, just by investing in new technology, new improved turbines and fish ladders."
The current time to license that work has discouraged upgrades, McMorris Rodgers says.
To speed up the licensing process, the bill puts the Federal Energy Regulatory Commission at the center of those decisions, to coordinate and plot the timeline with all involved agencies, including federal, state, local and tribal governments.
It also maintains environmental regulations currently in place, such as those found in the Endangered Species Act and Clean Water Act, among others, McMorris Rodgers says.
"I would emphasize this isn't about changing environmental standards, it's really about speeding up the process," she says. (SAMANTHA WOHLFEIL)