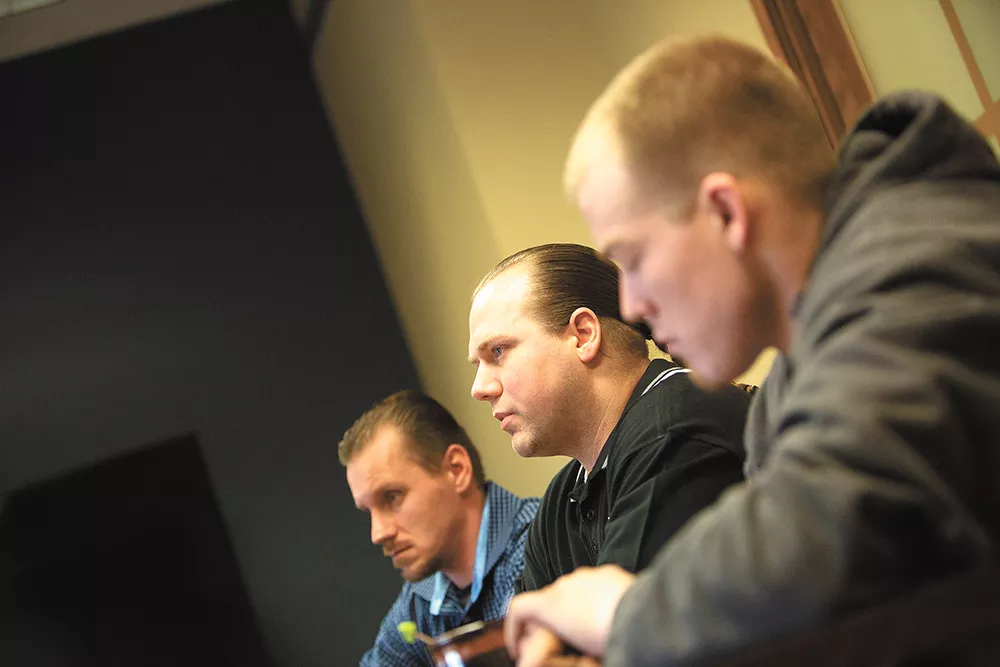 Three men lost nearly five years of their lives when they were wrongly convicted in 2009 of robberies they didn't commit. The legal battles leading up to their wrongful convictions and exonerations were plagued by "extremely poor" police work and "careless" prosecution, officials would later say. Now, taxpayers are on the hook for those missteps.
Since Paul Statler, Tyler Gassman and Robert Larson were released in 2012, the men have fought to get paid for the years they spent locked up. Spokane County Superior Court Judge John Cooney ruled earlier this month, in the first case ever tried under Washington's wrongful conviction compensation statute, that the men are "actually" innocent, reversing his previous decision. According to the law, wrongly convicted individuals are entitled to $50,000 per year of incarceration. The total bill in this case comes to about $750,000, the men's attorney says.
But Statler, Gassman and Larson are not done. They've also filed a federal lawsuit against two Spokane County Sheriff's detectives — Doug Marske and Bill Francis — and Spokane County for violation of the their civil rights. The suit alleges that the detectives' "reckless" investigation and witness tampering violated their constitutional rights.
As attorneys prepare the case for trial, pieces of sworn testimony and emails provided to the Inlander show stark disagreement within the Spokane County Sheriff's Office as to the thoroughness of the investigation. Attorneys suggest a conspiracy by police and prosecutors to pin armed robberies on the three men, despite no physical evidence linking them to the crimes. In fact, the only evidence against them was the testimony of a jailhouse snitch.
Spokane County Sheriff Ozzie Knezovich still insists that the three men are guilty, despite their exonerations, and claims that prosecutors mishandled the case. He also defends the work of his detectives. Sheriff's Office Sgt. Tim Hines, who investigated the detectives for internal policy violations stemming from their investigation, disagrees.
Hines calls the investigation "extremely poor police work." Ultimately, Marske was handed a letter of reprimand and has since retired. He is currently an officer for the state Liquor and Cannabis Board. Francis retired before the internal investigation began, and declined to participate in it.
For Micah LeBank, the attorney in Tacoma handling the civil rights lawsuit, this case raises fundamental questions about the role of law enforcement as "ministers of justice." Are police and prosecutors supposed to get convictions, or seek the truth?
"That's not what occurred in this case," LeBank says. "Clearly, the truth became trampled by all of this. And the idea that truth comes out at trial? Well, that didn't happen, because they didn't do an appropriate investigation."
Police arrested four men on April 23, 2008, after the last in a series of similar drug-rip robberies. Anthony Kongchunji, Nicholas Smith, Larry Dunham and his younger brother Matt Dunham were caught red-handed. All of them eventually confessed to the crimes. One of them cut a deal with police.
Matt Dunham, then 17, told police he was the getaway driver in at least three other unsolved robberies. He pointed the finger away from his brother and his other buddies, and toward Statler, Gassman and Larson.
Statler, Gassman and Larson were convicted of an April 15 robbery based only on Matt Dunham's testimony. The three men were sentenced to decades in prison, while Matt Dunham received 18 months in juvenile detention. But the case had more problems from the start, and Spokane County Superior Court Judge Tara Eitzen sanctioned Spokane County Deputy Prosecutor Eugene Cruz for a "careless" job.
On the morning the trial was supposed to begin, Cruz changed the date that the crime allegedly happened from April 15 to April 17, obliterating the men's alibi defense. Emails between Cruz and the detectives show that Cruz knew about the date change for months before trial, but didn't bother telling the court or defense attorneys.
Dave Partovi, a defense attorney who worked on the original case, was astonished by the verdict. But now that a court has ruled that the three men are actually innocent, this is an I-told-you-so moment.
"Is it malicious? I don't know, but it's the same thing that happens in a lot of cases," he tells the Inlander. "The government gets a perspective, and are simply incapable of seeing any other perspective once they decide what the truth is."
Marske had been on to Statler and Gassman since at least February 2008 — two months before he would wrongly accuse them. Victims in a Feb. 28 robbery identify Statler and Gassman from a photo montage. But the day the case was set for trial, prosecutors learn that another deputy had already shown a photo montage to the victim, who could not identify the perpetrators. Prosecutors dismiss that case due to the conflicting evidence.
Then, when Matt Dunham and his crew are arrested after the April 23 robbery, the suspects tell Marske that the shotgun they used is stashed at Statler's house. A deputy retrieves the shotgun, and days later Marske writes to the deputy in an email dated May 7, 2008:
"I'm going to try to make the felon in possession and another Robbery case on Statler. [Deputy Prosecutor Mark] Cipolla will sign it up but isn't too optimistic. ... I know Statler wasn't your focus that night but he really is a problem, violent offender."
LeBank's reaction?
"So you're telling me that the prosecutor is willing to give it a shot, but isn't too optimistic about the charges? Is that justice? It shows that Marske is focused on Statler before Dunham ever implicates him in these other crimes." (Marske doesn't talk to Dunham for the first time until May 23, 16 days after the email was sent.)
In a deposition, Marske says he's referring to Cipolla's concern that the gun wasn't collected using the proper legal procedure.
By itself, that email doesn't definitively show that Marske targeted Statler in the face of contradictory evidence. But Hines, the Sheriff's Office internal investigator, points to a rash of other examples of poor police work — steps that should have been taken and would have absolved Statler, Gassman and Larson.
Marske never asked a judge for a search warrant for Paul Statler's house (or any of the other suspects' houses, for that matter). Instead, he asked a Department of Corrections officer to do the search because Statler was on community supervision. Marske told Hines, the internal investigator, that he didn't seek a warrant because he didn't want to reveal Matt Dunham as his snitch. The problem, attorneys point out, is that the search happens May 5; Marske reportedly doesn't even speak with Dunham until May 23.
"Looking back now, I wouldn't say I think he lied to me, but it's clearly an issue," Hines says now. "There is a problem."
Marske did not verify that the sawed-off shotgun linking Statler to the robberies was similar to the gun recovered from Statler's home. In fact, Hines later found that the shotgun taken from Statler's home was not sawed-off.
Detectives made no efforts to independently verify any of Matt Dunham's statements, a violation of Sheriff's Office policy.
"As far as efforts to corroborate it, it doesn't appear they made any," Hines says in his deposition. He adds: "I wouldn't have had to ask somebody 'should I try to corroborate this?' I would've known that. That's common sense."
Initially, Matt Dunham identifies Statler, Gassman and a man named "Andrew" as his accomplices. Later, in June 2008, Marske learns that Statler has a cousin named Robert Larson. Within an hour, Marske and Francis visit Matt Dunham in jail again, and the boy adds another accomplice: "Bobby."
In his deposition, Marske says it's common for people to change their story.
LeBank calls that "fishy."
Detectives made no efforts to gather complete phone and work records for the victims or the suspects. Doing so would have destroyed the case against Statler, Gassman and Larson, and discredited Matt Dunham's testimony.
Kongchunji says that Marske threatened him with perjury charges when the detective found out he intended to testify that Statler, Gassman and Larson were innocent. Marske defends his statements, saying he was simply advising Kongchunji what would happen if he lied under oath.
After the three men were convicted, Kongchunji testified in court that he framed Statler, Gassman and Larson for crimes committed by the Dunham brothers, Nicholas Smith and himself.
There is no evidence showing that the police followed up on Kongchunji's testimony. Kongchunji is still in prison. Matt and Larry Dunham are free men, and Nicholas Smith is serving time for other crimes.
For Statler, Gassman and Larson, the fight continues. They stand to get paid upward of $750,000 (minus attorney's fees) from the state, according to Judge Cooney's ruling. And their federal civil rights lawsuit is still pending. Individuals in similar wrongful conviction cases have been awarded $1 million or more per year of incarceration, although per Washington state law, wrongly convicted people are not entitled to state compensation if they pursue a civil rights lawsuit. If the men's civil rights claim fails, it's unclear whether they can still get paid by the state.
The men and their families have also worked to change state law. Duane Statler, Paul's father, talks about a bill that passed out of the Senate and is currently moving forward in the House. The bill would require prosecutors to hand over all information that could discredit informant witnesses. Duane Statler says he's been working on similar legislation each year for the past five. He's not giving up now.
Meanwhile, Paul Statler is still working to get his life back together.
"My whole life is significantly changed," he says in a deposition earlier this year. "I was 21 years old, man. I mean, I lost the best years of my life. I can't get that back. It ain't going to happen." ♦