David Byrnes snaps on blue medical gloves as he prepares to perform a grim part of his daily routine at the West Central Community Center.
"This is kind of a morning tradition, unfortunately," says Byrnes, the center's maintenance supervisor and security specialist.
Every morning, Byrnes, along with Ben Baird, the center's youth development coordinator, scours A.M. Cannon Park for byproducts of a problem that transcends the neighborhood: drug addiction.
On a typical day, says Byrnes, staff will find two to five syringes, blood-stained disinfectant wipes and other remnants of drug use in the park. Using a pick stick, a rod with a grasping claw at the end, Byrnes collects syringes in a metal biohazard box that will be sent to a medical supplies disposal company. This year, they've filled three containers with 70 syringes that are stored in a cardboard box, along with what appears to be a pot pipe and a realistic fake gun also found in the park. The problem is particularly acute during the summer months and continues well into the fall. This year, both Byrnes and Baird say it's gotten significantly worse.
Staff at the center do this job every morning because several daycares use the playground, as well as kids enrolled in youth programs offered at the center. No child has ever been stuck with a syringe, and the center's staff intends to keep it that way.
Residents of West Central are taking notice of the syringes left at A.M. Cannon Park and similar problems at nearby Dutch Jake's Park, says Mike Brakel, chair of the neighborhood council. He's not sure what the solution is, but says that having a greater community presence in the parks will help.
"Lately, we've been trying to take back the parks, and have been having community events there in the evening," says Brakel. "But, honestly, I think we are going to have to have a different mindset with the parks, because ours are a hotbed for drugs and homelessness."
Last month, the neighborhood council held its monthly meeting in Dutch Jake's Park, and also hosted a barbeque there. Brakel says the neighborhood is working on getting funding for more lighting in the parks, and he's encouraged that younger families who have shown an interest in the issue have moved in. But he says there needs to be a greater police presence, especially at night.
Northeast Precinct Captain Craig Meidl explains that the police have limited tools to address the problem. He says that drug users in the park can see police coming and hide any contraband. Parks Department staff, he says, can cite people for trespassing, but they typically aren't on duty late at night while unsavory activities might be occurring.
"It's almost impossible to catch them in the act," says Meidl. "They can see you from a mile away."
Lynn Everson, the Spokane Regional Health District's needle exchange coordinator, says that many drug users dispose of syringes responsibly using the district's confidential service. Over the past three years, her program has exchanged a million syringes annually. But, she says, not everyone uses the service.
Matt Layton, medical director for the Spokane Regional Health District's Opioid Treatment Program, says that statewide, there has been an increase in heroin use after the legislature made it harder for doctors to prescribe opioid painkillers. Spokane, he says, is no exception. According to a University of Washington study, the number of admissions to publicly funded drug treatment programs for opioid use rose 188 percent between 2002 and 2013 in Spokane County.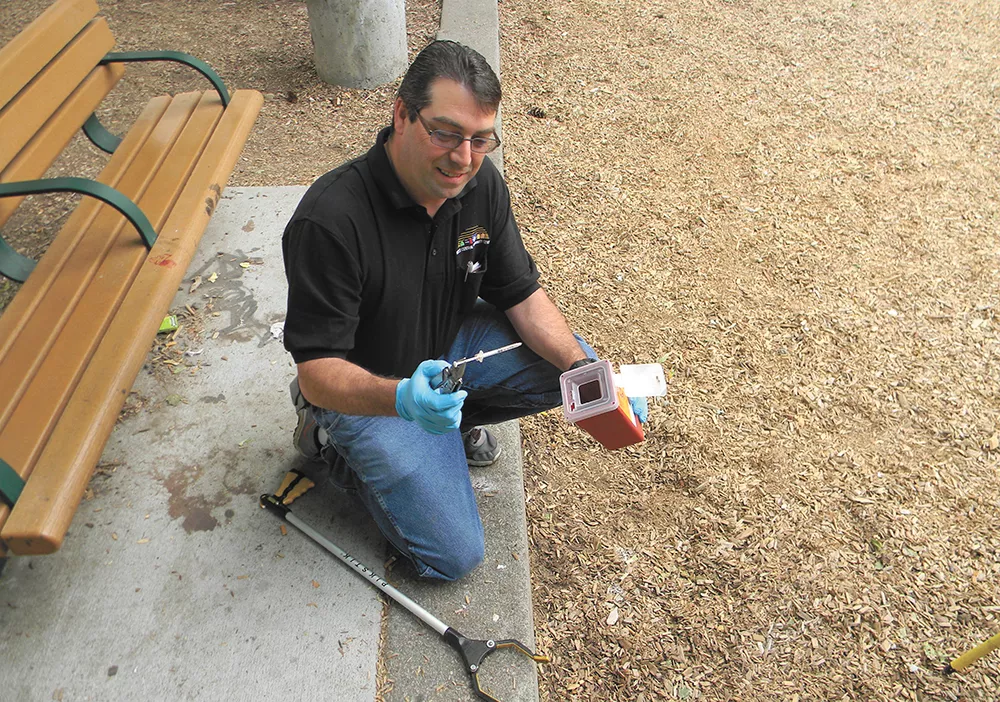 "It's not a large-scale issue throughout the parks, but it's something we are aware of," says parks spokeswoman Monique Cotton, who encourages people to contact the department if they find syringes.
Back at the park, Baird and Byrnes pick up wrappers from medical supplies, which are sometimes stained with blood and strewn among discarded shirts, socks and pieces of cardboard. Baird uses an old broom handle to comb through the wood chips, which are mixed with cigarette butts and lollipop sticks, looking for anything hazardous. He pays particularly close attention to underneath the slide, where a needle could be hidden.
"Holy moly," says Baird. "This is like biohazard central today."
Baird says that when a new play structure was built in the park in September, the increased activity meant fewer syringes, leading him to think that having more eyes and ears around could help. But fundamentally, he says, "the problem is bigger than what's being left in the park." ♦