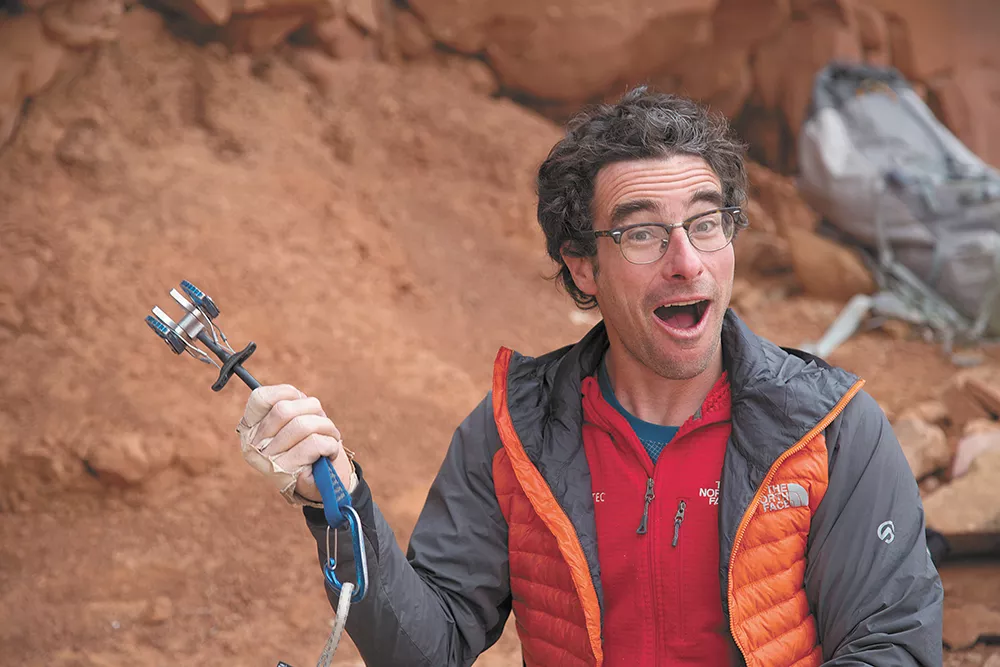 Cedar Wright is an adventurer. That's his job title, actually, and not one many people can claim. But maybe we need people like Wright who, for example, climb sheer rock cliffs and make a movie to prove it happened.
"Humans are very curious. We've always wanted to explore and push our boundaries of what might be possible. There's value in that, and bringing back those stories and lessons of those adventures that might inspire someone else to do something," says Wright, an esteemed rock climber and filmmaker who is set to deliver a talk and multi-media presentation in Spokane as part of the National Geographic Live series.
At this talk, Wright will explain why in 2013 he and world-renowned rock climber Alex Honnold summited all of California's 14,000-foot-or-higher peaks, which included plenty of free climbing, then rode bicycles between mountains. He'll also explain why he and Honnold then did a similar — and equally strenuous — climbing and biking trek the following year, which resulted in the award-winning action documentary Sufferfest 2, a follow up to the movie about their first time out. The second Sufferfest has Honnold and Wright climbing the iconic rock towers of California and again biking in between.
The climbing sequences are near-pornography for rock climbers and provide a fix to those of us who like to get our adrenaline via documentary. But what Wright's film brings to light is a more introspective, at times hilarious, look at why two grown men would do something like this.
"Neither of us are planners. We like to let things unfold. That's why Sufferfest is so entertaining — because we don't know what we're doing," says Wright with a laugh from his home in Boulder, Colorado.
The two films are inspiring on a number of levels, even in Wright and Honnold's companionship and the collaborative nature of the two strong-willed adventurers. A number of people have told Wright that they've created their own mini Sufferfest to test their limits.
"If you can connect deeply with your audience, that's pretty awesome. And hopefully we can pull that off with filmmaking," he says.
Wright's story probably sounds similar to that of a lot of other dedicated climbers. After college in Northern California, Wright headed to Yosemite to climb, where he lived out of his truck and worked on a search-and-rescue team. Since then, he's become sponsored by The North Face and had other benefactors, including National Geographic, of course, fund his adventures. He knows that people look at his life and find it crazy, but he says it's not too out there upon inspection.
"There's more than one way to explore your world. I like to explore it through adventure and share those adventures to people through film. I'm a lucky son of bitch," says the 40-year-old.
While climbing remains his main love, Wright has recently taken up paragliding. With only about seven months of experience, he headed off for Mexico, taking off from soaring peaks. The adventure is the subject of his new film The Fledglings, which he'll preview at the event in Spokane. Soon, he hopes to make a first ascent of a climbing route and come down via paraglider. His reasoning is as practical as it is adventurous.
"It looked like an incredible way of getting off a mountain," he says. ♦
National Geographic Live, Sufferfest: 700 Miles of Pain and Glory • Tue, April 19, at 7 pm • $30-$42 • INB Performing Arts Center • 334 W. Spokane Falls Blvd. • inbpac.com