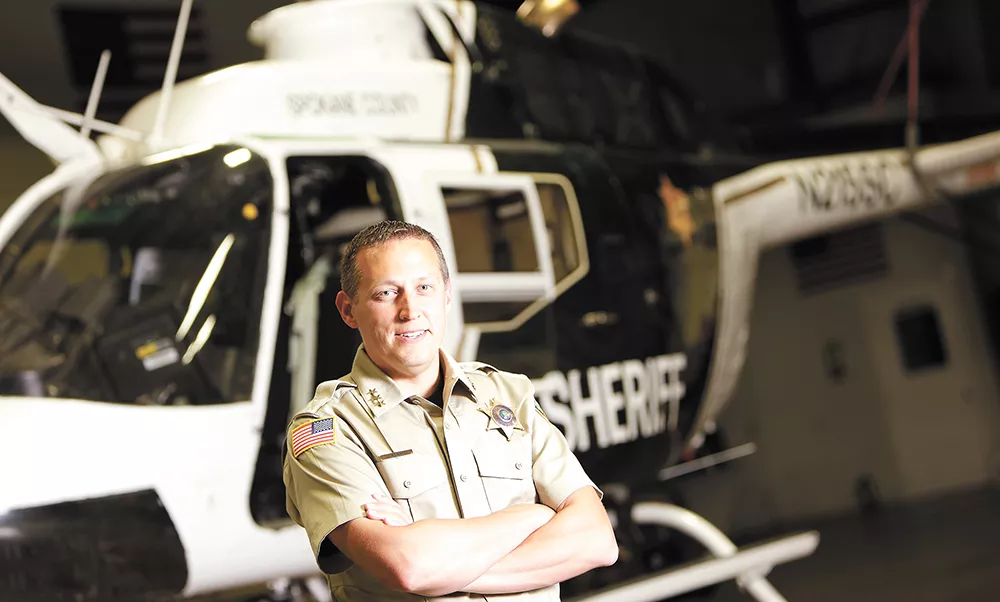 Dave Ellis is waiting for a phone call.
As a supervisor of the Spokane County Sheriff's Office Air Support Unit, he gets updates on all helicopter missions. Late last night, one of the unit's 1970s-era choppers, known as "Air 2," circled North Spokane looking for a man who was reportedly running naked near Liberty Park.
He's waiting for more details. Is the man OK? Is the helicopter functioning properly? Were any officers, or the pilot, injured?
But the Air Support Unit is only one of many responsibilities for the 39-year-old, whose graying temples betray his clean-shaven baby face.
After a promotion to undersheriff last month (one of three in the entire agency), Ellis oversees all patrol, investigations and specialty units, such as the diving and marine teams, for Spokane County. He's also in charge of the Sheriff's Office Intelligence Unit, which analyzes and disseminates crime stats for a massive area that includes 11 Eastern Washington counties.
Ellis also has his hands in other efforts, and later today, he's meeting with a member of Spokane's Medical Reserve Corps to talk about getting naloxone — a drug that quickly counters the effects of opioids — into the hands of his deputies. The antidote has already saved scores of people from drug overdoses in Spokane, according to data from the Spokane Regional Health District.
In his nearly 16 years as a cop in Spokane, Ellis has risen quickly through the ranks. As he's ascended, it seems that each program he's touched has flourished. Two projects in particular have brought the office regional and national recognition.
"He's an all-around leader, and the day he moves into a pure leadership role as chief, or something else, he will be a force to be reckoned with," says Sheriff Ozzie Knezovich, who appointed Ellis.
For now, Ellis is still settling into the office down the hall from his boss, who has already announced his bid for re-election in 2018. Down the road, Ellis says a run of his own isn't out of the question.
"It's something I've considered," he says, adding that he wouldn't launch a campaign until Knezovich retires.
For nearly 20 years, Ellis has studied law enforcement and is constantly thinking of new, different ways to police. So far, the results have been promising.
Until about 2015, only one or two people had regular access to the massive crime database for Spokane County, Ellis recalls. Short of monthly reports, information on crime trends was sparse.
"Quite often, the only information you had was what you knew specifically," he says, recalling his days as a patrol deputy. "Like, 'I know I was at this house, and I arrested so and so.' But you wouldn't know what's happening with other shifts. What your suspects' MOs were."
Crime trends in neighboring counties were not even on the radar. That's changed for deputies in Spokane and in surrounding counties after Ellis was put in charge of the Sheriff's Office Intelligence Unit in 2015. In that role, Ellis jump-started the Regional Intelligence Group 9, known as RIG 9, which tracks crime trends for 11 counties in Eastern Washington.
The unit, which includes three crime analysts, tracks the location and types of crimes committed. Deputies also have access to the little details that can help find a specific suspect or a stolen vehicle.
"We want to give them actionable information, so when they read it, they can do something with it," Ellis says. "Rather than just knowing that we're having a lot of vehicle prowls. Where? When? What's the MO?"
Each deputy can access a "heat map" showing clusters of crime. It tells them where to focus patrols, rather than just driving around waiting for a call, Ellis says. The maps also show little red dots that mark the location of people under Department of Corrections supervision — which can be good leads, he adds.
The idea certainly is not new. Police in New York City began mapping crime, and putting "cops on dots," as early as the 1990s.
The Spokane Police Department began using a similar data-driven policing model, known as CompStat, in 2013 under former Chief Frank Straub. The program directed resources to "hot spots" in an attempt to predict criminal activity.
Other agencies have implemented similar programs. In the wake of police protests in Ferguson, Missouri, officers in a neighboring municipality considered the software known as HunchLab. The program took into account documented crimes, but also population density, proximity to schools, churches and bars, and even the phases of the moon to predict where crime will crop up next.
Ellis says putting data directly in the hands of patrol deputies empowers them to be more proactive, rather than reactive. He adds that community involvement has been key to its success. Last year, the office started feeding the data into a crime map posted online. The map, which anyone can access (communitycrimemap.com), can break down crimes by neighborhood, and members of the public can submit anonymous tips.
"If we've got the public's involvement, it's just a gazillion more eyes to watch what's going on," Ellis says.
Currently, he's looking to secure grant funding to turn RIG 9 into a "real time" crime analysis center, which would "tie into [Department of Transportation] and school district cameras," Ellis says. Dispatchers could immediately feed details to deputies on the street. Analysts could then identify if the suspect has any criminal history and what kind.
"Intelligence-led policing is basically our business model," Knezovich says. "Without this revamp, we would have lost control of crime in this area."
Standing in the Sheriff's Air Support Unit hangar at Felts Field, Ellis' cell phone rings.
Using the helicopter's thermal cameras, police found the naked man huddled under a bush. The man, a single dad, was severely dehydrated, Ellis says, and was either very intoxicated or in the midst of a mental crisis, or both.
Without the chopper, first responders may not have found the man. And without Ellis, the Air Support Unit might not exist, Knezovich says.
"He saved that unit from going extinct around 2008, '09," the sheriff says, by pooling resources from neighboring agencies.
Ellis was also instrumental in establishing Spokane as a hub for advanced law enforcement training back in 2006. As training coordinator for the Sheriff's Office, he built the regional police training program that teaches thousands of cops from across the country.
Before that, Spokane had to send its officers to far-flung cities for any kind of special training, Ellis says. That meant tuition, travel expenses and fewer officers patrolling the streets in Spokane.
"When we brought those classes to Spokane, we saved a ton of money," he says. "And these are classes that we would not have had the money to send guys to — in Seattle or California or wherever — and now that we have them here, we're able to get that training."
Since then, Ellis has worked as a detective, investigating sex and property crimes. He was also a tactical flight officer — the guy sitting next to the helicopter pilot for search-and-rescue missions.
"I miss it," he says. "It's rewarding — finding a missing kid or a lost hiker."
But for all the adrenaline-fueled roles he's held in the department, Ellis doesn't regret his decision to sit behind a desk.
"It allows me to be a decision maker and push us in the direction I think we should go as an agency," he says.
Putting naloxone kits in deputies' hands is one example. The day after deputies learned how to administer the opioid antidote, a deputy saved a man's life in Medical Lake.
Scot Haug, chief of police in Post Falls, where Ellis began his career, recalls speaking with Ellis about that decision recently.
"I know he's been working on educating the public, as well as deploying Narcan [the brand name for naloxone] to deputies," Haug says. "Those are the things you want from a leader — don't just arrest them and throw them in jail. But what tool can I give my deputies when the ambulance isn't there. You want somebody who cares about the people they serve, and that's Dave Ellis." ♦