In an age when digital touchscreens control nearly every aspect of household life, one room continues to hold to old traditions: the kitchen. Market research data revealed last fall that cookbook sales had jumped 21 percent in early 2018 compared to early 2017. Put another way, Americans are gobbling up cookbooks like mini quiches, and the volumes of recipes pouring out of publishing houses are as diverse as the spread at a hipster potluck. The choices are downright daunting. So whether you're getting a gift for an already avid cookbook collector or someone whose library desperately needs something more than The Joy of Cooking, here's a list of suggestions guaranteed to give this Christmas some extra flavor.
BETTY CROCKER LOST RECIPES
Few names are as synonymous with cookbooks as Betty Crocker, and no doubt every aficionado's bookshelf features some variation of her original tome. Betty Crocker Lost Recipes puts a new twist on a classic, diving into some vintage from-scratch recipes that modern cooks can still pull off. Soups, salads, stroganoff — it's all here, and it's all time-tested and Crocker-approved. These pages also feature some useful tips on putting together themed parties, and the illustrations throughout are kitschy, familiar nods to the author's celebrated history in the cookbook world. In the right hands, Betty Crocker Lost Recipes is sure to deliver a healthy helping of nostalgia straight to the tastebuds.
THE SINGLE PERSON'S COOKBOOK
Perhaps the worst thing about being single is cooking a nice meal and having that second portion stare back at you like a flashing neon reminder of your solitude. But cooking for one doesn't have to be an exercise in loneliness. In The Single Person's Cookbook, author Tony Wilkins gives the solo crowd some fantastic recipes for seafood, salad and one-pot pasta dishes, as well as an entire chapter on romantic meals designed to impress that potential new someone. Wilkins peppers each section with lived lessons on fitness, sex and navigating the single life in general, making this an ideal guide-in-disguise for any bachelor or bachelorette you happen to be shopping for this Christmas.
30-MINUTE ONE-POT MEALS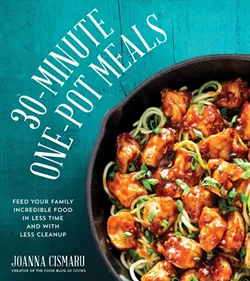 For some, cooking is a rather utilitarian pursuit best accomplished quickly and with as few dishes as possible. But that approach shouldn't restrict a loved one's diet to Kraft Easy Mac and Cup Noodles. With 30-Minute One-Pot Meals, meals can be both fast and fancy. And the 192-page cookbook is broken into chapters centered on specific cooking vessels — be it a saucepan, a bowl or a Dutch oven — making it a snap for even the most preoccupied or lackadaisical chef on your gift list to find a recipe that fits their comfort level.


STAR WARS GALAXY'S EDGE
With the final entry into the Skywalker saga set to hit theaters Dec. 20, Star Wars fans everywhere are hankering for a taste of a galaxy far, far away. How better to satisfy that hunger than a plate of fried Endorian tip-yip on a bed of mashed chokeroot and veggies, topped off with a slice of Mandalorian uj cake for dessert? The Official Black Spire Outpost Cookbook contains 70 recipes straight from Walt Disney World's expansive new Galaxy's Edge theme park. With this book under the tree, that fanboy or fangirl on your Christmas list can still nerd out even if a trip to the Outer Rim isn't in the cards.
FROM CROOK TO COOK
OK, so Snoop Dogg might not be the first name that springs to mind when you think of celebrity chefs. But Snoop has a smooth-yet-spicy style (he did just edit the cover of People magazine to declare himself "Sexiest Man Alive"), and he knows a thing or two about the munchies. From Crook to Cook has something good-good for every meal, from Stack'd Up Flap Jacks to Bow Wow Brownies and Ice Cream, plus drink recipes, party tips and a few opening words from Martha Stewart. Snoop's cookbook is as helpful as it is entertaining, an ideal Christmas-gift blend of utility and whimsy.
THE MEATEATER FISH AND GAME COOKBOOK
Forget covertly digging through the mudroom to see what the family hunter or angler might need. With the help of renowned hunter, conservationist and podcast host Steven Rinella, you can put a fun spin on Christmas that everyone in the house will appreciate. The MeatEater Fish and Game Cookbook offers more than 100 recipes for everything from moose to grouse to rainbow trout, plus some helpful tips from Rinella on skinning, butchering and storing big game. Whether the next meal takes place around a campfire or the kitchen table, this is the type of must-have cookbook for anyone who gets their kicks by matching wits with the wild.
BONG APPETIT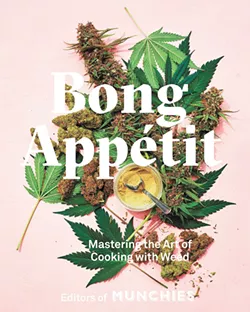 An unavoidable side-effect of living in a state where marijuana's legal is that someone you know will inevitably bring weed into the kitchen. It's probably best for everyone that when they do, they've got a handy set of recipes on hand. Bong Appétit: Mastering The Art Of Cooking With Weed has 65 such recipes ranging from sweet to savory. The book kicks off with a guide on food infusions and tinctures, and includes tips on dosage and strain usage. For the truly adventurous, there's also a selection of recipes for pot-infused cocktails. Bong Appétit will make an ideal gift for anyone that's looking to trade in their white Christmas for a green one.
THE KING ARTHUR FLOUR COOKIE COMPANION
There are all manner of rich, velvety, jelly-filled delicacies out there. Sometimes, though, you just want a cookie. And that's exactly what The King Arthur Flour Cookie Companion brings to the table: a classic compendium of simple, easy-to-bake recipes guaranteed to satisfy any sweet tooth. Every type of cookie gets a thorough treatment here. Want your batch of chocolate chip to come out doughy? There's a recipe for that. Prefer a crisper edge? There's a recipe for that, too. The companion also offers a variety of ingredient substitutions and historical tidbits on where certain recipes originated. Just bear in mind that whoever gets this gift at Christmas will probably need a taste-tester.
MIXTAPE POTLUCK COOKBOOK
Everyone knows what to expect from a cookbook crammed with recipes from famous chefs. But if you threw a potluck with the likes of Marisa Tomei, Fred Armisen and Zooey Deschanel, what would the spread look like? Hot off the October 2019 presses, Questlove's Mixtape Potluck Cookbook offers a chance to find out. Each chapter covers a different end of any given party, right down to the "Veg Friends You Want to Impress." Each recipe comes from a different once-starving artist, from Tariq Trotter (better known as rapper Black Thought) and his South Philly Seafood Stew to Amy Poehler and her Easy Veggie Party Quiche. Questlove breaks into some insightful musical commentary throughout, too, giving this cookbook the kind of unique, conversational flavor you'd expect from a celebrity potluck. ♦