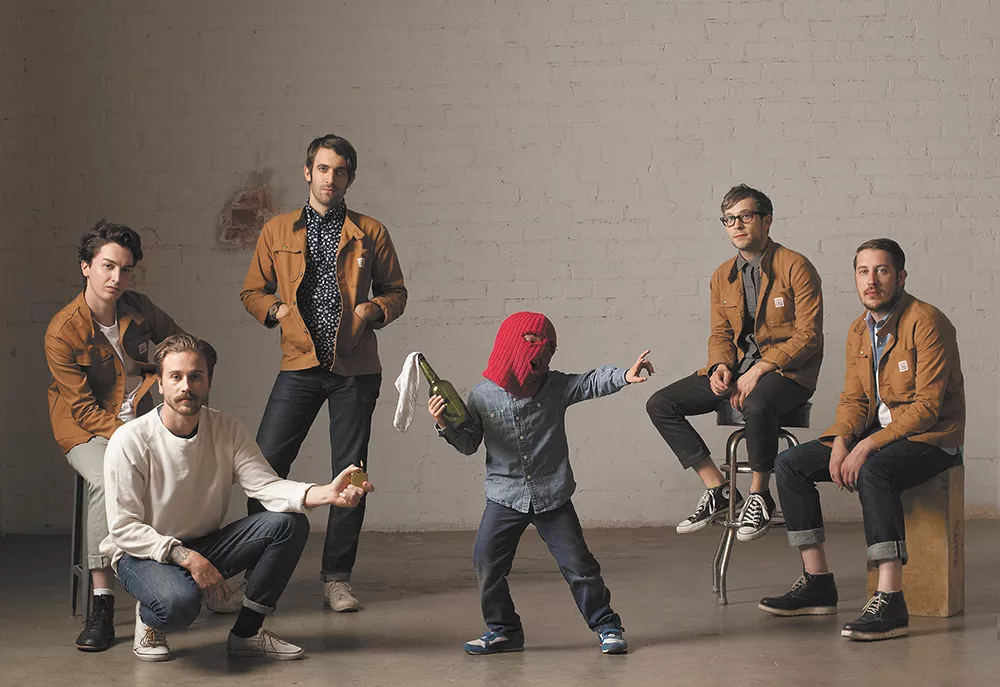 From the start, they didn't know if the event would continue.
"Steve [Gleason] was there that first year," says Gleason Fest event coordinator John Blakesley. "The biggest thing was, we didn't know how long Steve was going to live. We thought this might be the last chance — so let's have a party in Spokane."
Since that first thrown-together Gleason Fest in 2011, the year Spokane's native son Steve Gleason was diagnosed with amyotrophic lateral sclerosis (ALS), the now-annual event has raised nearly $100,000 for the Gleason Initiative Foundation, all while celebrating its namesake's love of music by bringing in national talent, including Blue Scholars, Nahko and Medicine for the People, and Lukas Nelson & Promise of the Real.
Every year, Gleason himself makes the trip, and every year the benefit music festival continues to grow. Last year's downtown block party (Division Street and Main Avenue) drew approximately 1,200 people; planners hope to expand that total with the move to the Lilac Bowl Amphitheatre at Riverfront Park (located across the river from the INB Performing Arts Center, east of the Clock Tower). Changes include the beer garden setup; alcohol can be purchased at a designated 21+ zone, then brought out to the stage area so attendees aren't confined.
This year's event was even more of a team effort than usual, with Blakesley (who also books Elkfest) getting to step back; Live Nation helped with some of the band bookings, and others also helped out putting the festival together.
Blakesley, who attended Gonzaga Prep with Gleason, is not the only festival committee member to have been inspired profoundly by the former NFL player's life. Rian Emmerson, who volunteers as the initiative's Northwest communications manager and attended Washington State University with Gleason, is taking a larger role in the festival this year, working to bring even more attention to the event, which coincides with a golf tournament and documentary release.
"Although I want every fan to have a good time," Emmerson says, "I want Steve to enjoy himself. That's where I put the pressure on, for him. No matter who is in attendance, I want to make sure it's great for him, and then also build awareness for Team Gleason and ALS." ♦
Gleason Fest • Sat, Aug. 6, from 2 to 11 pm • $25/$30 day of/free for kids 10 and under • All-ages • Riverfront Park, Lilac Bowl Amphitheatre • 507 N. Howard • gleasonfest.org • 869-8630
---
Gleason Fest 2016 bands
HEY! IS FOR HORSES: 3 pm
John Blakesley isn't about to keep his own band out of Gleason Fest. They've been there since the beginning, and they won't stop now. Since 2010, members of the blues-infused folk act have come and gone, but Blakesley is the constant. Their set is peppered with covers and heartbreaking originals. Mostly, the band knows how to throw a party from the stage; they're a great act to kick off the festivities.
DUKE EVERS: 4:30 pm
You may have seen them at this year's Volume and Elkfest, and that's OK; Duke Evers is one of those bands you don't mind seeing over and over again. The Seattle three-piece — including Spokane native Josh Starkel, who's been known to wear a cape while on stage — plays screaming rock that flows easily into blues-flavored pop.
DELBERT THE BAND: 6 pm
They were just here for the South Perry Street Fair, but before that, old Spokane favorites Delbert the Band hadn't played together since Gleason Fest 2013. Guitarist Thomas Solinsky, who now lives in Nashville, says the band has been playing for Gleason and his friends since the late '90s, performing at Gleason's WSU fraternity. After not playing together for years, the band reunited three years ago to write the song "No White Flags" specifically for Gleason and the festival; expect to hear it at this show. "We want to be better than when we were before," Solinsky says. "Steve can listen, and we all know he has so much passion for music. This is a way for him to celebrate life."
PICKWICK: 7:30 pm
Even before Pickwick's 2013 debut album received national attention, Spokane fans already flocked to their shows. This time around, expect a handful of new songs to be prominently featured in their set. The Seattle sextet — led by Galen Disston, who sings like some sort of fiery blues-rock god — is currently working on their new album, one they've revealed will be full of mature sentiment and biographical discoveries.
PORTUGAL. THE MAN: 9 pm
Blakesley has tried to get Portland's Portugal. The Man to play one of his Spokane events for about a decade; finally, the four-piece is coming to close out Gleason Fest with an hour-and-a-half-long set. The band's music (their most recent album was produced by Danger Mouse) falls somewhere between R&B and psychedelic rock. (LAURA JOHNSON)