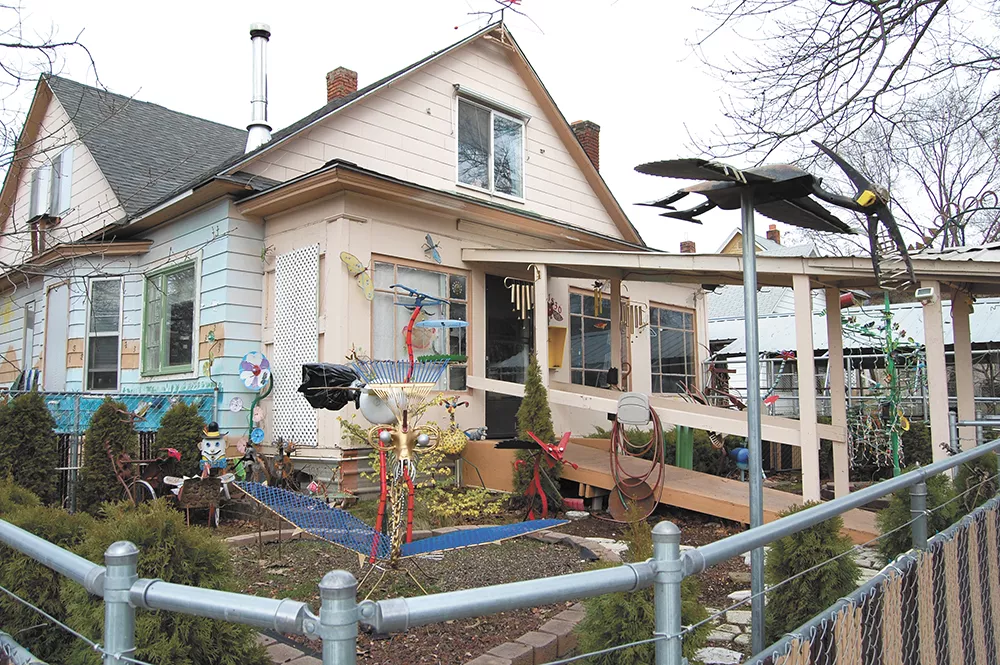 Roger Webb's wife Sherry gave him an ultimatum. Broken tools had begun to pile up from his fencing business and they were quickly running out of room at their house on Sharp Avenue in the West Central neighborhood. With a handful of seemingly useless materials and a wife on his case, Roger needed a solution — and fast.
But surely he couldn't part with his junk.
"He'd get ideas from the broken tools in his shop and he'd see these things," explains Sherry. "He called it redneck art."
A handyman by trade, Roger began to dabble in sculpture work. Upon his wife's request, he built a bike-rack dragon and set it up on the front lawn. Soon, dinosaurs were added to the collection. The hobby soon became a passion, and the neighborhood was quickly overrun by Roger's whimsical works.
With an everlasting supply of bits and pieces, it seems as though there's no stopping Roger and his sculptures.
"He's always building something," says Sherry. "We'll travel to antique stores in the area and Roger will see something and turn it into his own creations."
He's sold his work across Eastern Washington and was previously showcased during Spokane's First Night festivities. But the greatest reward the Webbs have encountered, Sherry says, are the reactions of those who pass by their home.
"They either look at Roger as if he is brilliant or crazy," she says, "but in the end, we just want to see people smile and ask 'What the heck is that?'"♦