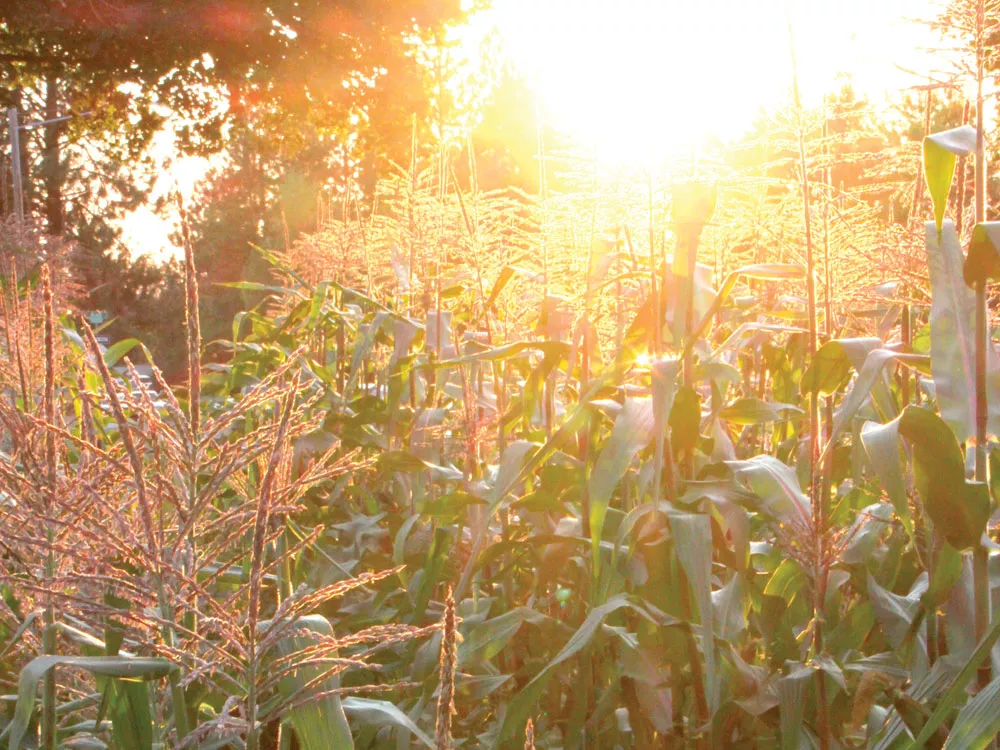 It's getting dark by 8:30 pm these days. And you can almost see "September" when a lazy breeze ruffles your wall calendar. I know, I know. Depressing. But don't despair. Just because school's about to resume doesn't mean it's fall yet. According to the calendar, autumn doesn't officially begin until Sept. 21 — meaning you still have an entire month left to indulge in the joys of our region's most glorious season. Here are some good ways to make it last.
GARDENING/EATING
Though the days of berries and cherries have indeed passed us by, the rest of the garden is exploding. Mid- August to mid-September is finally time for that hallmark of summer cuisine: corn on the cob. Raspberries, tomatoes, lavender, apricots, apples, cucumbers, peaches, nectarines, prunes and plums are also just now coming into their own. And all of them can be picked or purchased up at Green Bluff, which is celebrating its Peach Festival through Labor Day, then throwing apple and harvest festivals through Halloween.The more floriculturally minded can head to Manito Park for the huge annual plant sale over the weekend of Aug. 28 and 29. Get your hands on grasses, hostas and shade plants, from Pigsqueak Lunar Glow and Blue Hairgrass to Flowering Quince Cameo. Because while late summer is undoubtedly a great time to harvest, it's also a great time to plant again — extending your growing season and laying down a foundation for next year.
SPORTING/SCREAMING
If there's one consolation for the waning days of summer, it's the beginning of football season. Your days on the lake may be numbered, but at least you've got an entire season of hard knocks ahead of you.And while the Spokane Shock may be wrapping up their season with the ArenaBowl championship game tomorrow, college football is just kicking off here on Sept. 4, when the Whitworth Pirates host Hardin-Simmons at the Pine Bowl. The following weekend, WSU hosts Montana State in Pullman,Eastern finally gets to show off its new red turf, as it hosts Montana. (An almost overhauled Seahawks team plays its first game of the season at home on Sept. 12, against San Francisco.)If the impending football season doesn't excite you, though, there's still the Spokane Indians baseball team, which hosts rivals Boise form Aug. 28-30 and then will proceed to the playoffs Sept. 6-8, including a home game here Sept. 7.
PARTYING/ROCKING
Memorial Day is OK, but late summer — and Labor Day, in particular — is the best time to get together with thousands of your friends and party.
Of course, that may necessitate a road trip. While Pig Out in the Park should be every bit as tasty as usual, the musical lineup is a bit lacking this year (headliners: Sha Na Na, Pat Travers & Rick Derringer). And the Interstate Fair (Sept. 10-19) is bragging about Clint Black, Collective Soul and an ABBA tribute show.
Our advice? Go see Bob Dylan on Sept. 1 in Post Falls, then check out Bumbershoot in Seattle over Labor Day, if you haven't lately. The lineup includes Dylan, Neko Case, Weezer, Hole, Mary J. Blige and Edward Sharpe and the Magnetic Zeroes, among many, many others.
BIKING/RUNNING
You may have less daylight these days but, increasingly, it's going to be cooler daylight. Meaning you can finally get out on the road without melting.And there are plenty of opportunities for that before fall begins. For runners, there's the Autumn Bloom 10K in Newport (Sept. 18) and the Sandpoint Scenic Half Marathon the following day. For cyclists, there's this weekend's Spokane Summer Parkways (see page 46), Cycling for Cystinosis in Sandpoint (Sept. 11- 12) and then the third annual Spokefest, Spokane's biggest cycling event, on Sept. 12. The Spokane Triathlon is, alas, the same day. So choose wisely.
CRASHING/VEGGING
If you can't milk any more excitement out of late summer outdoors, there's at least the beginning of the TV season to look forward to.
Right?