ADAM BOZMAN
I don't want to fail him, but I'm gonna give him a D-; that grade that the teacher gives you because they just don't want to see you next year.
What has he done to deserve that grade?
He came in with a lot of promises, and I don't think those promises have been met. If there's a course syllabus, none of the requirements he's met right now.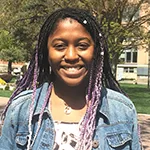 BAILEY RUSSELL
An F for multiple reasons, but the main being that he's continued to fracture a country that was already pretty fractured.
What has he done to deserve that grade?
He's completely screwed over the people who voted for him out of poverty and the need to bring industry back to America. They believed he was gonna change things for the little man, and he absolutely hasn't done that.
MITCHELL PENNEY
C+ or B- maybe. He hasn't done anything he's said he's gonna do. He also hasn't really screwed anything up too bad.
What could he do better?
Some of it wasn't his fault, because you do have to go through Congress. He could start small and do some tax reform things. He doesn't have to do it all at once.
KIANA MCKENNA
Honestly, I want to feel bad for him, because people want to hate on him just because of who he is, but it's D or even D-.
What could he do better?
Specifically, a lot of the publicity he's receiving right now is from just how bad he is at communicating. From a PR stance, he's doing awful.
JOSHUA LEWIS
I don't have a grade because I've given up on following it, to be honest. It's almost like a joke now. He tweets how many times a day? I don't even tweet because I'm busy trying to work.
What could he do better?
He needs to present himself better. When you have a job like that — even if it was a joke and you did it on a scam — you gotta respect that position.