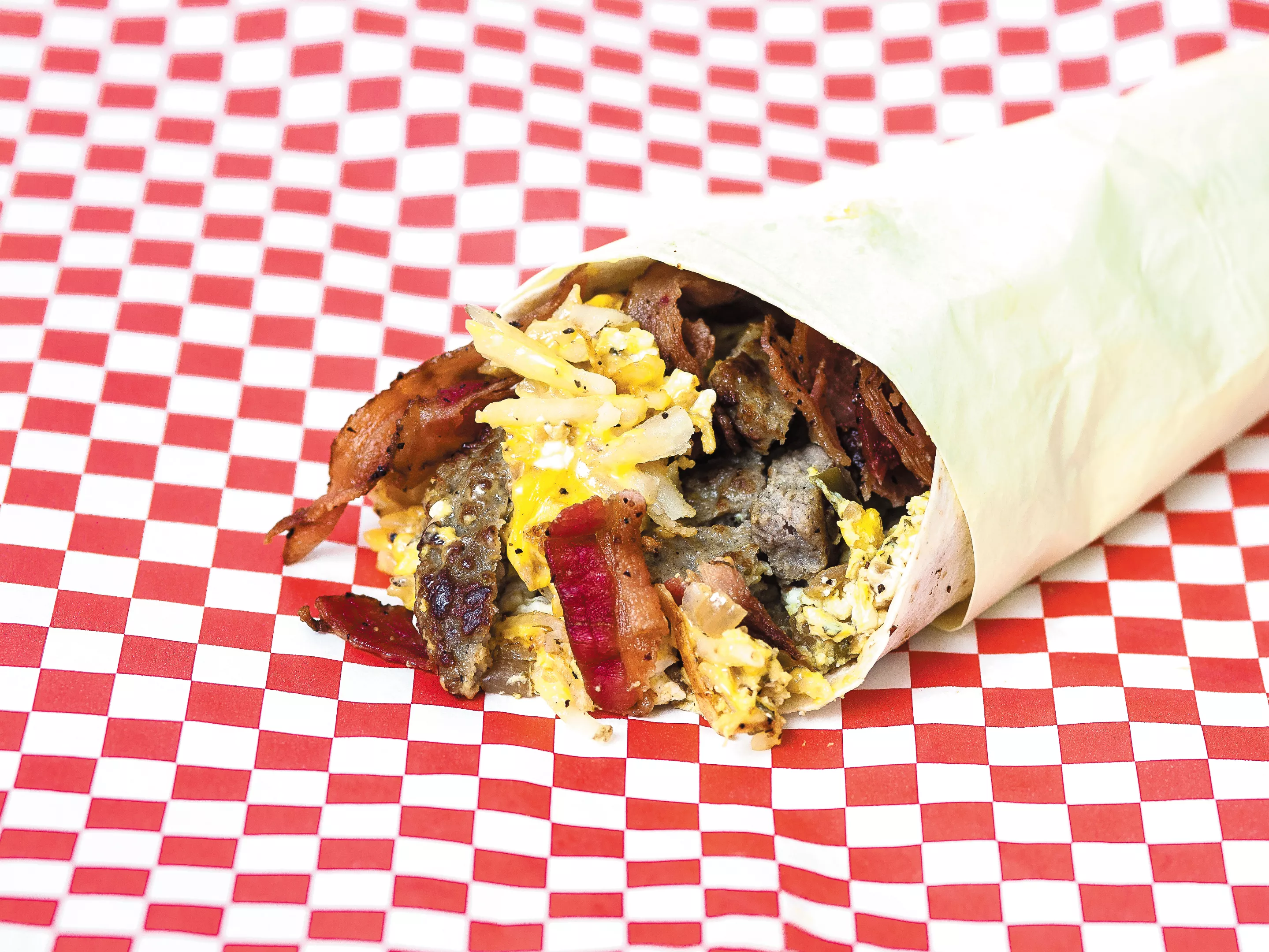 For me, eating cheap isn't as high a priority as healthfulness and satisfying an adventurous palate. I buy clothes secondhand, don't have a television and live thriftily, but food is one thing I don't chintz on. Since my typical breakfast is something homemade — whole-grain muffins or a yogurt smoothie with spinach — followed by small, flavorful (mostly) healthy meals throughout the day, the $20 challenge meant getting creative.
Fortunately, I've amassed a collection of menus from restaurants in and around Coeur d'Alene. Even if I figured $5 each for breakfast and lunch and $8 for dinner, sit-down dining = meal-sized/meal-priced portions and tipping, which for me is usually 20 percent (former waitress), it was going to be a challenge. Grocery stores have affordable mix-and-match bites and small portions but were off-limits so that meant takeout food.
Spoiled by several years of food writing, suddenly $20 didn't seem like enough.
My first stop at Orlando's in north Coeur d'Alene was a bust; they were closed until Jan. 28, so no-go on the Veggie Breakfast Burrito ($5). Plan B brought me to downtown Coeur d'Alene where — just my luck — Dangerous Dog was closed... permanently. So much for their Turkey BLT Dog.
Breakfast-time was giving way to lunchtime and the blood vessels behind my eyes were pulsing when I happened on the Big Yellow Mobile Kitchen located outside Goodwill. Signs promised five meals for $5 and it looked like county fair comfort food: Philly cheesesteaks, Italian sausage, burgers, dogs and baskets of crispy, curly fries.
The only thing I knew of the place — besides its bodacious yellow 24-foot trailer — was last fall's Coeur d'Alene Press article about Big Yellow owner Tim Patterson, pistol in hand, intervening when a Goodwill employee was accosted nearby at knifepoint.
Tim and his wife of 33 years, Debbie, saved me from a low blood-sugar headache with the Breakfast Burrito ($3.49). It's a 10-inch tortilla stuffed with scrambled eggs, hash browns, cheese, onions (optional green peppers) and choice of ham, bacon and German or regular sausage. It's so filling, Tim says, they call it the "four o'clock burrito" because you won't be hungry until mid-afternoon. A 16-ounce cup of coffee was a ridiculous $0.50, although it wasn't the chewy brew I usually drink.
Total cost of breakfast? $4.23.
$15.77 REMAINING
True to form, the burrito kept my hunger at bay until early evening. That's when my appetite returned along with a headache and sore throat. No need to consult menus this time; soup was what the doctor ordered.
At Pho Thanh, I'd have 13 types of soup from which to choose: nine Vietnamese beef pho variations and wonton soup with chicken, shrimp, pork or beef meatball. Noodle and rice dishes run between $11 and $12, but their shrimp-and-chicken-filled spring rolls ($3) could easily fill you up for lunch. Zero ambiance here but the food's damn good.
Considering my boyfriend, Mr. Meat-and-Potatoes, shared his cold with me, the least I could do was share my generous portion of chicken wonton soup ($10 large). My takeout order was ready lickety-split: two 32-ounce containers, one with fragrant broth, the other jammed with chicken, noodles, bean sprouts, lettuce and fried wontons. A bundle of Thai basil, jalapeno, lime and chili sauce lets you adjust the heat level yourself.
$5.17 REMAINING
That left me with a full tummy on a cold winter night, safe and sound with loved ones. One meal remaining, and half a dozen places where I could get another little bite. But I wasn't hungry.
Suddenly $20 seemed like a lot, something that when Tim Patterson at Big Yellow Mobile had said it earlier, I doubted him.
Many of their local customers, he'd said, walk there to save on gas. They're seeing more people struggling, and donate tips back to the food bank.
Dang it. Technically I had to eat all three meals. Dessert? A beer? If coffee could be breakfast, beer counts as a meal, right?
I drove by Big Yellow. Closed. First thing Monday, that $5.17 burning a hole in my pocket was going go toward filling a hole in someone else's tummy.
I'm pretty food-obsessed. Gardening, cooking, preserving, sharing recipes, dining out, whole vacations planned around what to eat and where. And, of course, writing about my experiences. This wasn't what I expected to write about, but having to count pennies and budget every meal, even if only for a day, was eye-opening. 
---
 MORE NORTH IDAHO CHEAP EATS
ORLANDO'S MEXICAN DRIVE-UP
451 Dalton Ave, Coeur d'Alene • 208-659-2684
People line up in the parking lot for the slow-cooked carne asada ($8 in a huge burrito) and his salsa would make cardboard taste divine. Skip the fast food chains for good food fast, like the hearty veggie burrito with zucchini, mushrooms, onion, potatoes, eggs and beans for $5-6. Don't forget the salsa!
FISHERMAN'S MARKET & GRILL
215 Kathleen, Coeur d'Alene • 208-664-4800
Good sushi doesn't have to be expensive; but when it is good, you can't stop at just one roll. Practice some restraint (or not) with any of a dozen special rolls priced below $10, like the Mango Fandango with escolar and sweet potatoes ($7) or Veggie with seasonal veggies, daikon sprouts, avocado and cucumber ($5).
JAVA ON SHERMAN
324 Sherman, Coeur d'Alene • 208-667-0010
It's long been the go-to for a cuppa joe and great people-watching, but this groovy downtown mainstay is open later and serving more. Dig the satisfying veggie melt ($6.70) with avocado, cucumbers, tomato, red onions, sprouts and lettuce. Or mix-and-match with soup of the day and a half-sandwich ($6.60). And, of course, they still make a heavenly bowl of soul.
THE PIE HUT
502 Church St, Sandpoint • 208-265-2208
Every day something new, savory to sweet. Try daily soups — clam chowder, tomato basil, chicken tortilla, carrot ginger — in 8- to 16-ounce servings ($3.95-5.95) or tender forkfuls of scratch-made chicken pot pie ($5.50). Finish up with pie, like blueberry-rhubarb, tiramisu cream, cherry cheesecake, by the slice ($4) or whole.
JOEY T'S TASTE OF CHICAGO
16102 Hwy 41, Rathdrum • 208-687-5639
Diner's, Drive-Ins and Dives food-fans dreaming of discovering the next unlikely eatery should try Joey T's inside Stein's IGA food store. Falafel ($5) with homemade tahini? Authentic Chicago dogs ($3.85-$4.10) and grilled Italian sausage sandwiches ($5.50-7.25)? Even fresh salads, gyros and burgers. It's a trip to flavortown.
RUSTLER'S ROOST
9627 U.S. 95, Hayden • 208-772-6613
Chuckwagon cooking means sunup to sunrise meals to keep you going 'til the cows come home. Fuel up here with hearty breakfasts like three homemade buttermilk biscuits and gravy ($4.95). Do dinners after 2 pm, all comfort foods you love: meat loaf ($6.25), roast turkey ($7.95) or even an 8-ounce top sirloin for a little more than ten bucks.
— CARRIE SCOZZARO