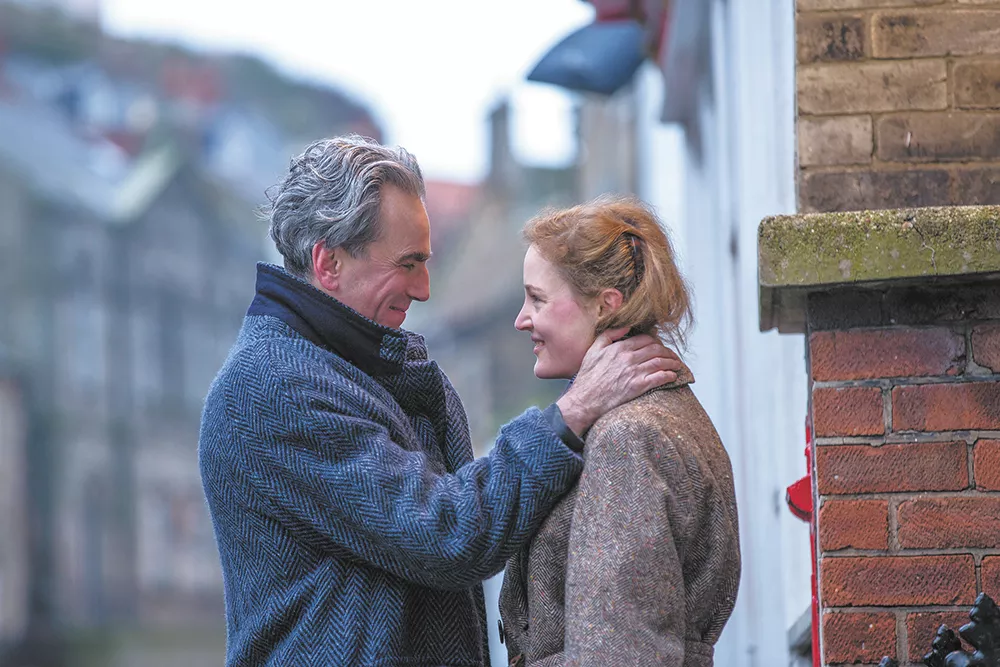 There's a certain thrill in watching Paul Thomas Anderson's Phantom Thread and realizing with intensifying delight that you have no idea where it's headed. It is not the film it initially appears to be: It has the look and feel of an austere, even stifling costume drama, and yet it ever so gradually reveals the twisted morals at its core.
Perhaps this shouldn't be much of a surprise coming from Anderson, one of the greatest working American filmmakers, who has never followed a straightforward narrative and who has frequently reinvented his style over the course of eight features. While Phantom Thread is arguably Anderson's most formal work to date, its florid tale of romantic infatuation is something of a Trojan horse for a wicked, sometimes sadistic black comedy of manners.
The film stars Daniel Day-Lewis — who won his second Oscar working with Anderson on There Will Be Blood a decade ago — as the memorably named Reynolds Woodcock, a renowned dress designer in London sometime in the early 1950s. Day-Lewis has said this will be his final screen performance, and how appropriate that the world's most exhaustively method actor would take a final bow portraying an artist so wrapped up in his own artistic techniques that he's nearly driven to ruin.
Woodcock runs a respected fashion house with his sister Cyril (the terrific Lesley Manville), all pursed lips and contemptuous looks, and it's her job to keep business operations in tip-top shape. She seems to be the only woman in Reynolds' life who he doesn't treat as merely a dress model, as a faceless mannequin he can style and shape into whatever he desires.
Reynolds becomes smitten by a younger woman named Alma (Vicky Krieps), a waitress in a seaside cafe where he orders an absurd amount of food and is impressed when Alma commits it to memory. His creative obsessions are as voracious as his appetite: After their first dinner date, Reynolds rushes Alma home and furiously fits her for a dress, dictating the measurements to a taciturn Cyril.
As brother and sister go through these motions with the detached efficiency of memorized routine, we begin to wonder: How many times have they done this before? How many women have come before Alma?
But Alma is different. She becomes a model for Woodcock's creations, then a muse, and finally a reluctant collaborator, though her lack of finesse begins to disrupt Reynolds' pathological need to keep everything just so. And just when we think we understand what's developing between these characters, Anderson upends everything, and Phantom Thread becomes something far darker.
In spite of its subversions, the film has the rarified air of the high-brow cinema of the '40s and '50s, especially the opulent melodramas of Max Ophüls and Douglas Sirk. It's obvious that Anderson is toying with the same themes that fascinated Alfred Hitchcock, particularly those in Rebecca and Vertigo, both about women held captive by the emotional whims of overpowering men (and Cyril is no doubt inspired by Rebecca's menacing Mrs. Danvers). I'm reminded, too, of Martin Scorsese's 1993 adaptation of Edith Wharton's The Age of Innocence, which also starred Day-Lewis as a high-society dandy tangled up in a thorny romance.
And in some ways, the movie feels like a companion piece to Anderson's own The Master: Both explore the antagonism that develops between two violently self-possessed people, and hints at the sick thrill they might be getting out of it.
It goes without saying, I'm sure, that Day-Lewis is remarkable and assured; with merely a flourish of his hand or a quiver in his voice, we know exactly what he's thinking. He works wonders with his face here, particularly in the film's final, pivotal scene, which involves another fortuitous meal. If this is, in fact, Day-Lewis' swan song, it should also represent the start of a brilliant career for Krieps, a Luxembourgian actress who will be unknown to most viewers. She is self-assured and magnetic playing opposite our finest living actor, pivoting from soft naivete to steely resolve with remarkable dexterity.
Phantom Thread was beautifully photographed by Anderson himself, and there are individual images that are so brilliantly composed I found myself gasping a bit too loudly. Pay particular attention to the ways in which Anderson positions his characters within the frame, and how that corresponds to their ever-shifting power dynamics. The musical score by Radiohead's Jonny Greenwood (this marks his fourth collaboration with Anderson) is also fantastic, as lush and exact as any of Woodcock's gowns. It's the best work he's done as a composer.
The film's meticulous craft is in keeping with the compulsions of its characters, and how their artistic processes inform and intersect with their personal relationships. We're told early on that Woodcock stitches secret messages into the seams of his dresses, and that's exactly what Anderson is doing with this cunning movie: It's about people who always seem to be holding onto a mystery, whose true motivations aren't always clear, who say one thing and mean another.
This is a beguiling and strange film, and while it might not work for everyone, I wanted it to begin again the second it was over. ♦