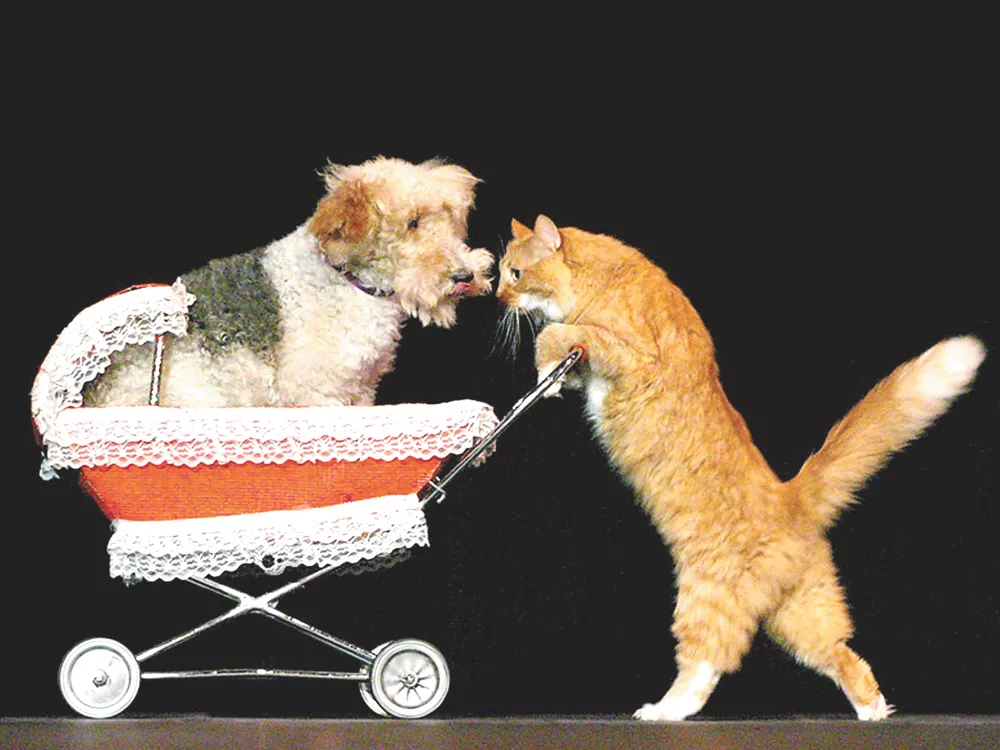 Gregory Popovich says he's not the star of his own show — the one that has his name in the title. It's all about the pets, he says, because pets are more interesting than humans. And in today's pets-are-people culture, there is no shortage of pet owners out there who would agree with him.
"The animals are the stars of the show. The humans are more like the chorus backing them up, " says Popovich, having just wrapped up a children's show earlier this week in Seattle and on his way to Portland.
Popovich came to the United States from the Soviet Union in 1990 with the circus in his bloodstream. He's the fourth generation of his family to make a living under the big top and, his Russian accent still very much thick, now performs a residence showcase at the V Theater inside of Las Vegas' Planet Hollywood hotel. Since he was a young boy, animals have always been around. At many times in his life, he preferred the company of animals to that of other people.
For about two weeks each year, though, Popovich, now 47, takes the Popovich Comedy Pet Theater on the road. Doing so is a circus in and of itself, requiring Popovich and his team to transport the more than 10 cats, 15 dogs and handful of other geese, mice and birds that also appear in the show.
Having been featured on the Tonight Show and Late Night with David Letterman, in addition to other programs, including but not limited to The Jerry Springer Show, Popovich has his act dialed in after all these years. But he insists it's not pet tricks. Rather, he calls it "theater," as the animals react to him and the rest of the human cast, giving the show more of a fluid structure instead of merely a series of stunts.
There's a storyline that runs through the show about a homeless circus clown (played by Popovich) who teams up with homeless animals. And homeless animals have more than just that to do with the show.
All of the dogs and cats in the show were rescued from animal shelters. Popovich lets people know this and, without being preachy, he says, encourages them to consider adopting an animal.
"My main message from the show is that [the animals] are from a shelter. If someone is thinking about having a pet, they'll take their first visit to a shelter," says Popovich. "If people visit the shelter after the show, I've accomplished something."
This seemingly bizarre — yet wildly popular — circus never really stops for Popovich. All his castmates live with him at his family's spacious Las Vegas home. This means he has more than 30 pets, so many that he had to build two small houses in his backyard. One for the cats and another for the dogs, because, remember, pets are people, too.
For anyone else, having so much of their life devoted to 30-plus animals would earn them a spot on a TLC reality show, but for Popovich, this is a career. And in the long run, he'd rather be hanging with his pets, anyway.
"I've always felt like communication with animals is easier than communication with humans," he says.
The World Famous Popovich Comedy Pet Theater • Fri, Dec. 14 at 7:30 pm and Sat, Dec. 15 at 11 am • Fri tickets: $22/adults, $10/kids under 12, $15/groups of 10; Sat tickets: $22/adults, $7/kids under 12, $11/groups of 10 • Bing Crosby Theater • 901 W. Sprague Ave. • bingcrosbytheater.com