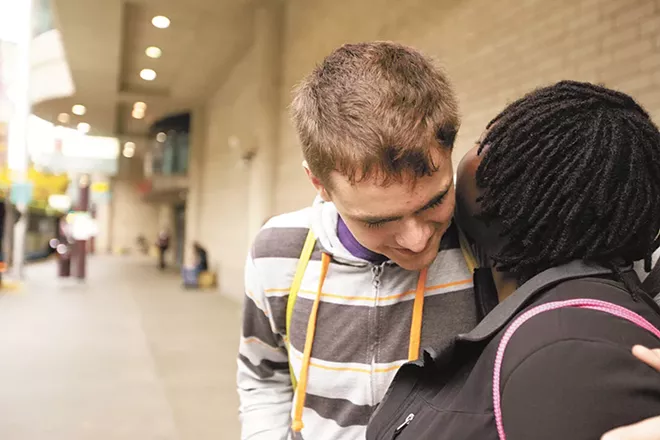 Young Kwak
Aisha Marshall, 18, is a sophomore at Eastern, studying pre-med. She says that while the Plaza is OK, "I don't really like staying here very much at all. I try to leave as soon as I can." Marshall and her 21-year-old boyfriend, Ian Lovering, are waiting for buses to take them to school. Lovering is in his first year at SFCC. For him, the Plaza could be a little more homey. "There's no place to really relax and feel just away from stuff and study while you wait for a bus, that kind of thing," Lovering says. The pair take the bus every day to get to and from school. At the top of their list of possible Plaza improvements is cleanliness; Marshall laments the state of the building's bathrooms. "I actually really wish they had hand sanitizer — that's, like, one of my main complaints," she says. "I asked them about it, but they said that they're not doing it because people started stealing them."
Young Kwak
Sarah Baum, 61, frequents the Plaza every day, whether it's for appointments, meetings or to take her grandson Joshua to school. This particular morning, Joshua is going to see the doctor. "I am so grateful that they put money into it so it's a nice place to come into that's warm," Baum says. "It's an open space, so it's personable." Baum says she feels safe in the Plaza and riding the bus. "I think the drivers are doing an amazing job," she says. "They are all pretty nice people and a couple of them I call friends."
Young Kwak
"You've known me since I was what, this high, Daddy?" Michael Tingley, 27, holds his hand out flat, three feet above the pavement. Fifty-five-year-old Lin Rivers nods. He considers Tingley one of his adopted children. "He's like extended family," Rivers says. Tingley is waiting for a bus to take him to the SCC extended learning center, where he's studying to get his GED. Rivers has a doctor's appointment. "I like the Plaza, you know, it's pretty nice. Things could be better," Rivers says. Tingley agrees, saying he wished there were fewer loiterers. Despite this, Rivers praises the Plaza's central location and its ease of access for people who need to catch a bus. "I wouldn't want them to move the Plaza," he says.
Young Kwak
Matthew Earle, 21, and Sierra Haller, 19, are sitting on a bench eating. Roku, Haller's 1-year-old Border Collie/Australian shepherd service dog, sits on the ground next to her, panting. Roku helps to alleviate Haller's anxiety, and as such gets the privilege of riding the bus with her. Both Earle and Haller say that they frequent almost all of the routes STA offers. Haller is a preschool teacher in Spokane, and Earle works at a Target in the Valley. "It's pretty nice," Earle says about the Plaza. "They keep it pretty controlled when it comes to random people trying to make a ruckus, but for the most part it's solid. We haven't had any problems. And they're pretty good with dogs too."
Young Kwak
As manager of the Plaza's Pizza Rita for the past six and a half years, Christmas Thompson has encountered her fair share of characters. "Give me a minute to put my filter in place," she laughs. Thompson describes working in the Plaza as "interesting." "Wide variety of people through here all day long, you never know what you're going to see," she says.
Young Kwak
To kill time until his bus comes, Ben Knight, 42, is looking at a collection of historical photos on the Plaza's second level. A frequent Plaza patron, Knight notices many of the changes that go on there, like benches being moved so people can't sleep on them. Since his car was stolen two years ago, Knight and his girlfriend have been using the bus system daily. He says he feels safe using public transit. "I always thought it was kinda like a lower-class thing or something, because California is so bad," he says. "It's not like that at all, there's a lot of really nice people."
Photo and Interview by Taylor Weech
Bret has been riding the bus for 10 years. When we met him, he had just finished up working downtown. He was very familiar with the ongoing disapproval of the Plaza from certain business interests in the city center. He said, "Moving it isn't a solution. It's just an easy target. [The critics] have to blame their poor business acumen on something and right now it's the homeless and the street kids. But where else do they have to hang out?" He pointed out that as a business person, he likes having the Plaza right in the middle of things because it brings people, many of whom are customers, to the businesses who rely on them for success. "Don't get me wrong, I love Spokane," he says. "But in some ways, Spokane is still really in an early 20th century mindset. The 1950s aren't coming back."
Young Kwak
Richard Craven is studying interior design at SFCC. He is sitting on a bench on the south side of the Plaza, dressed as the Celtic god of woodland and wildlife. "It's for a Halloween party," he laughs. He likes that the Plaza is centrally located, but wishes STA would increase its service. "Expanded service on Saturday and Sunday, when you actually want to go and do something," he says.
Young Kwak
Jeff Gallaway is on his way home from work. An application administrator at Washington Trust Bank, he rides the bus to and from work every day. He gets a deal on a bus pass through his job. "Usually when I'm going through the Plaza, I'm on a mission," he says. "I'm either getting on a bus or going to lunch, that kinda thing."
Young Kwak
According to Enrique Acedo, STA Plaza has a community all its own. "When you hang out here a lot, you get to know a lot of people," he says. Originally from California, Acedo has lived in Spokane for around 10 years. Currently he's on Social Security, but plans on going back to school at SFCC. Tonight he is on his way to a friend's house, but says that he hangs out at the Plaza almost every day when he has nothing better to do. He says he thinks it's a good place and the atmosphere is dependent on who is around. "Sometimes you've got good people just chilling. Other times you have idiots being stupid. I've been both," he says. "Can't lie. I've had my good nights and I've had my bad nights."
Young Kwak
Every day (except weekends, she notes), Celeca Ward takes the bus to watch her grandkids. In addition, she volunteers at Peaceful Valley Community Center in Browne's Addition. This means she spends substantial time in and around the Plaza. "I like the freedom," she says. "And I meet such nice people." Ward is on her way to Frankie Doodle's to have dinner. She talks about the friends she makes while riding the bus. "I haven't had any problems here. If somebody gets a little agitated, I kind of walk the opposite way," she says. Overall, Ward commends the amount of money that's been invested in the Plaza. "It's a very nice place, but some people make it a little interesting," she laughs.